Nosara Beach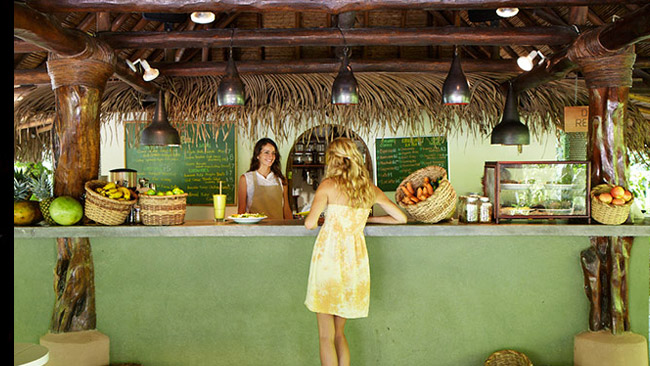 Nosara Beach at a Glance
Ideal for:
Families

Couples

Adventure Seekers

Nature Lovers

Relaxation

Retreats
Nearby Activities:
Canopy Tours

Yoga Retreats

Turtle Nesting

Surfing

Sea Kayaking

Stand-Up Paddleboarding (SUP)

Dolphin & Whale Watching

Horseback Riding
Nearby Attractions:
Playa Ostional

Ostional Wildlife Refuge

Nosara Wildlife Rescue

Nosara Biological Reserve

Monte Alto Reserve
Special Features:
The town's motto, "No shoes, no shirt, Nosara," perfectly explains the town's laid-back vibe. Leave your stress at the door!
Fast Facts
Region: The Nicoya Peninsula
Landscape: Beach, Rainforest & Dry Forest
Closest Airports: Liberia (international) and Nosara (regional)
Altitude: Sea Level
Average Temperature: 75-90° F (24-32º C)
Nosara has a motto: No shoes, no shirt, Nosara. That pretty much sums it up. This Pacific beach town is best known for its roaring surf and relaxed vibe. The strong sun, dark sands, dusty roads, and chill beach bars help round out the image of this steadfast surfer town. But Nosara is about more than remarkable waves: the laid-back town is a haven for yoga retreats, wildlife watching, and thrilling adventures.
Located just south of Guanacaste's famed Gold Coast, Nosara is far enough off the beaten path to afford seclusion and privacy – the perfect setting for a transcendental yoga experience. If you're a dabbler, hour-long yoga lessons are available around town (and at several resorts) for about $10-$15 a pop. Serious yogis enjoy upscale yoga retreats, which blend daily sessions with clean eating, spa treatments, and healthy living. For the most dedicated yoga aficionado, an internationally renowned yoga institute even offers a month-long teacher training and certification course.
Surfing and yoga may take center stage, but Nosara is also a natural paradise teeming with wildlife. From howlers hooting in the trees to hermit crabs scuttling across the beach, exotic animals seem to inhabit every corner of this beach town. But Nosara's most life-affirming and incredible wildlife experience lies five miles north at Ostional Wildlife Refuge. Here, endangered Olive Ridley sea turtles come ashore by the thousands to lay their eggs. This incredible phenomena, known as an arribada, occurs periodically over several months; call ahead to schedule your visit during a forecasted arribada!
At first glance, Nosara seems like a rural beach town that time forgot. Dirt roads, dense forest, and steep cliffs have slowed development, but don't be fooled – tourism is thriving here. You'll have easy access to Costa Rica's most famed activities, like thrilling zip lines and challenging sportfishing, as well as a front row seat to once-in-a-lifetime adventures, including ultralight flights and dolphin and whale watching. Enjoy!
Attractions & Places to See
Nosara's best attractions are its natural riches: consistent surf, fine sands, and dense forests. Luckily, the town works hard to protect the region's fragile habitats and pristine landscapes: wildlife refuges and nature reserves dot the coastline. Of course, some of the most beloved attractions in Nosara are its beaches, which are home to incredible surfing, idyllic coves, and isolated stretches of powdery sand.
Beaches, including Playa Nosara, Playa Ostional, and Playa Guiones

Monte Alto Reserve

Nosara Biological Reserve

Nosara Wildlife Rescue

Ostional Wildlife Refuge
Activities & Things to Do
Nosara may look like a sleepy beach town, but this oceanfront destination is alive with possibilities. You'll find plenty to do here, from tame beachcombing to exhilarating stand-up paddleboarding, or SUP. In addition to these ever-popular standbys, Nosara is famous for its protected turtle nesting habitats and epic arribadas – en masse arrivals of Olive Ridley sea turtles that come to nest on the shores of the Ostional Wildlife Refuge.
Popular Nosara activities include:
ATV Tours

Birdwatching

Dolphin & Whale Watching

Hiking

Yoga & Yoga Retreats

Turtle Nesting Tours

Canopy Tours

Horseback Riding

Sea Kayaking

Stand-Up Paddleboarding (SUP)

Surfing

Ultra Light Flights

Sport Fishing

Snorkeling
Day Trips
There's plenty to see and do around Nosara, but if you're itching to explore attractions further afield, look no further than:
Cabo Blanco Nature Reserve

Curu National Wildlife Refuge

Barra Honda National Park

Las Baulas National Park

Palo Verde National Park
Wildlife & Nature
When it comes to wildlife, Nosara is most famous for its nesting Olive Ridley turtles. Every year between July and December, thousands of these marine giants lumber onto Playa Ostional to bury their eggs. Be sure to reserve a night turtle tour in advance, as space is limited.
But Nosara isn't just about turtles. Thousands of protected acres provide refuge to green iguanas, howler monkeys, American crocodiles, coatis, and other exotic wildlife. Hundreds of resident and migratory bird species also make their home along the coast and in neighboring reserves. The best way to get up close and personal with local wildlife is on a guided hike or nature tour.
Best Time to Visit
Nosara's dry season runs November through April, but if you want to see nesting Olive Ridley turtles, schedule a visit between July and December. The famed arribadas occur frequently during this time, in intervals of 3-10 days; park rangers at the Ostional Wildlife Refuge can help predict upcoming arribadas and the best time to visit.
Where to Stay
Nosara's accommodations cater to mid-range and upscale travelers, although a few budget options have popped up in recent years. Several boutique hotels and surfer lodges are located beachfront or just a few blocks from the waves, while some of the area's most luxurious lodging and spectacular views are located in the hills above Nosara.
Restaurants and Nightlife
Nosara may be a sleepy beach town, but its restaurant scene has matured into an eclectic mix of fresh seafood joints, Italian eateries, Mexican locales, and more. After the sun goes down, a few restaurants in the area host live music. There are a few friendly, local watering holes, and one pub in the hills serves up European and artisan beers.
---
Services & Infrastructure in Nosara
Public transportation: Yes, buses from San José depart once daily
Public amenities: No
Shopping: Yes; bars, restaurants, fruit stands and markets are located mostly off the main road
ATMs: Yes; there are ATMs in Nosara and Playa Guiones
Gas stations: Yes, just outside of Nosara (on the way to Nicoya)
WiFi or Internet cafés: Yes
Cell Phone Reception: Some reception
Restaurants: Yes, Nosara has a small but eclectic restaurant scene
Nearest medical facilities: There are pharmacies and a medical center in Nosara; a large hospital is located in Nicoya