Where to Golf in Costa Rica?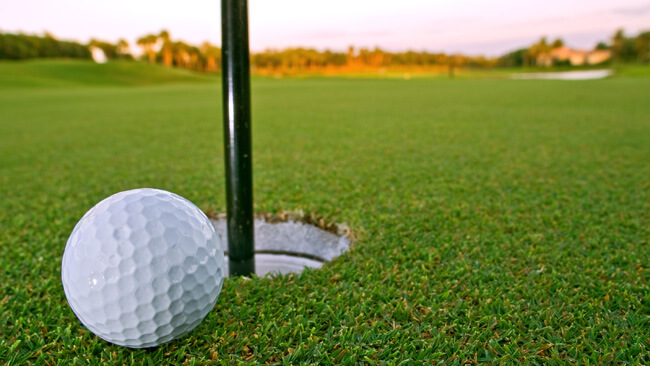 While Costa Rica is now a top-tier destination for ecotourism, sportfishing, and even medical tourism, one aspect of this popular Central American country that is often overlooked is its appeal as a world-class destination for golfing. Our golf vacation packages highlight why.
Often other exotic locales like Mexico, Dominican Republic, and Hawaii receive more press and popularity as mainstream golf getaways, so golfers here enjoy the one-of-a-kind natural beauty that surrounds them as much as they enjoy the absence of other golfers. Even at the top courses in Costa Rica, you rarely, if ever, have to worry about speed of play or booking a tee time months in advance.
Golf first came to Costa Rica back in the 1940s in the form of an exclusive nine-hole course at the Costa Rican Country Club in the upscale suburb of Escazu just west of San Jose. It remained the only course for decades until the 70s when the first 18-hole championship course was built at the Cariari Country Club in Heredia.
That said, the sport didn't really take off in Costa Rica until the big tourism boom hit in the 1990s. It was then that the bigger hotel, resort, and condo projects started to get built, and along with them came some world-class golf courses, as well. Some of the big names called upon to design courses here were Ted Robinson, Ron Garl, Mike Young, Tracy May, Robert Trent Jones II, and even Arnold Palmer.
The top courses to golf in Costa Rica are:
Garra de Leon
Par 71 – 6,956 yards – Designed by Robert Trent Jones II – 1996
Located on the beautiful Reserva Conchal property, this is arguably the best course in Costa Rica. Designed by Robert Trent Jones II, the "Lion's Paw" may have the best ocean views of any course in the country. This course also challenges golfers with lakes, rivers, and 63 sand traps!
Hacienda Pinilla
Par 72 – 7,296 yards – Designed by Mike Young – 1997
Set amongst horse pastures and thousands of acres of untouched land, the Hacienda Pinilla almost takes you back to a more rustic time. The course was designed within the natural landscape and offers stunning views, immaculate greens, and a chance to see some exotic wildlife right on the course.
La Iguana
Par 72 – 6,698 yards – Designed by Ted Robinson – 1999
Situated right behind the world famous Los Suenos Marina, the La Iguana Golf Course is certainly one of Costa Rica's most seen courses. This course combines several ocean view holes with several holes that take you back into the primary and secondary rain forest on this 1,400 acre property where in addition to finding the green you'll also have to keep an eye out for scarlet macaws and monkeys!
Four Seasons Costa Rica Golf Club
Par 72 – 6,800 yards – Designed by Arnold Palmer – 2004

Perhaps the best known of all of Costa Rica's courses, this Arnold Palmer-designed course is located on the stunningly beautiful Peninsula Papagayo. This course is endorsed by the United States Golf Association, and 14 out of the 18 holes here have ocean views. Once only available to guests staying at the exclusive Four Seasons Resort (rated #3 in the world), this is now open to the entire public.
Valle del Sol
Par 72 – 7,011 yards – Designed by Tracy May – 2002
The best public course in the Central Valley, the Valle del Sol combines gorgeous views of the surrounding mountain ranges – including three volcanoes!  Located in the upscale suburb of Santa Ana, this 18-hole course is a true escape from the busy city as the lakes, rivers, ducks, and countless bougainvilleas will no doubt remind you that you are indeed in Costa Rica.