Playa Carrillo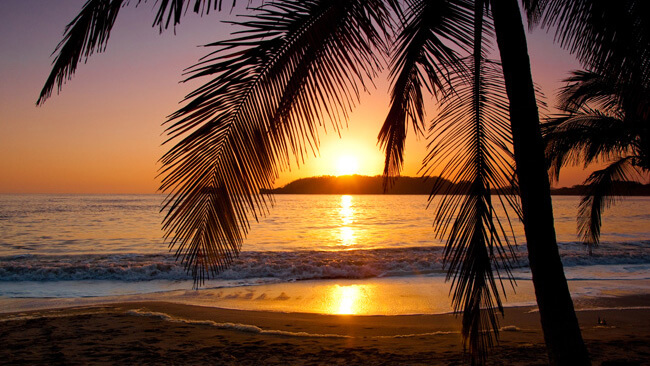 Playa Carrillo at a Glance
Ideal for:
Couples

Solo Travelers
Budget Travelers
Surfers
Families
 Nearby Activities:
Surfing
Deep Sea Fishing
Swimming
Horseback Riding
Snorkeling & Scuba Diving

Paragliding

Sea Kayaking
Nearby Attractions:
Ostional National Wildlife Refuge
Barra Honda National Park
Guatil Indigenous Community
Palo Verde National Park
Special Features:
If you visit Playa Carillo in February, you'll be in for quite a treat: sunset is spot on between two rocks that close the bay. Enjoy!
Fast Facts About Playa Carrillo
Region: Nicoya Peninsula
Also known as: Playa Carrllo or Carillo Beach
Closest Town: Samara, 2 miles north
Closest Airports: Liberia International Airport (2.5 hours) and Carrillo airstrip (10 min)
Average Temperature: 71 to 92°F
Playa Carrillo is lodged on the Nicoya Peninsula, 2 miles (3 kilometers) south of the pleasant little town of Playa Samara. This part of Guanacaste enjoys the best sunsets and climate all year along. Carrillo was recently voted the 27th most beautiful beach of the world, and it is easy to see why with its lovely pristine white sand bay lined up with coconut trees. Carrillo is proud to exhibit the blue flag, symbol of a clean and environmental friendly beach.
Looking like it came out of a holiday brochure, Carrillo has escaped development and is perfect for tourists in search of a peaceful holiday, in close contact and in harmony with Nature. The green hills in the background together with the lush vegetation add to its exotic essence giving it the feel of a lost island somewhere in paradise. The sight of exotic birds and the sound of the howler monkeys complete it beautifully. Because it has no waves, Carrillo is especially great for swimming and relaxing in the sea, and it is one of the best beaches of Guanacaste to bring the kids. It is lovely to take stroll along this perfect shore, or if you prefer, you may enjoy it horseback riding.
As it has not been developed, Carrillo is very quiet at night and there is no better place to admire a starry sky, or a full moon under the music of the waves and to the sounds of the jungle. Samara is only a few minutes away for a little bit of nightlife and has a great choice of hotels, restaurants and bars. Carrillo does however have a few stunning beachfront hotels to choose from.