Playa Cabo Matapalo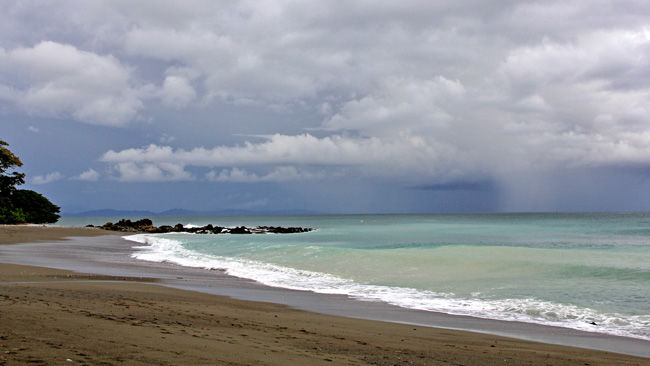 Playa Cabo Matapalo at a Glance
Ideal for:
Families

Couples

Nature Lovers

Relaxation
Nearby Activities:
Surfing in nearby Pan Dulce or Backwash

Bird and Wildlife Watching

One-of-a-Kind Tree Climbing Adventure!
Nearby Attractions:
Corcovado National Park (29 km away)

Isla del Caño (46km by boat)
Special Features:
Very pristine, quiet and hardly, if any, people there.
Fast Facts About Playa Cabo Matapalo
Closest Town: Matapalo or Puerto Jimenez; 45 mins on unpaved road
Closest Airports: Puerto Jimenez, Skyway or Sansa airstrip 45 mins unpaved drive away or 6.5 hr drive from San José. There is no direct flight to Matapalo from SJO airport.
Average Temperature: 72 -90.5 degrees F or 22-32 degrees C
Also Known As: Playa Cabo Matapalo
Crowd Level: Pristine
If you are looking to enjoy the pristine primary rainforests of Osa and all the untouched beauty and splendor away from the hustle and bustle, this beach that special gem of a place. Playa Cabo Matapalo is a quiet, rocky beach located at the southern tip of the Osa Peninsula.
The beach is rocky and hard to enter at low tide. It is more of a looking beach than swimming or snorkeling beach. The swells can range here from small to large and good for surfing but rocky. The sand color is more light tan and is often strewn with foliage and fruit tree debris.
Playa Cabo Matapalo often has large swells with waves at all different levels of difficulty. Some of the stronger and larger waves roll into the shore over a rocky bottom and should only be attempted by experienced surfers. Pan Dulce (Spanish for sweet bread) has much smaller and gentler waves that break onto the beach. This area is great for beginning surfers to practice. Backwash, nearby, is also a great surfing spot.
For nature lovers, this is a nice beach to enjoy for an hour or two, and bring a light snack such as some fruit and water while relaxing here. There is shade along the edge of the beach from the natural foliage and offers protection from the sun.
Best Time to Visit
December to April is the driest and most enjoyable time at this quiet, hidden, untouched beach. Average rainfall December to April is between 5-11 inches per month.
Birding & Wildlife Watching
The 15-minute walk from Lapa Rios is a steep rocky road with a plethora of wildlife everywhere. Walk slowly, carefully, and enjoy. On the beach, one might see some birds on the rocks. Be sure to bring your binoculars.
---
Services & Infrastructure in Playa Matapalo
There are no amenities or infrastructure. The nearest town is 45 minutes away on a bumpy, unpaved road. Lapa Rios is a 20-minute steep walk uphill, or Lapa Rios will pick you up at a pre-scheduled time.
Public transportation: No
Public amenities: No
Shopping: No
ATMs: No
Gas stations: None, nearest one is 45 mins drive away, Puerto Jimenez
WiFi or Internet cafés: None
Cell Phone Reception: Mostly poor; depends on the cell phone provider & weather conditions
Restaurants: None
Nearest medical facilities: There is a Public Clinic in Puerto Jimenez (45 min drive away). There is a hospital in Golfito (45 min drive and 30 min boat ride away)