Nature & Wildlife Tours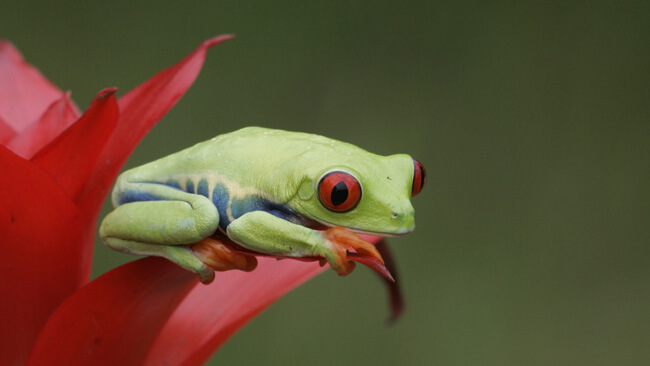 Popular Activities: Birdwatching, Dolphin & Whale Watching, Scuba Diving & Snorkeling, and Turtle Nesting Tours
Most Popular Destinations: Countrywide
In life, there's the good enough and then there's the exceptional – the experiences that blow every expectation out of the water and form the backbone of memories that you can see, hear, and touch for weeks, months and even years later. They're the moments that teach you that dreams don't even approach the brilliant truths of reality and that the world's promise is more magical than any special effect.
Can you guess where Costa Rica ranks? A hint: We're on the eye-popping, mind-blowing, life-changing end of the spectrum. This tiny Central American nation may be smaller than the state of West Virginia, but it is home to a whopping 5% of the world's total species, including 3.5% of all identified marine animals. And that all boils down to some of the planet's most incredible wildlife watching and outdoor adventures.
Imagine hiking down a sandy, beachfront park trail when your guide points out a three-toed sloth just feet above your head. A green iguana scurries up a palm tree, flicking a wary glance over its shoulder to gauge your relative position. Suddenly, a troop of howler monkeys erupt in vociferous hoots that echo through the rainforest. (Careful, they really do fling poop!)
In Costa Rica, you could be swimming amidst hammerhead sharks and manta rays. Or standing stock-still on a pitch-black beach, watching in awe as a 1,200-pound leatherback sea turtle lays her eggs. Or sailing through the sparkling Pacific, when a telltale spray of water announce a humpback whale's approach. These are the sights and sounds of Costa Rica's great outdoors. The experiences that inspire awe in all who live them.
Aerial Trams
The majority of any forest's biodiversity resides in the canopy, where few humans ever venture. Aerial trams are the great equalizer, sending you into the highest reaches of the nation's rainforests and cloud forests. The peaceful ride takes about an hour, and introduces you to scenic vistas and enchanting flora, while bringing you face-to-face with mischievous monkeys, sleeping sloths, and nesting birds.
Most Popular Destinations: Arenal, Monteverde, Jacó, and Braulio Carrillo National Park (near San José)
Birdwatching
At least 12 different climate zones and 14 distinct avifaunal zones give shelter to Costa Rica's massive bird population, which numbers more than 850 species – a list double that of Canada and the United States, combined! The nation welcomes 50 hummingbird species, the majestic resplendent quetzal, rare scarlet and green macaws, and at least 19 endangered avian species. Whether you're an avid birdwatcher on a dedicated mission or simply a fan of our feathered fans, you'll find birds aplenty in Costa Rica.
Most Popular Destinations: Puerto Viejo de Sarapiquí, Carara National Park, Palo Verde National Park, San Gerardo de Dota, Osa Peninsula, and Monteverde
Dolphin & Whale Watching
An estimated 25 whale and dolphin species call this country home, making waves north to south on both the Pacific and Caribbean coasts. And if you didn't know, Costa Rica also hosts the world's longest humpback whale-watching season in the world; these sea giants spend eight total months in local waters, migrating and mating off the Osa Peninsula from July-November and December-March. Dolphin and whale-watching tours depart daily from many points off the Pacific coast.
Most Popular Destinations: Drake Bay, Dominical, Manuel Antonio and Playas del Coco
Hiking
There's no question that Costa Rican biodiversity is best enjoyed the old-fashioned way – on foot! Trek into the nation's rainforests, cloud forests and tropical dry forests, or swap the trees for sandy coastline, mossy rivers and challenging mountains. Whatever your pleasure, your treks through Costa Rica's national parks, private reserves and wildlife refuges are sure to reveal all manner of natural wonders, from endangered wildlife to serene waterfalls. If you're serious about plant and animal spotting, hire an eagle-eyed guide to lead your sojourns.
Most Popular Destinations: Countrywide
Scuba Diving & Snorkeling
Costa Rica's Pacific Ocean and Caribbean Sea house a treasure trove of 7,000+ marine species. If you've ever wanted to hobnob with hammerhead sharks, spotted eagle rays, spinner dolphins, and puffer fish, our waters are your path to serious bragging rights. Dive shops dot the coastline, so you can rent equipment or get PADI-certified. And if you just want to test the waters (literally), plenty of operators offer resort and discovery dives. Serious divers absolutely cannot miss a multi-day excursion to Isla del Coco (Cocos Island), a deserted island known best for its eight species of sharks!
Most Popular Destinations: Playas del Coco (including Catalina and the Bat Islands), Cahuita, Manuel Antonio, Caño Island, and Isla del Coco
Sea Turtle Tours
Costa Rica's pristine and protected beaches form important habitats for five species and one sub-species of marine turtles – leatherback, Olive Ridley, loggerhead, hawksbill, and black and green sea turtles – all of which are either endangered or critically endangered. Turtle tours introduce you to the massive sea creatures that lumber onto the nation's beaches to lay their eggs or, months later, the tiny products of their mothers' labors. Turtle nesting tours are usually available by reservation only and space is often limited, so be sure to book your space early.
Most Popular Destinations: Tortuguero, Ostional Wildlife Refuge (Nosara), and Las Baulas National Marine Park (Tamarindo)