Rainbow Bass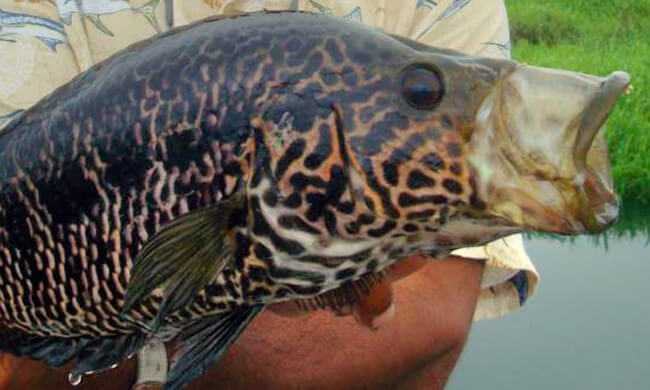 Rainbow Bass are part of the cichlid family, which includes oscars, wrasse, angel fish, the closely related peacock bass. Better known as 'guapote' here in Costa Rica, they are the main target of freshwater anglers.  As the top predator in nearly all freshwater habitats, the rainbow bass are prized for their combination of intelligence, aggression, and great tasting meat.
DESCRIPTION: Guapote are known to be both very intelligent and very aggressive, making them both a challenge and a thrill to fish for.  Although rumored to be a stocked fish, they actually made their way to Costa Rica naturally and are now an integral part of the fresh water eco-system.  They can be distinguished by the dark vertical stripes on their sides as well as their impressive set of teeth.  Large males have a large bump on their foreheads, much like then napoleon fish.
FEEDING HABITS: They are a predatory fish so they will feed on anything from worms to crayfish to grass shrimp to other smaller fish.  They can be so aggressive they can be caught on the fly, but the largest guapote typically hide out in the cooler, darker water so deep diving lures are best.  They rarely break the surface during the fight, and you rarely get more than one shot at the same fish.
SIZE: They typically range in the 3-10 lb range, but many have been recorded larger than that.  The world record was actually caught here in Costa Rica in 1991 at 12 lbs 9 oz, but was later beat in bordering Nicaragua with a 15 lb 0 oz monster in 1999.
WHERE FOUND IN COSTA RICA:  The main spot to fish for guapote without doubt is Lake Arenal.  The 33 sq mile, man-made lake is home to large guapote in addition to machaca, mojarra, and tilapia.  Though they face more pressure now than in years past, guapote are still caught every day on the lake. They can also be found in Cano Negro in the north central part of the country.
BEST MONTHS: Guapote can and are caught all year round, but the fishing is typically better when the lake water levels are lower as they have less space to hide in.  Those months would coincide with our dry season, or summer, so typically Jan-May is spectacular.