Osa Peninsula & The South Pacific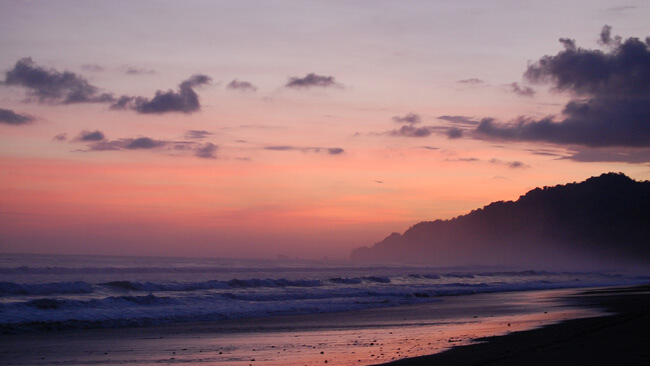 Osa Peninsula & The South Pacific at a Glance
Ideal for:
Nature Lovers

Couples
Families
Adventure Seekers
Luxury Travel
Nearby Activities: 
Bird & Wildlife Watching
Dolphin & Whale Watching
Hiking
Mangrove Tours
Sport Fishing
Diving  & Snorkeling
Nearby Attractions: 
Cano Island Bilogical Reserve
Corcovado National Park
Osa Wildlife Sanctuary
Piedras Blancas National Park
San Pedrillo Waterfalls
La Llorona Waterfall
Fast Facts
Region: Osa Peninsula and the South Pacific
Landscape: Beaches, lowland rainforest
Closest Airports: San Jose International Airport (SJO), Drake Bay, Puerto Jimenez & Golfito airstrips
Altitude: Sea Level to 330 ft (100 m)
Average Temperature: 71-93°F (23-34º C)
It's said that more than half of all of Costa Rica's animal species live in the Osa Peninsula. This biologically rich area is accessible only by plane or boat, which ensures that most of its land remains unspoiled by civilization. Uncompromising, sustainable eco tourism is the what hotels in the Osa Peninsula are famous for. Osa is home to the world famous Corcovado National Park, perhaps one of the biggest attractions in all of Central America. The park is open to the public and is home to some of the most fascinating creatures on earth including scarlet macaws, bull sharks, and tapirs.
For visiting Corcovado National Park, Drake Bay and Puerto Jimenez are two gateway destinations on the Osa Peninsula. Drake Bay is on the north side of the peninsula with Caño island, the second major attraction in the area, just under an hour ride away by boat. The tiny town of Carate, near Puerto Jimenez, serves as  the southern gateway to visit the park.
Attractions & Places to See
Visits, either alone or guided, to the Corcovado National Park are, of course, a must! The pristine beaches and primary forest of Corcovado, with its fantastic array of tropical flora and fauna, will simply mesmerize you. Corcovado is one of the most beautiful conservation regions of the world. This is a favorite destination for ecotourists and lovers of nature. In Corcovado, you are likely to see ocelots, margay, jaguars, tapirs, red macaws, toucans, quetzals, and more amazing tropical animals.
Piedras Blancas National Park is another gem of the area. Boasting much of the same flora, fauna, and interesting landscapes as Corcovado, this park is much less visited making it that much more off the beaten path. Trails navigate the jungle-covered forests, rivers, waterfalls, and beaches that never fail to astound. Research in the park is ongoing as new plants, animals, and native history are still being discovered here. Birdwatching is some of the best in the country, and just off the coast are many intact coral reefs which make for excellent snorkeling and swimming.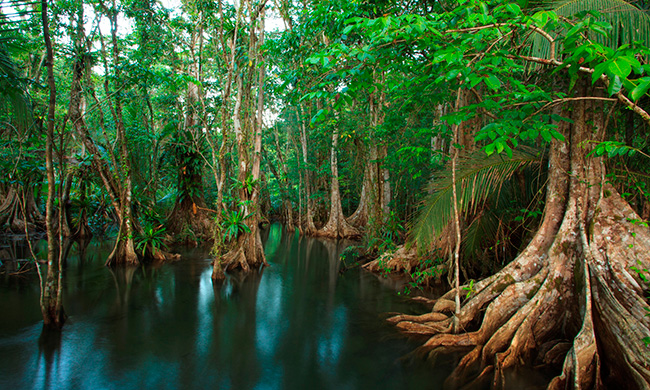 See also the Punta Río Claro National Wildlife Refuge and the Campanario Biological Reserve. They offer courses on Neotropical Ecology and have very basic lodging.
Drake Bay is a good place to stay if you want to visit the uninhibited Caño Island and the Caño Island Biological Reserve; this is one of the best snorkeling and scuba diving locations in the country, famous for its crystal-clear waters.
Caño Island Biliogical Reserve

Campanario Biological Reserve
Osa Wildlife Sanctuary
Piedras Blancas National Park
San Pedrillo Waterfalls
La Llorona Waterfall
Activities & Things to Do
Osa Penisula offers a wide variety of activities—fun for the whole family, a solo traveler, or couples alike. It is diverse and rich with wildlife you can explore, many adventures to experience, and stunning sunsets to enjoy.
Bird & Wildlife Watching
Dolphin & Whale Watching
Hiking
Mangrove Tours
Sportfishing
Diving & Snorkeling
Day Trips
Corcovado National Park
Punta Rio Claro National Wildlife Refuge
San Pedrillo Waterfalls
Wildlife & Nature
To try and single out every animal you might see in Osa would be a great disservice to one of the few places on the planet where nature still has the power to amaze you. That said, Corcovado National Park offers the best chance of spotting endangered species like jaguars and the Baird's tapir.
Best Time to Visit
The best time to visit Osa Peninsula is dry season, which runs from January through April, when it has reliable sunny weather with little or no rainfall. This is also the most popular and expensive period. During the green season (May through August/September) afternoon showers are common but you will get the best value as lodges drop their rates significantly. Avoid September and October as many lodgings are closed during these two rainiest months.
Where to Stay
Osa is essentially a paradise for nature lovers who will also find themselves in awe of the region's most popular eco-hotels which deftly combine sustainable practices with luxury. There isn't a big variety of budget-friendly options as the region has no central infrastructure—even modest accommodations in the middle of jungle cost much more then in otherwise populated areas.
Restaurants and Nightlife
Puerto Jimenez on the south side of the peninsula is the only place with restaurants, bank, ATM, gas station, shops, internet cafes, grocery stores, and nightlife. Nightlife in Osa means the sound of the jungle!