Guanacaste & The North Pacific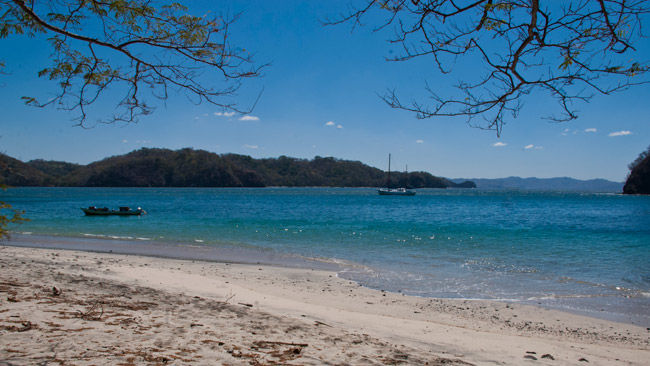 Guanacaste & The North Pacific at a Glance
National Parks:
Rincon de la Vieja National Park

Santa Rosa National Park
Tenorio Volcano National Park
Barra Honda National Park
Volcanoes
Tenorio

Miravalles

Orosi

Rincon de la Vieja
Special Features:
The beautiful province of Guanacaste got its name from one of the largest mimosa trees in the world, The Guanacaste Tree. In ancient Nahuatl language "Guanacastl" means "the tree of the ears" because the large seed pods resemble a human ear. The Nahuatl language (pronounced na:wa:tel) was derived from the ancient Aztecs and Costa Rica still carries many of these interesting Native American names
The Province of Guanacaste in North-Western Costa Rica, along with being the home to countless gorgeous beaches, holds one of the largest tracks of Tropical Dry Forest in Meso-America. For a long time scientist thought that Tropical Rain Forest was the most diverse in regards to varieties of trees, plants, and wildlife, but now we know that Tropical Dry Forest is just as unique and has just as many species of flora and fauna as the Tropical Rain Forest. Tropical Dry Forest is also a favorite of birders and wild life enthusiasts, because the vegetation is not as thick, making observation and photography easier.
Guanacaste really has everything to offer visitors. Active volcanos (Tenorio, Miravalles, Orosi, and Rincon de la Vieja), some of them used for the production of electricity through geo-thermal power plants, impressive craters with fumaroles and geysers, and cool Cloud Forest on the mountain tops. If you enjoy beautiful beaches plan to visit Playa Conchal, Flamingo, Samara or Junquillal (just to name a few). For wild life lovers, visit at the right time of the year and you can witness one of the most spectacular events of Mother Nature; thousands of sea turtles coming to shore to lay their eggs.
Because of its rugged topography Guanacaste has a lot of rivers good for rafting or kayaking. Fishing is excellent in the ocean or the rivers. Magnificent waterfalls with tranquil pools, caverns with stalactites and stalagmites, working ranches with horseback riding, adrenaline adventures, surfing, and yes, just relaxing are all available in Guanacaste. There are also a large range of hotels available in Guanacaste including some fantastic all inclusive hotels and resorts.
The province of Guanacaste is the area of Costa Rica that receives the least amount of rain fall each year. Once the last rains end in early November, the skies won't see a cloud again, usually, until early May.
For all of the above, if you are planning a vacation to Costa Rica try to include Guanacaste. You will have a great time exploring, and remember to take a moment to contemplate the magnificent tree, that gives its name to this fascinating province.
Guanacaste Beaches
Guanacaste is home to many beautiful beaches. The Pacific Coastline provides for a great variance in beach experiences. From soft white powdery sand to rugged cliffs and rocky shores you can explore and discover hundreds of spots to spread your blanket and take in the warm sun or swim in the warm Pacific waves.
Most popular beach destinations:
Playa Conchal
Known for its pinky white sand and clear warm water, Playa Conchal is a favorite for families and sun worshippers. Playa Conchal is located just North of Tamarindo and is home to one large resort hotel and one villa property.
Playa Tamarindo
Tamarindo is a haven for surfers, families, and beach lovers because this beach offers it all. The Northern end of the beach has bigger waves, great for surfing and the Southern end has mild waves, making it nice for swimming. The town of Tamarindo is rich with dining and nightlife.
Playa Papagayo
The Gulf of Papagayo is home to many of the countries large resort hotels. The beach is pretty and natural with darker sand and foliage that reaches almost to the shore. Waves are mild so families with younger children can enjoy the tranquil waters.
---
Nosara, Samara, Mal Pais, Santa Theresa
This long area of coastline with these 4 main beaches, is fantastic for surfing, beach combing, swimming, and sunning. You'll find accommodations from hostels and back packer camps to the finest upscale boutique hotels. These areas are also popular camping destinations for locals, during holiday periods.
National Parks in Guanacaste
Rincon de la Vieja National Park
Location: Northern Guanacaste. This park boasts 160,000 hectares of tropical dry forest and tropical rain forest, and even cloud forest, all in one park. The area is rich with hot water wells and mud pools, geysers and waterfalls. Hiking is between intermediate and difficult and it is possible to hike to the edge of the cauldron of the Rincon de la Vieja volcano. Wild life viewing and bird watching is excellent. Note: This park is closed on Mondays.
Palo Verde National Park
Location: Along the Tempisque River, just West of the town of Canas. Palo Verde is a wonderful experience for nature lovers and bird watchers, also; for those who may not enjoy long hikes. Visitors can access the park by boat and enjoy an incredible nature experience. The large network of tropical mangrove, wetlands, savannahs, and of course lowland dry tropical forest have created a unique habitat for hundreds of species of birds, crocodiles, snakes, mammals, and amphibians.
Santa Rosa National Park
Location: Santa Elena Peninsula, Guanacaste. This park is famous for the Santa Rosa Casona, a wonderful historical monument representing the most important military event in the history of Costa Rica. It's an extremely interesting walk back in time and a tribute to a crucial event that shaped what is now modern day Costa Rica. Along with visiting the Casona, guests enjoy amazing wildlife, birds, forest and even beaches.
Tenorio National Park
Location: Border of Alajeula and Guanacaste provinces near Arenal. This hidden gem of Costa Rica is famous for the sublime Rio Celeste that runs through the park. Hiking is intermediate to hard, but the rewards are great as visitors get to experience the amazing site of two tributaries converging to create a true turquoise colored river flowing through the lush green jungle. It has to be seen to believe. Wild life viewing is incredible with tapir sightings occurring around the Laguna Danta. Bird watching is also exceptional.
Barra Honda National Park
Location: Near the mouth of the Tempisque River. This unique park is famous for its rock formations, canyons, and caves. The caverns are filled with stalactites and stalagmites and a large network of tunnels. Guests can expect to rappel from an opening down to the cavern floor. It's a wonderful adventure.
Other National Parks in Guanacaste
Las Baulas Marine National Park – Playa Grande, famous for leatherback Sea turtles nesting.
Lomas Barbudal – Located near Liberia, well known for small mammals and insects, especially bees.
Miravalles Volcano National Park – Between Canas and Liberia, known for great views and wildlife