White Water Rafting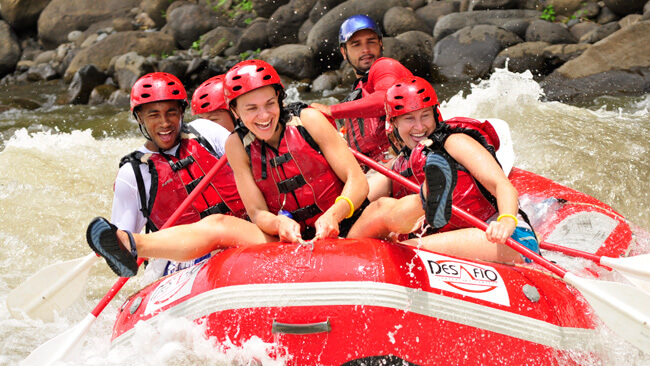 Fast Facts
Ideal for: Families | Couples | Adventure Seekers | Nature Lovers 
Best Time of Year: Rapids are fast & furious during the green season (June through October), and a bit tamer during the drier months of November-May
Most Popular Destinations: Turrialba, Arenal and Sarapiquí
Related Activities: Safari Floats (tamer than rafting) and Waterfall Rappelling (often bundled into rafting-rappelling trips)
On your mark, get set, PADDLE! As you begin your river run, the world is a collage of sensations – your guide, calling out instructions your brain is just learning to process; your legs in an iron grip to keep you aboard the raft; your eyelids blinking away splashing water (and beading sweat); and your arms, heave-hoing in tandem with your fellow rafters.
It's spectacular. It's thrilling. It is the heart-pounding, breathtaking, exhilarating adventure of white water rafting, a Costa Rican specialty. The nation's rivers criss-cross the country, bisecting some the most popular destinations and guaranteeing you a chance to test your skills and flex your muscles on some of the continent's most formidable rapids. Costa Rica issues the challenge; do you accept?
Of course, there's more to Costa Rica's whitewater rafting than Class IV-V rapids. The nation's rivers also offer Class II-III rafting and, for first-time river runners and pint-sized paddlers, Class I-II safari floats. These tamer choices blend a generous helping of nature with a side of wildlife watching and river excitement.
And here's a little secret: whitewater rafting is one of the coolest, most fun ways to travel from one Costa Rican town to another. Adventure connections link some of the most popular tourist destinations–San José, Puerto Viejo, Arenal and Manuel Antonio, among them–with whitewater rafting en route. Save time, save money and have a blast on your travel days!
Go White Water Rafting in…
Guanacaste & the North Pacific
Costa Rica's North Pacific is not a whitewater hotspot, but that doesn't mean you can't have river fun! Tubing adventures are popular out of Rincón de la Vieja, often combining a 90-minute ride down Class I and II rapids with horseback riding.
Best Time to Visit: If you want a bit more adventure, visit during the green season (June-October) when the rapids run faster.
Central Pacific
Most people don't think to link the Central Pacific to rafting, but the truth is that the rapids here are excellent. White water rafting tours depart daily from Jacó and Manuel Antonio, ferrying adventures out to the Savegre and Naranjo Rivers. You can tackle Class II, III and IV rapids in half-, full- and even multi-day trips.
Best Time to Visit: Rapids are harder, faster and more challenging during the green season (June-October).
Arenal & the Northern Lowlands
Arenal is known as the adventure capital of Costa Rica, and white water rafting is one of the town's specialties. Brave the churning froth of the Río Balsa (Class II-III) or Río Toro (Class III-IV), or go tame on the Class I-II Peñas Blancas River, the perfect choice for safari floats. Farther east, Sarapiquí offers excellent rafting along the Class III-IV Río Sarapiquí and Río Puerto Viejo. Multi-day trips are very popular along the mighty Sarapiquí River, which draws nearly as many whitewater aficionados as the famed Pacuare and Reventazón Rivers (see below).
Best Time to Visit: For the most heart-pounding white water, brave the waves from June-October.
San Jose & the Central Valley
The tiny town of Turrialba is the undisputed champion of whitewater rafting in Costa Rica. The Río Pacuare dishes up Class II-IV rapids, while the Río Reventazón kicks it into overdrive with serious power: Class III, IV and V rapids froth and churn down this world-famous stretch of river. For serious adventurers and whitewater fans, multi-day package trips often bundle big fun with transportation, food and river accommodations.
Best Time to Visit: The biggest, baddest rapids churn during the height of the green season, from June through October.
South Caribbean
The Caribbean's Río Estrella serves up the perfect blend of tame adventure–an exhilarating ride for unseasoned paddlers in search of a serious thrill. You'll make your way through the Cabecar Indigenous Reserve to dunk your tube into the Estrella, riding down the river for an awesome–and awe-inspiring!–river rapids adventure.
Best Time to Visit: The Southern Caribbean is wetter than the rest of the country, so rapids are fairly uniform throughout the year.