Visit to Hot Springs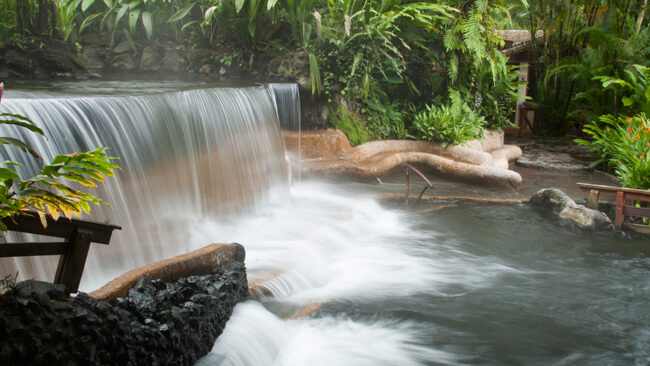 Ideal for: Families, Couples, Nature Lovers, Relaxation Retreats
Best Time of Year: Year-round
Most Popular Destinations: Arenal, Miravalles Volcano and Rincon de la Vieja National Park
Related Activities: If you love hot springs, you'll also like Costa Rica's incredible day spas.
Natural stone and vibrant botanicals surround a natural pool that lies ensconced in a quiet forest. Mist rises off the water's surface, evaporating into the tropical breeze. The only sound is the singsong of birds and your feet, padding toward the steamy pool. Go on, dip your toe in. Stow your towel and climb on in. Costa Rica's hot springs are waiting!
Hot springs form in several ways, but in Costa Rica there is only one—or 200, to be precise. For millennia, the nation's 200+ volcanic formations have heated groundwater to form thermal pools and therapeutic mud—nature's own spa. As a result, Costa Rica is dotted with hot springs known for their restorative properties—homeopathic medicine touts the medicinal qualities of these mineral-rich waters—and relaxing qualities.
You'll find natural hot springs sprinkled around the country; if you have an adventurous spirit, you'll probably even happen upon unadvertised springs in surprising places. In fact, many hotels have private hot springs located on their grounds, especially in the Arenal Volcano area. But if these restorative thermal pools are on your must-visit list, then you have to schedule a visit to Arenal, Rincón de la Vieja, or Río Celeste—the undisputed champions of Costa Rica's volcano-fed hot springs.
Enjoy Hot Springs in…
Guanacaste & North Pacific
The hot springs surrounding Tenorio Volcano and Miravalles Volcano are two of Costa Rica's most popular destinations for restorative soaks. Tenorio Volcano feeds the famously blue Río Celeste, where a hiking trail winds through Tenorio Volcano National Park and delivers visitors to string of national hot springs. Mud baths and a natural pools are also the biggest draws to Miravalles Volcano. Likewise, Rincón de La Vieja National Park, just north of Liberia, offers spectacular natural hot springs.
Best Time to Visit: The hot springs are toasty year-round, although the dry season (November-May) promises better conditions for national park hiking.
Arenal
Arenal and La Fortuna are located in the province of Alajuela, but when it comes to hot springs Arenal is in a category all its own. The town sits at the base of an active volcano that feeds into the region's cool rivers, producing bubbling thermal pools. Arenal's thriving tourism base has turned these hot springs into destinations on their own, so you can choose from super secluded to all-out hot spring fun (complete with waterslides!).
Best Time to Visit: Arenal's hot springs are spectacularly enjoyable year-round.