Visit to Hot Springs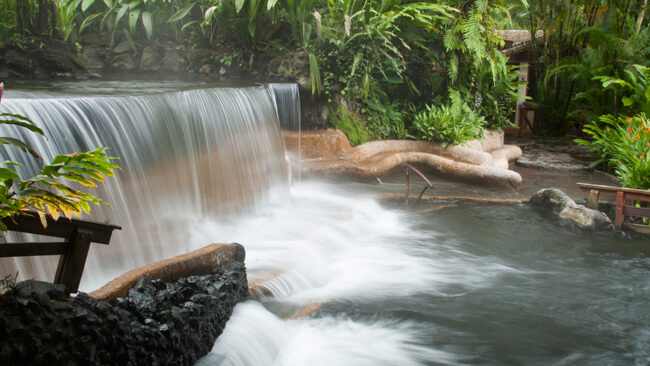 Ideal for: Families, Couples, Nature Lovers, Relaxation Retreats
Best Time of Year: Year-round
Most Popular Destinations: Arenal Volcano, Miravalles Volcano, Tenorio Volcano, and Rincon de la Vieja National Park
Related Activities: If you love hot springs, you will also like Costa Rica's incredible day spas.
Natural stone and vibrant botanicals surround a natural pool that lies ensconced in a quiet forest. Mist rises off the water's surface, evaporating into the tropical breeze. The only sound is the singsong of birds and your feet, padding toward the steamy pool. Go on, dip your toe in. Stow your towel and climb on in. Costa Rica's hot springs are waiting!
For millennia, the nation's 200+ volcanic formations have heated groundwater to form thermal pools and therapeutic mud—nature's own spa. As a result, Costa Rica is dotted with hot springs known for their restorative properties. Homeopathic medicine touts the medicinal qualities of these mineral-rich waters, though most visitors indulge in Costa Rica's hot springs for their relaxing qualities.
Check out a few of our most popular hot springs destinations.
Arenal Volcano & La Fortuna
Arenal and La Fortuna are located in the province of Alajuela and when it comes to hot springs, Arenal is in a category all its own. The town sits at the base of an active volcano that feeds into the region's cool rivers, producing bubbling thermal pools. Arenal's thriving tourism base has turned these hot springs into can't miss attractions. Choose from super secluded to all-out hot spring fun (complete with waterslides)!
Best Time to Visit: Arenal's hot springs are spectacularly enjoyable year-round.
Hot springs are relaxing and enjoyable by definition but the Arenal Volcano offers some unique options. Whether you're in need of a day trip or are looking for hot springs access right outside your hotel room door, this location has it all!
Check Out the Top Hot Springs Destinations in Arenal: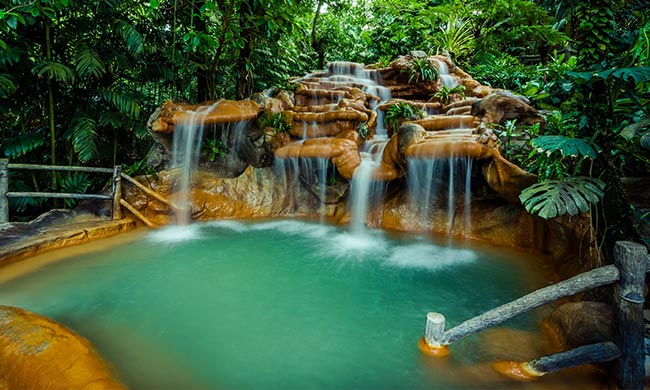 The Springs Resort and Spa is the ultimate experience combining nature and luxury. Hot springs are sprinkled about this sprawling property in the lush rainforest, including secret pools and waterfalls with varying temperatures. A soak in these healing waters and a massage at their world class spa are a treat of a lifetime! Half an hour up from the town of La Fortuna, in the Arenal Volcano area, The Springs Resort is tucked into the rainforest hidden from prying eyes. This creates a perfect getaway, only 2.5 hours away from the San José International Airport and 3 hours from the Liberia International Airport.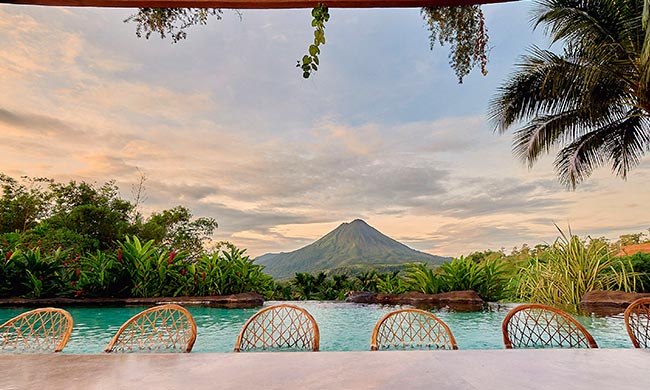 The Springs' views of Arenal Volcano right from your seat in the hot springs' pools are a treat for all guests. Each pool was designed to blend seamlessly with the surroundings, and several have small details like man-made waterfalls where you can sit and let the water untense your shoulders.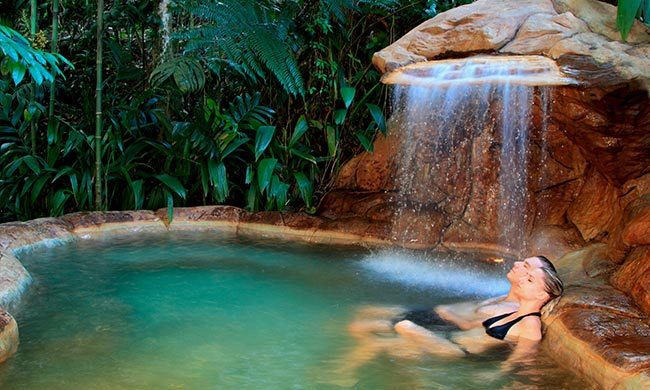 With pools of different sizes, shapes, and temperatures (each one is marked accordingly, with a range between 86˚F-104˚F), choose the pool that suits your mood and spend time relaxing in the rejuvenating waters.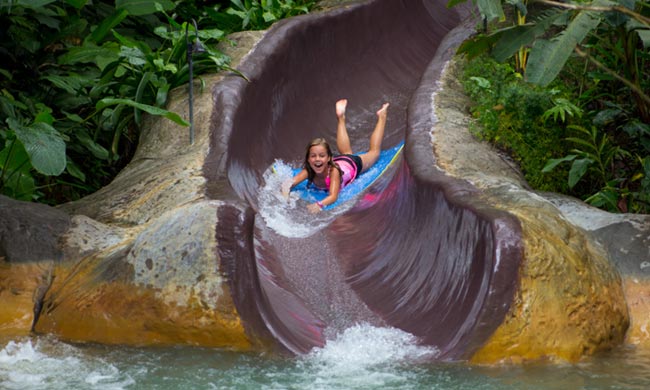 The Perdido Springs are seven pools hidden between the lush vegetation, connected by trails. These springs include a monkey waterslide, so make sure to visit with the kids.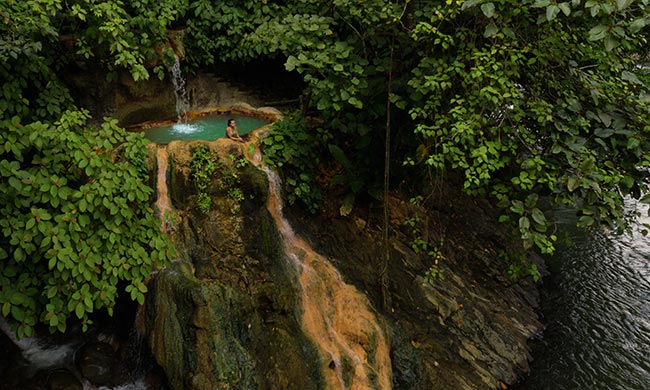 The hot springs at Club Rio are located near the river that crosses the property, providing canyon and rainforest views as far as the eye can see.
---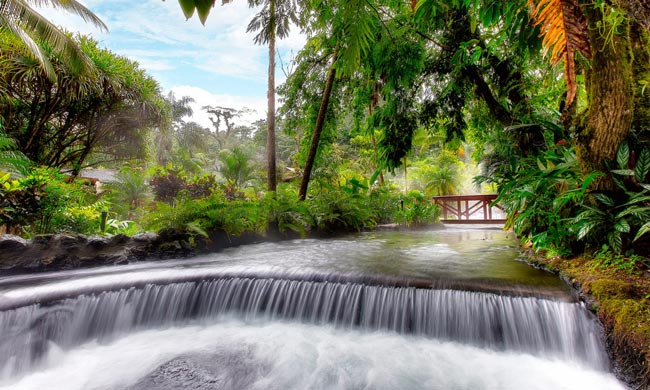 Tabacon is an Arenal original. They were the first in the area to offer soaks in their mineral rich, naturally flowing hot springs. You could easily spend hours hopping from pool to pool. The landscaping is impeccable, and they offer a top-notch spa as well.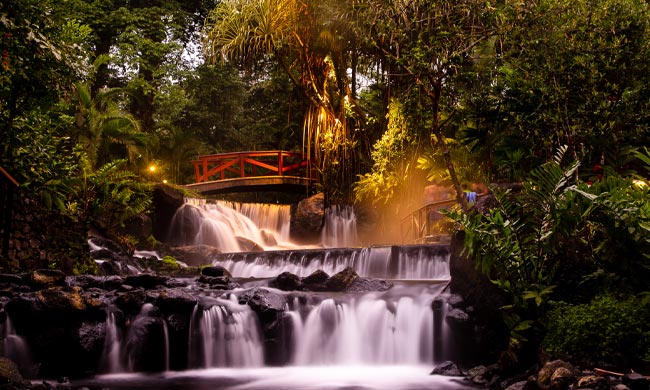 Renowned for its hot springs and gardens, Tabacon offers the opportunity to truly unwind in a resort with dedicated and detail-oriented service.
Beautifully landscaped, Tabacon creates a series of thermal hot springs pools that blend with the rainforest. The mineral water is fed by a naturally heated river that crosses the property, creating a "hot springs trail" where you can spot waterfalls and volcanic stones along the way.
Sections of the hot springs are open to the public with a day pass, so Tabacon has created a quieter place exclusive for their guests.
The adult-only Shangri La Gardens is where you can enjoy six more thermal pools, order drinks and snacks, and pick from a number of lounging areas. There are even cabanas and seats built into the hot water making recharging as comfortable as possible.
---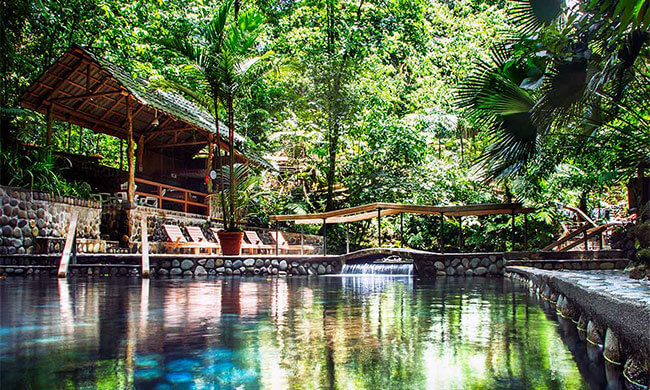 Ecotermales is a wonderful option if you're looking for a low key, cozy experience. There are fewer pools, but they are lovely and set in a stunning, jungle location.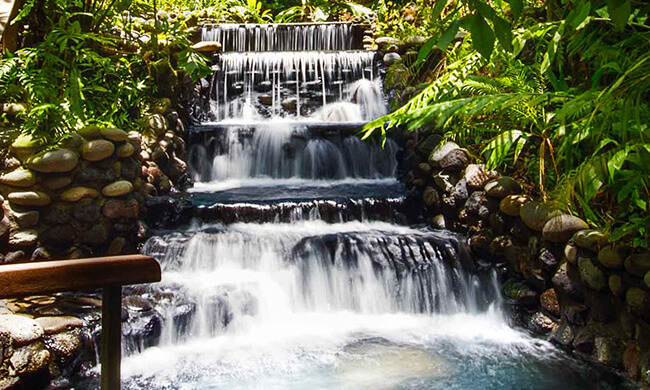 Ecotermales is perfect for couples, families, and groups looking for a unique and authentic experience in a tranquil rainforest setting. Because these springs are smaller in size and meant for those wishing to experience something genuine to the area, no more than 100 visitors are permitted into the hot springs at once. Owned by a local Costa Rican family, the Higaldos, Ecotermales provides a true Costa Rican experience.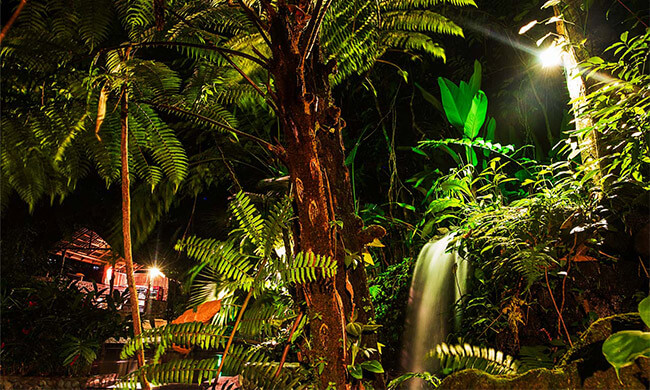 There are four thermal hot spring pools in total varying in temperature with the coolest being 91º F and the hottest being 105º F. One of the pools even has a waterfall that you can stand beneath!
---
Titoku Hot Springs
Titoku Hot Springs provides a quieter, more intimate hot springs experience. This location boasts several different temperature pools in a stunning, serene setting.
Titokú Hot Springs consists of eight thermal pools that cascade in a series of small falls over boulders from hottest to coolest temperatures. These springs are owned by local hotel, Arenal Kioro, but are located on a separate property and are open to the public by reservation. Titoku has restrooms, dressing rooms, lockers, and a snack and cocktail bar. Spend the afternoon relaxing at Titokú Hot Springs without a care in the world.
If guests opt to stay onsite at Arenal Kioro they can enjoy a total of seven on-site hot springs that are located by the main pool area. This part of the property is surrounded by vegetation, creating the sensation of being submerged in the rainforest. The property literally sits at the base of Arenal. Stretching out in these hot springs while staring up at the majestic volcano provides for a once in a lifetime experience!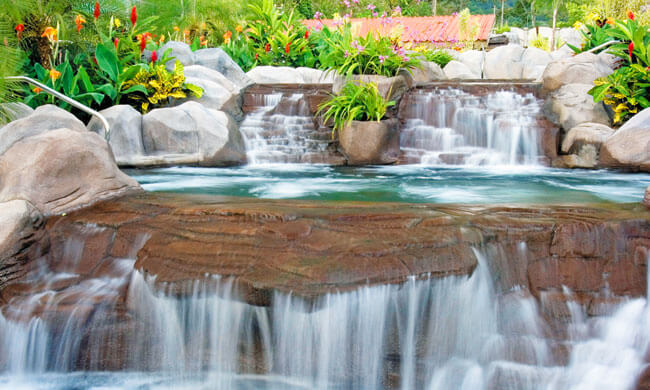 The hot springs are fed by a river near the pools at the property. These pools are on the smaller side, providing a more personal experience when you lounge in them. Guests do have access to the Titokú Hot Springs.
---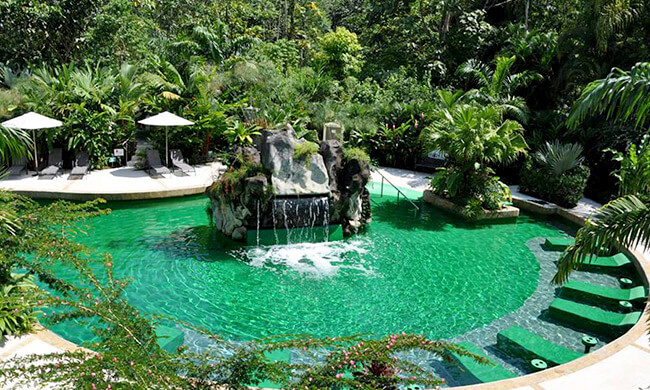 Paradise Hot Springs offers an affordable, relaxing Cost Rica experience. Perfect for couples and for friends. Like the other options, it offers different temperature thermal water pools.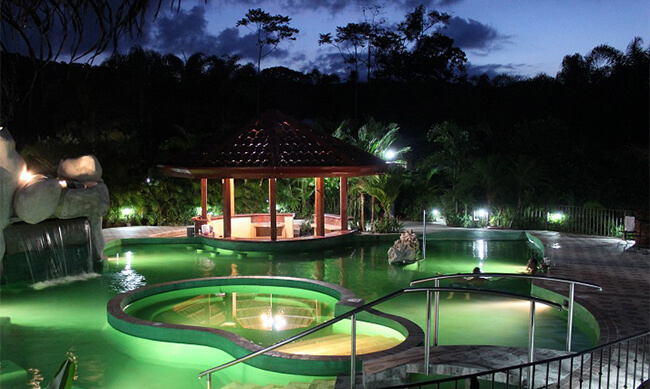 With eight different thermal pools to choose from, hydromassage, and lush tropical surroundings, it's not difficult to find the perfect spot to relax. While these hot springs are open to the public, admission is limited to give everyone space to enjoy the soothing hot springs.
---
Guanacaste & North Pacific
The hot springs surrounding Tenorio Volcano and Miravalles Volcano are two of Costa Rica's most popular destinations for restorative soaks. Tenorio Volcano feeds the famously blue Rio Celeste, where a hiking trail winds through Tenorio Volcano National Park and delivers visitors to a string of national hot springs. Mud baths and natural pools are also the biggest draw to Miravalles Volcano. Likewise, Rincón de La Vieja National Park, just north of Liberia, offers spectacular natural hot springs.
Best Time to Visit: The hot springs are toasty year-round, although the dry season (November-May) promises better conditions for national park hiking.
---
Miravalles Volcano
The Miravalles: Hidden Thermal River is a gem within the Province of Guanacaste.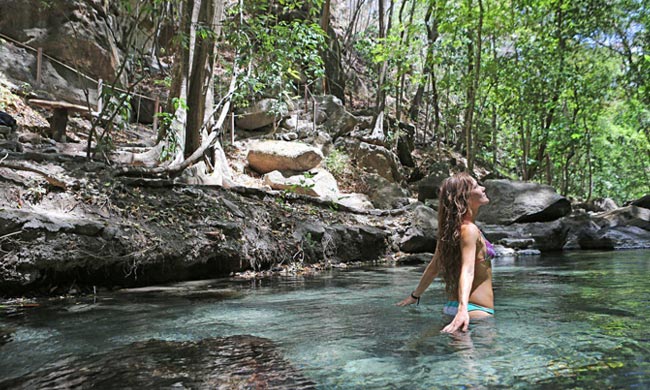 First, head into the faraway hills in search of Rio Perdido, a boutique hotel surrounded by tropical dry forest in a peaceful and rustic-inspired atmosphere. This 32-bedroom property is an ideal property for those seeking a unique, less touristy destination where they can experience the true natural beauty outside their door. With three geothermal pools onsite, volcanic, and tropical dry forest views, it's a nature lover's dream!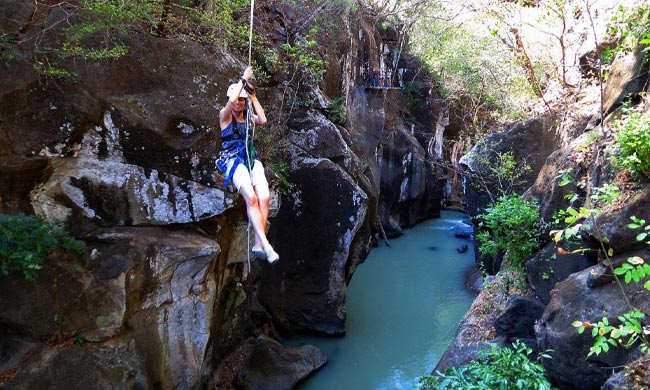 It offers a variety of on-site activities like zip lining and mountain biking, but its main attraction is the river that traverses the property. The waters of this river are natural thermal hot springs, heated by the Miravalles Volcano in the background. After a walk through the hotel's trails you can bathe in its waters and indulge in a mud bath to rejuvenate your skin.
---
Celeste River
The vibrant blue waters of the Rio Celeste is a result of two rivers that have come together to mix natural sulfur deposits and calcium carbonates creating a rare phenomenon seen in few places around the world.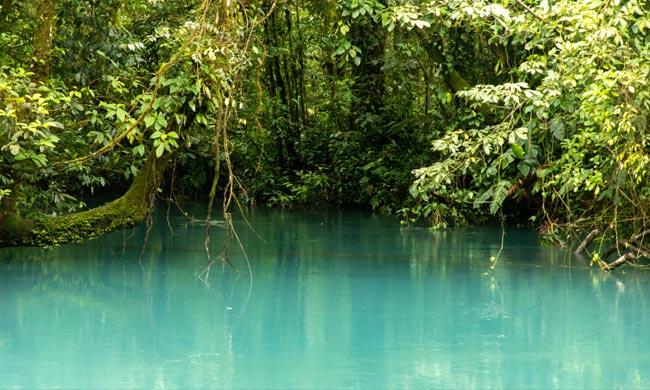 The trail within the Tenorio Volcano National Park is plentiful with hot springs, small geysers, streams, waterfalls, and lagoons. The scenic area offers panoramic views and rich lush primary and secondary rain and cloud forests.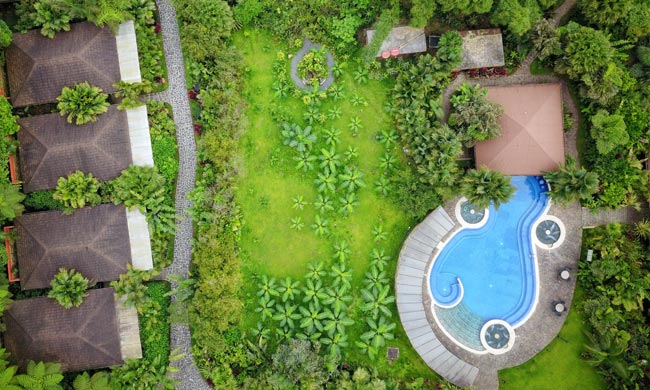 Rio Celeste Hideaway is the perfect, picturesque property if you want the full, remote experience of Costa Rica's northern highlands. This property sits at the base of Tenorio Volcano on 150 acres of tropical rainforest with access to scenic waterfalls and multiple hiking trails.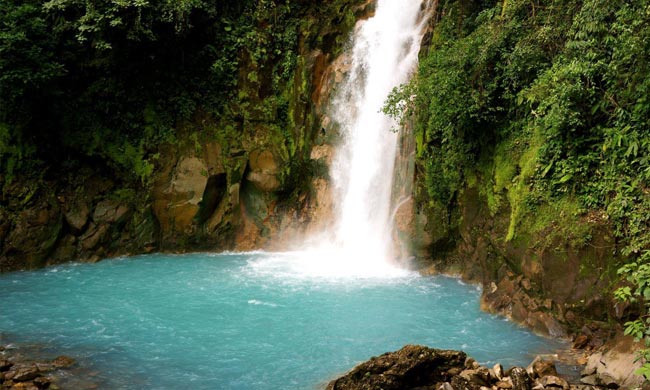 Guests at this boutique hotel are within walking distance to the Rio Celeste National Park, making it an easy choice for nature lovers who want to experience the beautiful colors of the vivid-blue water.
Rincon De La Vieja
Venture to Rincon De La Vieja National Park for full day of adventure. Within the park are many relaxing features to enjoy after exciting activities, a waterfall, mini volcano (volcancito), fumaroles, mud pots, and more.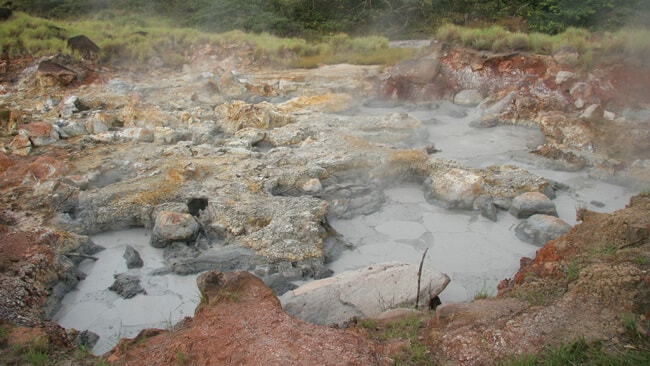 Just a short horseback ride from the park's Las Pailas sector, are the Red Pond and Blanco River Pool, formed from red and white lava rock; a perfect way to rejuvenate you after riding all day. Five waterfalls, including the popular Oropendola and the twin cascades at Las Chorreras, offer spectacular views and refreshing waters all year round. Cap off any Rincon De La Vieja adventure with a mud bath followed by a dip in the thermal pools.

If you care to stay up in this unique setting, the Borinquen Mountain Resort is the perfect choice! Situated within the magnificent foothills of the Rinon de La Vieja Volcano, this eco-friendly resort and spa has direct access to the natural wonders within this region. With natural steam rooms, volcanic mud baths, natural spring-fed pools, and yoga deck, it's ideal for those seeking some rest and relaxation. Alternatively, adventure is also a focal point at Borinquen – with access to onsite ziplines, hiking trails, ATV tours and more; it's paradise for all types of thrill seekers!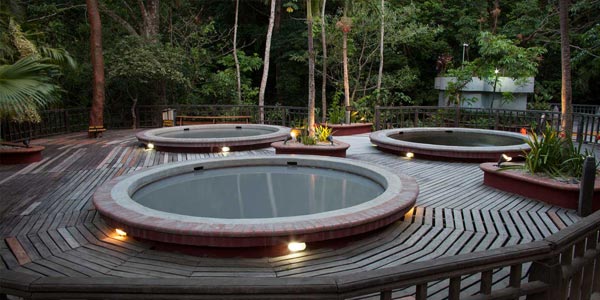 Just about everywhere you explore you'll find natural hot springs sprinkled throughout Costa Rica; if you have an adventurous spirit, you'll probably even happen upon unadvertised springs in surprising places. In fact, many hotels have private hot springs located on their grounds, especially in the Arenal Volcano area as noted above. But if these restorative thermal pools are on your must-visit list, then you must schedule a visit to Arenal, Rincón de la Vieja, or Río Celeste—the undisputed champions of Costa Rica's volcano-fed hot springs.
Tara Cabatingan, Costa Rica Travel Planner
Updated: October, 2020