Tortuguero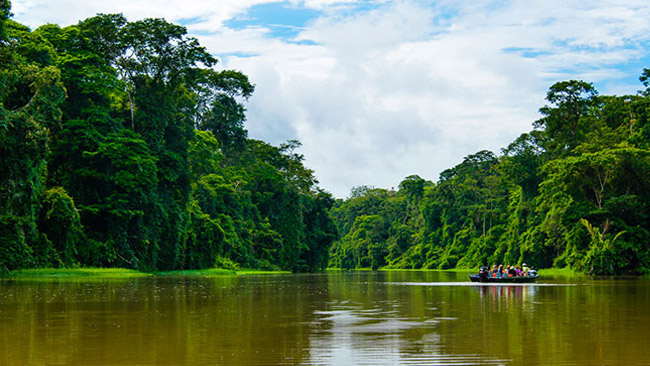 Tortuguero at a Glance
Ideal time to visit:
Year-round, peak months are February to April & July to October
Nearby Activities: 
Sea Turtles' Tours

Bird & Wildlife Watching–Canal Tours

Hiking

Tarpon / Sportfishing
Nearby Attractions: 
Cariari National Wetlands

Turtle Museum at Sea Turtle Conservancy (STC)
Special Features:
Float along Tortuguero's 22 mile-long stretch of finest sand through an infinite web of river canals. To visit truly remote, stunning beaches always ask: where do the turtles go?
Fast Facts
Keyword: Sea Turtles & Tarpon Fishing
Landscape: Tropical lowland wet forest (rainforest), Beach, Mangroves, River Canals, Swamp
Region: North Caribbean
Altitude: Sea Level to 330 ft (100m)
Closest Airports: San Jose (SJO) and Tortuguero Airport
Average Temperature: 71° – 87° F (22° – 30° C)
Often compared to Venice and the Amazon for its navigable canals, the town of Tortuguero is one of Costa Rica's main treasures. Located in the north-east area of the Limon province, the village of Tortuguero lies on a sand bar island facing the Caribbean Sea and the Tortuguero River. Its name literally means "place of the turtles" because it's the yearly setting for the arrival of four different species of sea turtle who nest on its beaches.
The town of Tortuguero sustains itself through ecotourism and as such it's an ideal location to learn about eco-friendly practices and to be in commune with nature. The Tortuguero National Park is also home to a seemingly infinite number of plant and animal species, including various birds and reptiles.This area is only accessible by airplane or boat, so keep that in mind before planning your vacation.
Attractions & Places to See
Stunning, unspoiled nature is the main attraction in the Tortuguero area. Exploring the tropical rainforest through the infinite network of lazy river canals and mangroves will give you, hands down, one of the most fulfilling experiences of nature one can find. This is a truly different place compared to the rest of Costa Rica. Remote as one can get in this modern age, it is pleasantly peaceful; the local community has found a way to keep up with civilization and not lose touch with nature. You'll find numerous tours offering nature exploration, to name a few attractions:
Cariari National Wetlands
Turtle Museum at Sea Turtle Conservancy (STC)
Activities & Things to Do
THE reason to visit Tortuguero is, of course, getting to see turtles. There are several time windows for doing this, but August stands out as the peak month of the Green sea turtle's nesting season. If August is not an option for you, check the lunar calendar and look for days with a full moon as the 'arribadas'—or peak nesting days—are most likely to occur then. An important thing to note is that the tours are only permitted with licensed guides.
Canoeing or kayaking is a great way to observe the abundant wildlife of river canals, and the next big thing to do here is sportfishing or, more specifically, Tarpon fishing. Sportfishing boats can be chartered in Tortuguero to patrol the canals, rivers, and the Caribbean Sea for inshore/offshore fishing, or visiting nearby Parismina  and Barra del Colorado.
Sea Turtle Tours
Bird & Wildlife Watching–Canal Tours
Canopy Tours
Hiking
Tarpon / Sportfishing

Kayaking
Day Trips
Visiting Tortuguero is often done as a day trip from nearby Sarapiqui or the South Caribbean towns. This, however, is not ideal since turtle tours are done at night and other wildlife tours through the canals are typically done very early in the morning. As it is bordering Nicaragua's inaccessible lowlands on the north and is navigable only by boat itself, there are no easy trips done from here.
Wildlife & Nature
Four species of sea turtles—the Green, Leatherback, Hawksbill and Loggerhead—nest on the beaches of Tortuguero. The Green Sea turtle comes ashore more frequently than the other three species, with peak months July to October. The main nesting season for world's largest sea turtle, the Leatherback, is March to June.
But turtles aren't the only wildlife you spot in Tortuguero. The national park is home to over 300 types of birds, along with numerous other animals like sloths, monkeys, and iguanas found in the tree tops, and crocodiles, caimans, and manatees in the water. There have even been sightings of jaguars and other cats, albeit these sightings are not common.
Best Time to Visit
Year-round. The nesting season for Green Sea and Hawksbill turtles is during the rainy season, July to October (peak is in August), and for Leatherback turtles peak months are February to April. And no worries, it is possible to see individual turtles at any time of the year.
The Tortuguero weather is very predictable: it's hot and humid and it will rain. Whether you're there for a day or more, you'll experience a proper Caribbean rain shower. Yes, even in the dry season afternoon showers are very common, but it's all part of the experience of this unique destination.
Where to Stay
Despite it's remoteness, Tortuguero is a very popular destination with a wide variety of hotel options. Most of the accommodations offered are simple and rustic, catering to budget travelers. Still, there are a couple of luxury, all-inclusive options, if that's something you're looking for.
Restaurants and Nightlife
Most of the hotels & lodges have restaurants that are open for breakfast, lunch, and dinner. Traditional Costa Rican cuisine is available in dozens of family run restaurants in the village center.
---
Services & Infrastructure in Tortuguero
Public transportation: No, rivers are roads around here; for traveling around Tortuguero area, rent boat taxis.
Public restrooms: No
Shopping: There is a grocery shop in the village center and several artisan shops with a great choice of souvenirs. Bring mosquito repellent and sunscreen with you, as it can be quite pricey in the village.
ATMs: No, but the local grocery shop will allow you getting some cash withdrawal when purchasing with a debit card, for a small fee.
Gas stations: No, none needed
Cell Phone Reception: Poor
Restaurants: Quite a few charming, family-operated restaurants offering Caribbean food.
Nearest medical facilities: The only major hospital on the Caribbean coast is the Tony Facio Hospital (2758-2222) in Limón.