The Real Jurassic World (36 pics)
To celebrate the release of Jurassic World we thought we would bring you the REAL Jurassic Park, as it's right here in Costa Rica! This photo gallery brings Jurassic Park to life. Costa Rica is home to some amazing destinations as well as flora and fauna that would fit in nicely into Steven Spielberg's epic dino thriller. We all remember the infamous error of San José appearing as a beach town at the start of the film! So hopefully this blog shows the real Jurassic Park in Costa Rica.
Hungry for your own Jurassic Park adventure? Check out our packages!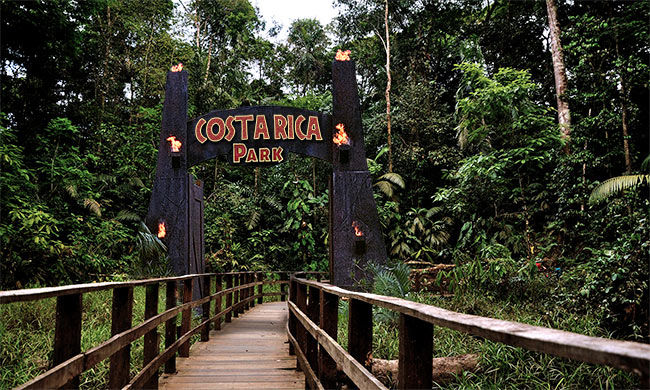 Take a step into our Real-Life Jurassic Park!

In Jurassic Park, Costa Rica's Isla del Coco was filmed for the intro sequence as the 'Isla Nublar'.
Costa Rica has many beautiful islands including this one above: Isla Tortuga, Turtle Island.

Isla del Caño, off the coast of the Corcovado National Park on the Osa Peninsula, is the perfect spot to spend the day snorkeling or diving.

Costa Rica has many waterfalls, much like the landing bay in Jurassic Park which was Coco Island!

Costa Rica is home to more than 1400 species of orchids. That is truly an exotic species of flower.

Welcome to the Visitor Center! The Aguila de Osa hotel looks much like the set from the film.

The sun-drenched swimming pool at Arenal Springs is alive with life, much like Jurassic World!

The tour begins! In our case, up on the hanging bridges of the Monteverde cloud forest.

No Dilophosaurus here! Just beautiful natural scenery.

Where is that T-Rex? The American Crocodile can be spotted around Costa Rica and can stay hidden underwater for up to an hour to cool off under the hot sun.

Meet our Triceratops! If your lucky you can spot Baird's Tapir around the Osa Peninsula in the south.

A storm is coming! Costa Rica's tropical climate means exciting, powerful weather is never far away.

Watch for the movement! This masked tree frog is very common to Costa Rica's forests.

Our T-Rex is on the move! The best place to spot crocs is from the safety of a river boat tour.

Birds share many unique skeletal features with dinosaurs. Moreover, fossils of more than twenty species of dinosaur have been collected with preserved feathers.

Go Tim go! Costa Rica has many, many tree's that could have doubled for that famous tree scene!

Rest in the rainforest. According to the U.N., around 2.6 million hectares of Costa Rica is forested.

Sleeping in. The tall strangler fig is a perfect spot to climb and even have a good nights rest!

This would surprise you upon waking up! The Smoky Jungle frog is the largest frog in Costa Rica.

Heading through the forest. Costa Rica offers many great excursions through the rainforests.

Life finds a way. Leatherback, Loggerhead, Hawksbill, Olive Ridley, Pacific Green & the Green Sea Turtle are all turtle species found on Costa Rica's coastlines.

Our Gallimimus is the Common Basilisk. It can be spotted in Corcovado & the Caño Negro Refuge.

The caiman is common in areas with high rainfall. Here it is only found in the lowlands below 200m elevation.

Jump Tim! Here Desafio offers up some big thrills on it's Gravity Falls tour near the Arenal Volcano!

Finding safety. Across Costa Rica's National Parks will you find Ranger Stations offering shelter & info.

Our Dilophosaurus! Although this little beast lives all over Costa Rica it can be hard to spot!

Our Velociraptors are the Green Iguanas. However, these reptiles are mainly herbivores & quite common all over Central and South America. Nor are they nearly as fast as raptors!

A snake watches on… Costa Rica has up to 130 different species of snake. Most are sleeping during the day and do their best to avoid people by hiding away, so few people ever see them.

One of the most intense, nerve racking scenes in the film! In our case just a couple of lizards playing.

The reptiles of Costa Rica can be rather acrobatic, you never know where they might be hiding.

Our T-rex would have no problem at all in dining on lizards and other mammals…

It's only fitting that our climatic action shot is that of a Hump Back whale jumping on the Pacific coast.

As we leave 'Isla Nublar' we can see some amazing sites such as the Turrialba volcano.

Flying home. You will see many beautiful sea birds over Costa Rica's waters.

Our Jurassic adventure would not be complete without a stunning Costa Rican sunset over the Pacific.

It just so happens that Costa Rica does have its very own T-Rex for real! Many locals have met the T-Rex along Costa Rica's Inter-American Highway at the Monteverde Ice Cream parlor. Tasty!