Sustainable Tourism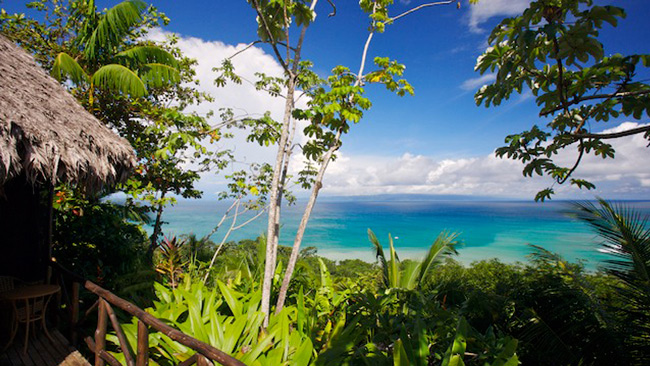 Costa Rica tourism has always been known as a pioneer in Sustainability.  Eco-friendly travel, green hotels, responsible tourism—it's a jungle [of terminology] out there! But no matter how you define it, Costa Rica is a beacon for sustainability and environmentally friendly tourism.
In Costa Rica, green travel is more than a buzzword; it's a way of life. Home to nearly 5% of the world's biodiversity, this small nation takes its birthright seriously: nearly 30% of Costa Rica is protected as national park, wildlife refuge, or private reserve. And that's not all: Costa Rica has enacted many policies and programs to protect the environment, from clean-beach programs to harvesting sustainable energies.
Here's a brief rundown of how Costa Rica is keeping tourism sustainable—and what you can do to green your itinerary and leave a positive impact everywhere you visit.
Hotels
The Costa Rican Tourism Board, ICT, has created a Sustainability Certification Program to define eco-friendly policies for hotels, resorts, B&Bs, and other accommodations. The program's goal is to educate Costa Rica's hotels on how they can reduce their environmental impact, protect the nation's lush surroundings, and promote sustainable communities. Even better: compliant hotels are rated on a sustainable scale of one to five leaves (least to most sustainable)—making it easy for you to choose only the greenest hotels in the nation.
Here we have compiled a list of some of the best hotels in the country that are certified sustainable.
Transportation
It's hard to avoid transportation when traveling—even the greatest hikers and bikers probably need to hop a flight to Costa Rica! But that's not to say you can't go green—or at least carbon-neutral—during your Costa Rican vacation. In fact, there's a greener version of every kind of transportation into and around the country:
International Flights: There are eco-friendly airlines out there, but even if you don't fly on a sustainable carrier, you can still make a positive impact by purchasing carbon offset for your flight.
Domestic Flights: If you plan to jet-set around Costa Rica, you can definitely go green. In 2007, one of the nation's premier airlines, Sansa, became carbon-neutral. Through reforestation and other conservation initiatives, the company has offset its carbon footprint 100%.
Private Drivers & Public Shuttles: Several private transportation companies and shared shuttles have also gone carbon-neutral. Travel stress-free and guilt-free in an air-conditioned shuttle, where you can sit back, relax and enjoy the ride.
Rental Cars: When taking the road less traveled, there's nothing better than a rental car—except a carbon-neutral rental car, that is!
Tours & Activities
When it comes to responsible travel, local tours aren't about going green: they're about sustainability. In tourism terms, sustainable travel is local travel. It means interacting with local communities and spreading your tourism dollars to Costa Ricans, instead of multinational corporations. Here's a few tips for choosing sustainable tours:
National Parks: Costa Rica has an extensive national park system that protects invaluable flora, fauna and environs. Most parks are just $10 to visit, and your tourism dollars make a big impact on keeping parks clean—and ecosystems protected.
Private Refuges: Private reserves and wildlife refuges are often operated by independent organizations and private patrons. Some charge reasonable entrance fees while others ask merely for a voluntary contribution: either way, you'll not only enjoy your visit, but will help fund ongoing sustainability and wildlife rescue programs.
Tour Operators: Like hotels, Costa Rica's tour companies are also ranked on a scale of one to five sustainability leaves. Whenever you can, choose the "leafiest" option.
Rural Tourism: Even if you stick mostly to the tourist trail, you can still dip your toes into rural tourism. Choose tours that include a visit to an indigenous pottery village or chocolate plantation; make sugar cane juice with just oxen to help; or learn to ride like a Costa Rican cowboy. You'll meet awesome people who will have a lasting impact on your memories of Costa Rica.
Tips for Being a Responsible Tourist
In addition to choosing sustainable hotels, transportation, and tours, there's still more you can do to be a responsible tourist:
Clean Up: Always remove your trash and recyclables, and find the proper place to dispose of them. Most hotels offer recycling programs.
Don't Collect Souvenirs: By law, Costa Rica prohibits the removal of shells and other nature from national territory. Instead of collecting your own souvenirs, spend a leisurely afternoon shopping an open-air marketing for local, handmade products.
Consider the Animals: For the most part, Costa Rica protects its wildlife: you can't swim with dolphins or walk solo on turtle-nesting beaches. Do your part by not riding overworked horses or visiting bullfights.
Eat Local: Whenever you can, visit restaurants owned and staffed by Costa Ricans.
Volunteer: If you have an afternoon to spare, consider volunteering at a local wildlife center. If you have more time (minimum: one week), you can also work with local conservation projects, turtle nesting, and national parks.