Snook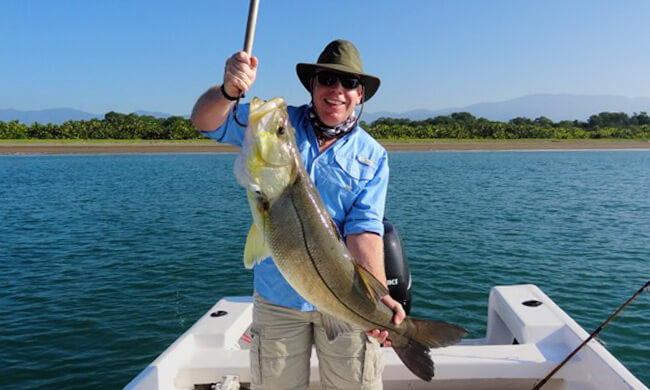 Snook are one of the most welcomed bites in Costa Rica due to their delicious white meat.  They are found literally all over Costa Rica – from the Caribbean Coast to the Pacific Coast to the inland rivers and lagoons.  They are typically found near shore, in brackish estuaries, or even in fresh water rivers depending on the time of year.  Snook are hard fighters, and like tarpon will do violent head shakes, but they are most often coveted for their meat than their fighting ability.
DESCRIPTION: There are actually several different kinds of snook in both the Pacific and Atlantic Oceans, but all are easily identifiable by the very obvious black lateral line along their sides.  Snook can vary in color from brown to green to gold to black.  They all have a large lower jaw and two distinct dorsal fins.
FEEDING HABITS: Similar to tarpon, the main diet of snook consists of small reef fish and crustaceans.  They can be caught with live bait like mullet fish, artificial lures, spoons, and even on the fly.
SIZE: The IGFA world record snook (53 lbs 10 oz, 1978) was actually caught right here in Costa Rica along the famed Caribbean Coast.  Most snook today aren't that big, but 20-30 lb snook are still quite common on both coasts.
WHERE FOUND IN COSTA RICA:  Snook typically inhabit shallow coastal waters, estuaries, brackish water, and even far inland up fresh water rivers.  They can be found along both coasts, most typically caught by anglers in or near river mouths.  The freshwater Cano Negro Reserve is also a good spot to catch them in season as it is thought to be a breeding ground for them.
BEST MONTHS: Snook can be caught all year round, you just have to know where to go and when.  On the Pacific Coast they can be found in river mouths from Jan-April, while on the Caribbean Coast they tend to mimic the tarpon season (Jan-June, Sept-Oct).  They can also be found in Cano Negro in the north central region of Costa Rica, but that is closed in July and August as that is believe to be their vital spawning season.