Sea Turtle Nesting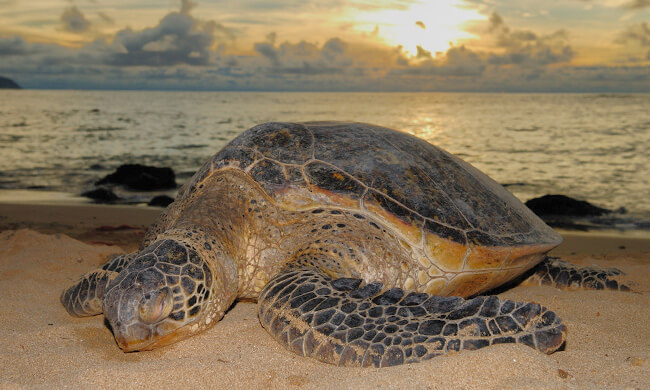 Sea Turtle Nesting At a Glance
Keyword: Nature | Wildlife | Aquatic | Education
Ideal for: Families | Couples | Nature Lovers
Best Time of Year: Year-round, although nesting seasons are different for each species
Most Popular Destinations: Tortuguero, Ostional Wildlife Refuge (Nosara), and Las Baulas National Marine Park (Tamarindo)
Related Activities: Dolphin & Whale-Watching, Wildlife Watching
---
A giant oval emerges from the ocean, her wet flippers soon covered in pebbled sand. Slowly, the hulking sea turtle pulls herself up the beach's crest; she is not used to handling her 400-pound frame on dry land. You watch as she approaches, oblivious to your presence. She begins to dig, deeper and deeper. Soon a massive hole has emerged at your feet, and this majestic sea creature has begun to lay her eggs. When her duty is done, she covers her precious deposits and lumbers back toward the sea.
Sea turtle nesting is one of Costa Rica's most incredible experiences; truly, those who have observed it in person describe it as emotional, moving, and even transcendental. And if you visit the right place at the right time, this can be your experience, too.
Five species and one subspecies of sea turtle live and nest in Costa Rica: leatherbacks, hawksbills, loggerheads, Olive Ridleys, green sea turtles, and black sea turtles. They line the nation's coasts, east and west, from Nicaragua to Panama. And they can be spotted year-round, each with its own season and preferred nesting grounds. So schedule your trip around your sea turtle-spotting goals, or schedule a tour during your trip; the choice is yours. But whatever you do, be sure to include a turtle-tour on your itinerary!
---
Costa Rica Sea Turtle Nesting in…
Guanacaste & North Pacific
Playa Grande, just north of Tamarindo, is Costa Rica's go-to destination to spot leatherbacks, the world's largest sea turtle at six feet long and up to 1,500 pounds. The beach lies within Las Baulas National Marine Park, and hosts nesting leatherbacks from October through March. An estimated 800 leatherback turtles nest here every year, but worldwide their population is dwindling. Park fees and donations aid in rescue and protection efforts.
Best Time to Visit: Leatherback nesting season runs October-March.
Nicoya Peninsula
The Nicoya Peninsula may be small, but it hosts two important nesting grounds for the world's endangered sea turtles. At Playa Camaronal, a few minutes south of Samara, you have the chance to spot four turtle species: black sea turtles and leatherbacks, which nest in small numbers year-round, hawksbill turtles, and Olive Ridleys. To the north near Nosara, the Ostional Wildlife Refuge is famous for its arribadas, or en masse Olive Ridley turtle nesting cycles that crescendo from June through December. During an arribada, which happen every two to four weeks during nesting season, hundreds of Olive Ridleys can storm the beach in one single night.
Best Time to Visit: You can spot turtles year-round, but the famed Olive Ridley arribadas are most frequent June-December.
Central Pacific
Ballena National Marine Park, located south of Dominical, hosts nesting hawksbill and Olive Ridley turtles between May and November. Turtles tours depart nightly during nesting season.
Best Time to Visit: May-November.
Osa Peninsula & South Pacific
The Osa Peninsula is home to black sea turtles, which nest in small populations and sporadically year-round. Interestingly, scientists debate whether these turtles are their own species, or, in fact, a subspecies of the green sea turtle, which is found in other parts of Costa Rica.
Best Time to Visit: Year-round.
North Caribbean
Costa Rica's north Caribbean is arguably the country's most iconic site for sea turtle nesting. The small Caribbean village of Tortuguero (from tortuga, or turtle) has been transformed by ecotourism, which focuses on sea turtle nesting at the eponymous Tortuguero National Park.
Four different species nest in Tortuguero, laying their eggs from about March through October. Leatherback turtles kick off nesting season, lumbering up the beach from March-May. Loggerheads nest from July through October, while hawksbills inhabit the beach in small numbers from March through October. And while these sea giants are an incredible sight, Tortuguero's crowning jewel is the green sea turtle. The town's beaches are considered one of the world's most important nesting sites for green sea turtles, which weigh up to 400 pounds and can lay up to 700 eggs per season. Nightly turtle tours depart several times daily during nesting season.
Best Time to Visit: March through October; July-October is peak season for green sea turtles.
South Caribbean
The Gandoca-Manzanillo Wildlife Refuge, which stretches from Puerto Viejo to Panama, is a haven for leatherback and hawksbill sea turtles. In addition to turtle tours, the region takes it a step further with ANAI, a research and conservation organization that protects the area's beaches.
Best Time to Visit: Year-round, although peak nesting season runs April through October.