San Jose Costa Rica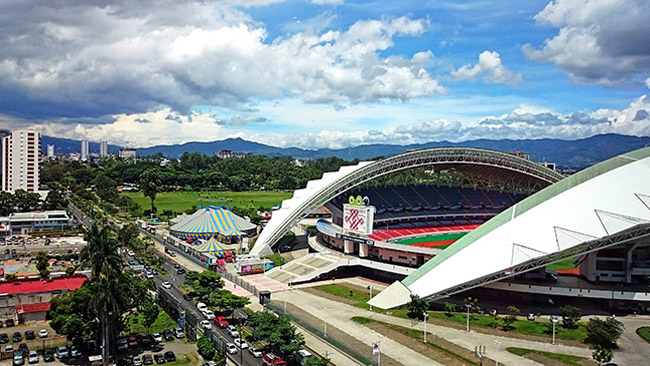 San Jose Costa Rica at a Glance
Nearby Activities:
Coffee tours

Hiking

Live theater

Whitewater rafting

Souvenir shopping
Nearby Attractions:
Museums

Poas Volcano National Park

Irazu Volcano National Park

Barva Volcano
Special Features:
San Jose is an oft-ignored stopover for the international airport, but Costa Rica's capital city is an excellent base for adventures into surrounding mountains, volcanoes and the nation's famed coffee country.
Fast Facts
Region: San Jose & Central Valley
Also Known As: San José (local spelling) or Chepe
Closest Airports: Juan Santamaría International Airport (SJO)
Altitude: 3,800 feet (1,160 meters) Above Sea Level
Landscape: Mountain
Average Temperature: 65-78º F (18-26º C)
San Jose Costa Rica only recently started to get rid of the bad—and undeserved—rap. While it may not be oceanfront or surrounded by rainforest, the nation's capital is a vibrant city home to rich cultural offerings, lively nightlife, and some of the country's greatest grub. The city pulsates with life, and for good reason: approximately two-thirds of Costa Ricans live in San Jose and its suburbs, evidenced by the bustling streets, honking horns, and dense buildings that greet you.
During Spanish rule, San Jose emerged as a small colonial city, with stately churches and clay-roofed mansions to prove it. Over time, serious earthquakes destroyed many of these architectural gems; today, San Jose is more modern than colonial, although several adobe facades and cobblestone streets remain.
But what the capital lacks in historic charm it makes up for in amenities and convenience: San Jose offers the country's best museums and live theater and is the perfect base for tours into the surrounding mountains.
Attractions & Places to See
San Jose may not be the beachfront capital you expect, but Costa Rica's capital city is the cradle of the nation's culture. Here, you'll find excellent museums—delve into indigenous jade, pre-Columbian gold, Costa Rica's history, and more—and ornate theaters, complete with live concerts, ballet, and plays. Take to the hillsides to explore active volcanoes and tour coffee plantations. There is much to see in and around San Jose:
Irazu Volcano National Park

Barva Volcano (within Braulio Carrillo National Park)

Doka & Britt Coffee Estates

Botanical Orchid Gardens

Zoo Ave Rescue Center
Activities & Things to Do
From the exhilaration of conquering your first Class V whitewater rapid to the challenging hike to an active volcanic crater, San Jose is a wonderland of things to do. If you have the luxury of time, devote a few days to the city and her countryside; and if you don't, try to earmark at least an overnight to explore the verdant valleys that most Costa Ricans call home. There's always something – many somethings, in fact – to fill your day:
Go whitewater rafting down the Pacuare and Reventazon Rivers.
Hike up Barva Volcano, Poas Volcano, and Irazu Volcano.
Sip the nation's best brews on a coffee tour.
Take an aerial tram through dense rainforest adjacent to Braulio Carrillo National Park.
Snag great souvenirs at great prices, at San José's open-air markets.
Day Trips from San Jose
Most of San Jose's attractions are located within an hour of the city – perfect side trips, even if you're here for just a day. If you have a little more time, check out these awesome asides:
Guayabo National Monument, Costa Rica's most important indigenous ruins.
Lancaster Gardens, one of the world's most spectacular botanical gardens with more than 3,000 plant species!
Braulio Carrillo National Park, Costa Rica's second-largest park and home to a startling array of scenery and animals.
Wildlife & Nature
Admittedly, San Jose is not a haven for wildlife, at least not in nature. That said, the nearby Zoo Ave is a must for animal lovers: the Zoo rescues illegal pets and injured wildlife, rehabilitates whenever possible and provides a safe haven for animals too injured or ill-equipped to live in the wild. Zoo Ave also runs a successful macaw breeding program.
Best Time to Visit
Visit San Jose year-round; there's always something to do! The green season runs mid-May through November, with the most rain in September and October. The Christmas season is especially charming when the city hosts a Festival of Lights, The Nutcracker plays at the National Theater, and it seems the entire valley is decorated for the holiday.
Where to Stay in San Jose Costa Rica
There is something for everyone and every budget in San Jose, from $5 hostel beds to ultra-luxe suites in buildings dating back to colonial times. If you're staying in San Jose Costa Rica as merely a stopover for the airport, you may want to consider staying overnight in Alajuela or Heredia.
Restaurants and Nightlife
San Jose offers a buffet of restaurants and nightlife, arguably the country's best – or, at least, the most diverse. You'll find everything from streetside sodas, Costa Rica's version of a diner, to white-tablecloth restaurants in stately old buildings.
If you enjoy ethnic foods, the city serves up authentic Chinese dim sum, succulent sushi, Argentinean churrasco, tasty Lebanese (+ hookah bars), and so much more. Nightlife swings from techno to live rock music and everything in between. San Jose also has several gay bars, popular for drinks and dancing.
Where to Go Shopping in Costa Rica
Souvenirs, crafts, clothes, accessories, and even the ultimate designer outfits can be found in Costa Rica. There are infinite places to shop in Costa Rica, all depending on what you're looking for in experience and products. Even so, the top 6 places to visit in the Metropolitan Area of Costa Rica are:
Avenida Central
Shopping along the main boulevard in San Jose provides not only good shops but also a cultural experience.  The avenue is near San Jose's main attractions such as the Teatro National, the National Theatre, and the Plaza de la Democracia, the Democracy Plaza. The boulevard is full of eateries and all kinds of shops including El Mercado Central, the Central Market, and la Casona, two great places to purchase souvenirs.
Multiplaza Escazú
Located in the west of San Jose province, Multiplaza is a modern mall that provides customers with the top trends and brands—including luxury and designer brands—from around the globe.  Here you can also find casual restaurants, fast food chains, cinemas and cafeterias.
Lincoln Plaza
If you find yourself on the east side of the capital, Lincoln Plaza might be the best option to visit. This shopping center also provides the best chains stores and eateries in the country, and is the main hub for the newest stores arriving to Costa Rica.
Paseo de las Flores
In the Heredia province—to the north of the capital—Paseo de las Flores is another large shopping mall worth visiting. It has the same profile as the others listed here, but it has an interesting design that combines the historical roots of the province with beautiful outdoor spaces. Nights and during futbol (soccer) games it can be quite lively as it is close to several large universities and has many bars and restaurants that stay open late.
Avenida Escazú
This new shopping center unites some of the most exclusive stores in the country with other services, such as real state agencies, medical services, car dealerships and more. The design is also appealing for enjoying open-air spaces and contemplating the featured art pieces, sculptures, and fountains that garnish the facilities.
City Mall, Alajuela
Last but not least, the brand new City Mall—opened in November 2015—is now the largest mall in Central America. To accommodate the influx of people expected roads around the mall were widened and pedestrian walkways added. With 330 storefronts and an extensive kids' zone you will likely be able to find anything you're looking for here. Located just minutes from the San Jose airport, it's an easy stop on your way into or out of the country.
Services & Infrastructure
As Costa Rica's capital city, San Jose offers almost every amenity you can imagine:
Public transportation: Yes, public buses and an urban train connect all corners of the city. Unfortunately, there is no single source of information about the routes, but you can see the main bus terminals listed below. (parada=bus stop)
Public amenities: There are plenty of public bathrooms.
Shopping: From huge supermarkets to tiny souvenir shops, San Jose has you covered
ATMs: Yes, there are plenty of banks all around the city, shopping malls, gas stations… also, if dire need of one, check out inside local groceries like Fresh Market or AMPM.
Gas stations: Yes, plenty. Prices are the same (regulated by government) throughout the country, you don't need to spend time looking for a better deal.
WiFi or Internet cafés: Yes, throughout the city. Most places have password protected wifi, just ask for 'la clave'. The speed is usually decent, but can be slow sometimes.
Cell Phone Reception: Reliable
Restaurants: Yes, plenty of options. There's something to satiate every palate at every price. Check out our recommendations!
Nearest medical facilities: There are many public and private hospitals within San Jose. Check out our FAQ section on Health and Safety for details.