Samara Beach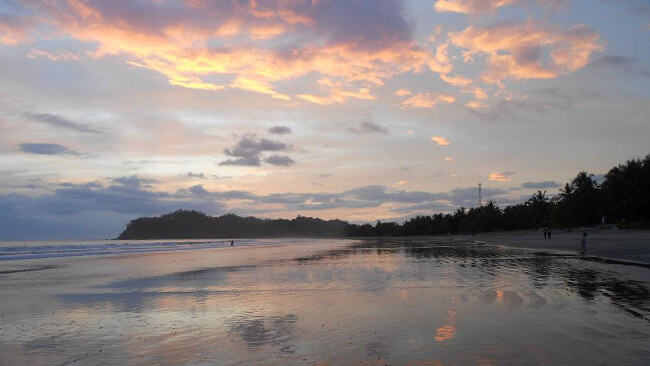 Samara Beach at a Glance
Ideal for:
Families

Couples

Solo Travelers

Budget Travelers
Surfers
 Nearby Activities:
Surfing

Deep Sea Fishing

Swimming

Horseback Riding

Snorkeling

Scuba Diving

Zip Line Tours

Paragliding

Sea Kayaking
Nearby Attractions:
Ostional National Wildlife Refuge

Barra Honda National Park

Guatil Indigenous Community
Palo Verde National Park
Special Features:
Protected on both sides by reefs, Samara beach is a great place for families due to its' calm water and beautiful surroundings.
Fast Facts About Samara Beach
Region: Nicoya Peninsula
Also known as: Playa Samara or Samara Beach
Closest Town: Samara
Closest Airports: Liberia International Airport (2.5 hours) and Nosara Regional Airport (1 hour)
Average Temperature: 71 to 92°F
Playa Samara is located in the Guanacaste province at the north end of the Nicoya Peninsula, just one hour from Nicoya the region's largest city. The beauty of this tan sand, palm-lined beach with calm waters has made Samara a favorite for years among Costa Rican travelers who flock to the area during their national vacations. An international crowd has started to make their way into the area, providing a large fusion of great restaurants from all over the world, while still maintaining Samara beach's laid-back attitude and slow pace of life.
The best way to explore Samara Beach is to walk its six kilometers; each end of the beach offers something beautiful and unique to explore. This horseshoe-shaped beach is protected on both sides by reefs. On the south end you will find great snorkeling, and if you make your way back to the north end, you can explore the tide pools that are created at low tide. A large island is also located off the coast of the southern tip which provides a great spot for a kayak ride and a picnic lunch.
Want something a little more active? Join in on one of the many soccer, beach volleyball, or frisbee golf games going on during low tide. If you're lucky, you'll catch a beach soccer tournament on the weekend complete with local vendors of Costa Rican food. At high tide, surfing is a popular activity; the break is perfect for beginners or intermediate surfers,and more advanced surfers can find something that meets their level at one of the surrounding beaches.
If you are looking to relax, you can do so in the shade of the numerous trees that line the beach, including many picturesque Costa Rican palm trees perfect for laying down a beach towel or hanging your hammock.
As the sun sets, make sure to grab a chair at one of the many beachfront restaurants lining the beach, where you can find anything from authentic Italian cuisine to hamburgers and fish tacos, or for a special night out explore some of the great seafood restaurants with ocean views. Or just settle in for a few tropical drinks and watch as the sun and sea put on a spectacular show of colors in the sky.
Best Time to Visit
Playa Samara experiences a dry season from December until April, making this the most popular time of year to visit, with the busiest time being Christmas and Easter week. During the dry season you can expect lots of sunny days and high temperatures. The green season in Playa Samara begins in May and lasts until November, when you can experience rain mostly in the afternoon and sunny mornings. Find the best deals and great weather by coming in the off-season months of June and November. Interested in wildlife? Watch the surrounding trees for the noisy howler monkeys or take advantage of nearby turtle nesting beaches in the green season and whale migration in March and November. Twice a year in December and April Samara beach plays host to a true Guanacaste rodeo complete with bull riding, carnival rides, food vendors, and plenty of dancing.
Birding & Wildlife Watching
A walk through town provides a great opportunity to see the most popular residents of Samara beach: the howler monkeys. Typically the best time to see the monkeys is in the early morning and dusk during the coolest parts of the day. While no turtles nest on Samara beach, there are nearby beaches where you can see turtles nest in the green season.; one is as close as a ten-minute bike ride. The Guanacaste province and Samara included see a large influx of migratory birds in the dry season, including many species of herons. Humpback whales can be seen by boat ride during their migration routes in November and early March. Dolphins and other marine life including sea turtles and large manta rays are a short boat trip away most of the year.
---
Services & Infrastructure in Samara Beach
Public transportation: Yes, there are frequent buses from and to Nicoya daily. Taxis can be found near the soccer field in Samara. Always negotiate fares before leaving, if the driver is not using the meter.
Public amenities: No
Shopping: Yes, there are few grocery stores, fruit stands, and plenty of beach vendors, selling souvenirs and local art, such as the famous Guaitil pottery and more.
ATMs: Yes, there are two banks in Samara. In case the ATMs are out of service, you can always go inside the bank and have a bank teller withdraw money with your debit card. Be sure to take your passport, as copies of passport not accepted.
Gas stations: Yes
WiFi or Internet cafés: Many restaurants and bars that line the beach offer WiFi connections
Cell Phone Reception:  Reliable reception
Restaurants: There is good range of restaurants offering traditional local cuisine, but also few restaurants with international menus
Nearest medical facilities: Yes, there is a local public Medical Center (Centro Medico) that has an onsite medical doctor, dental clinic, and pharmacy. It's open Monday to Saturday (call 2656-0992 for work hours). A modern hospital is located 30 minutes away in the town of Nicoya.