Rincon de la Vieja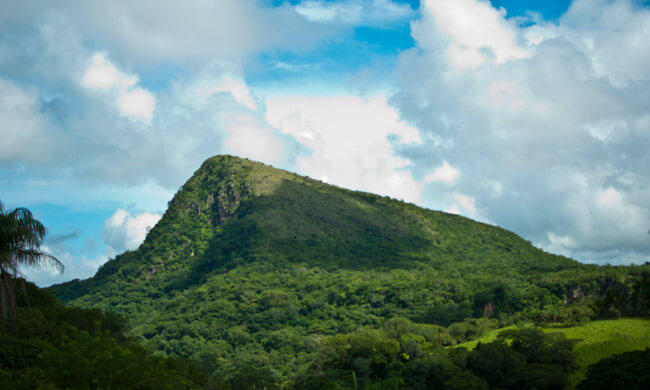 Rincon de la Vieja at a Glance
Ideal for:
Families
Couples
Adventure Seekers
Nature Lovers
Nearby Activities:
Horseback riding
Canopy tours
Hiking
Spa treatment
Cattle herding
Waterfall rappelling
River tubing
Nearby Attractions:
Rincón de la Vieja National Park
The Red Pond and Blanco River Pool
Five waterfalls
Special Features:
Rincón de la Vieja is a wonderland for outdoor adventure seekers, and most tours highlight the destination and not only the activity itself.
Fast Facts
Region: Guanacaste & North Pacific
Closest Airports: Daniel Oduber International Airport (LIR), in Liberia
Altitude: 1,970 (600 meters) to 6,290 feet (1920 meters) above sea level
Average Temperature: 80-87º F (26-31º C)
As you bump steadily up the road, your car climbing at a snail's pace, you wonder what could possibly lie ahead on the next leg of your vacation in Costa Rica. Dense forest surrounds the road, so you can't see the twin volcanoes looming just ahead. The breeze doesn't yet carry the scent of sulfur from fumaroles or dense minerals from volcanic mud. But these things are just a few miles ahead, waiting to excite, entice and exhilarate.
Rincón de la Vieja is, in a word, spectacular. This region (there is no proper town) and its incredible national park are named for their faithful watchdog, Rincón de la Vieja Volcano. For years, Rincón de la Vieja was considered a gently active volcano, regularly spitting ash and steam but abstaining from serious eruptions. In 2011, the volcano awakened, although it is still only lightly active and does not put on regular lava shows for visitors.
Without a doubt, Rincón de la Vieja National Park is one of Costa Rica's most unique and yet, it is also one of the nation's most secluded and not always found in your Costa Rica travel guide. You may encounter no other souls on your sojourns through the park; this seclusion takes on an almost spiritual quality, as if nature's offerings were created for your eyes only. The park's gentle trails take you through a volcanic Garden of Eden, weaving past a picturesque waterfall, steaming fumaroles, babbling brooks, bubbling mudpots, and a tiny volcano.
Attractions & Places to See
The mossy river gorges and grassy plains of Rincón de la Vieja are a sight to behold and an adventure to traverse. These rural and rustic wilds have secreted away some of Costa Rica's most incredible sights and sounds, from tumbling waterfalls to the rhythmic bubbling of the volcano's mud cauldrons.
In Rincón de la Vieja, most attractions center around the eponymous volcano and national park. At Rincón de la Vieja National Park and her surrounds, you'll find:
Within the park, a waterfall, mini volcano (volcancito), fumaroles, mud pots, and more
Just a short horseback ride from the park's Las Pailas sector, the Red Pond and Blanco River Pool, formed from red and white lava rock
Five waterfalls, including the popular Oropendola and the twin cascades at Las Chorreras
Activities & Things to Do
Rincón de la Vieja is Costa Rica's outdoor adventure land, and you'll have a lot to choose from. Instead of manufactured excitement, you'll hit the trails to hike a volcano summit or swim at the base of a waterfall or straddle a river canyon. And this is cowboy country, so if you love to ride, many tours incorporate horseback riding on ranch horses… canter if you dare!
Though Rincón de la Vieja feels hidden away from the rest of Costa Rica, tourism has a strong enough hold to ensure there's always plenty to do. Here, tours are not about the activity itself but where it gets you:
A hike through Rincón de la Vieja National Park is the region's absolute, number one, must-do activity.
Rejuvenate your mind and body at a natural, volcanic mud spa.
Go cattle herding in the land of Guanacaste's famed sabaneros, or cowboys.
Take a canopy zip-line tour – arguably the best in the country – to zig-zag over the river canyon, scale cliffs, and swing like Tarzan!
Fly down the Río Negro on an exhilarating tubing adventure.
Day Trips
Rincón de la Vieja is a standalone destination high in the mountains, about an hour outside of Liberia.
Wildlife & Nature
Branches intertwine, dancing toward the blue sky like a funneled web. Before you stands a strangler fig, a towering tree that dots the forest and amazes visitors. Its hollow trunk tells the story of its name: these immense figs, small at first, send their tendrils up other trees, slowing enveloping them until the first is snuffed out, forgotten but for the now-vacant insides of the strangler.
Rincón de la Vieja's forests are home to more than strangler figs, housing more than 300 bird species including eagles, tanagers, owls, toucans, parrots and hummingbirds. And as you walk through the forest, hopping over roots and evading boulders, you'll spot some of the park's other residents – howler monkeys, coatimundis, peccaries and two-toed sloths, among them.
Best Time to Visit
Rincón de la Vieja is impressive year-round, but it is particularly beautiful at the beginning of the dry season (December-February). During these months, the rains have faded to perfect weather but the landscapes are still lush and waterfalls run strong.
Where to Stay
There are few lodges in Rincón de la Vieja, and most cater to mid-range travelers (think $70-$150 per night). Some inexpensive cabins are also available, but they are sometimes harder to reach and tours may not offer regular pickup at these locations.
Restaurants and Nightlife
There is no "downtown" in Rincón de la Vieja; lodges are sprinkled around the foothills of the volcano. Your hotel serves meals buffet-style or à la carte, and most accommodations offer an all-inclusive meal option.
Amenities & Infrastructure
Since there is no actual town of Rincón de la Vieja, most amenities are limited to your hotel's offerings:
Public transportation: No; public buses go as far as Liberia
Public amenities: Yes, there are bathrooms at the park
Shopping: There are few markets, but most hotels have a souvenir shop
ATMs: No, the closest ATM is in Liberia
Gas stations: No, the closest gas station is in Liberia
WiFi or Internet cafés: Yes, most hotels offer Internet, if not in-room then at least in the lobby
Cell Phone Reception: Poor Reception
Restaurants: You will likely eat all meals at your hotel's restaurant
Nearest medical facilities: The closest medical facilities are in Liberia