Restaurants & Food in Costa Rica
Top Restaurants in Costa Rica
Traditional Costa Rican Food & Recipes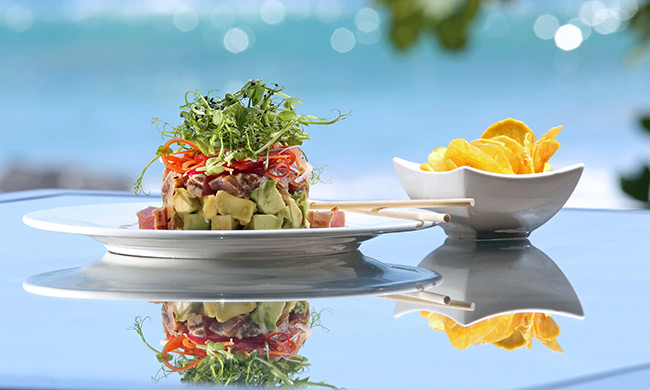 Top Restaurants in Costa Rica
Seaside lobster, check! Rice and beans, check! Caribbean fusion, check! Fresh-off-the-boat sushi, check! You crave it, Costa Rica likely has it.
Costa Rican cuisine takes its culinary cues not from fiery peppers or wild meats, but from the local herbs, spices, fruits and vegetables that seemingly grow like wildfire. In every home and restaurant kitchen, you'll find braided garlic, hanging onions, colorful bell peppers and leafy bunches of cilantro and parsley. Salsa Lizano, a tangy sauce, is a favorite addition to traditional dishes, especially the ever-present gallo pinto. But Costa Rican cuisine has also gone international, and the nation's talented chefs showcase the world's dishes, ethnic favorites and fusion cuisine in Costa Rica's best restaurants.
This selection of top restaurants in Costa Rica—also seen in the "Top Restaurants in San Jose, Costa Rica" video below—makes for a diverse dining scene and is a foodie's delight, offering a bit of this and a lot of that. San José was once the unofficial capital of Costa Rica's best restaurants and still offers some of our favorites. But now everything from fine dining to deep-fried comfort has filtered north, south, east and west spreading into almost every tourist town, beach getaway, and mountain retreat. Read on for some notable restaurants from around the country.
Grano de Oro, San Jose: Set within the open courtyard of this lovingly restored Victorian building is one of Costa Rica's finest restaurants. Cuisine is a fusion of tropical and European fare prepared by chef Francis Canal. The waiting staff is fully bilingual and your experience here will rival any restaurant in the world. The restaurant is open from 7am to 10pm and serves breakfast, lunch and dinner. (San Jose; Phone: 2255-3322)
La Terrasse, San Jose: Set only 5 blocks from the Avenida Central in downtown San Jose this 'Closed Doors' restaurant is a real French treat. Executive Chef Patricia Richer, along with her husband has turned their 1920's Costa Rican house into a gourmet heaven. Sitting a maximum of only 10 people this delightful French restaurant serves exciting dishes all prepared by Patricia. Everything from the entrée to the dessert and wine is purely French. Make sure to reserve well in advance to avoid disappointment and payment is made pay cash or bank transfer only. (San Jose; Phone: 2221-5742)
Park Cafe, San Jose: Park Cafe is quite probably the most progressive restaurant in Costa Rica. Run by head chef and two Michelin star winner, Richard Neat, the restaurant serves tapas style dishes. The idea is that people can sample a wide range of flavors and dishes and you will want to try them all. The food is matched only by the setting, a wonderful antique shop that makes you feel like you are dining in a period mansion. The restaurant is only open for dinner but is a must for any serious food lover. (San Jose; Phone: 2290-6324)
El Lagarto, Manuel Antonio: El Lagarto's mouthwatering dishes are so good, the restaurant recently expanded from its Samara location into Manuel Antonio. The secret to El Lagarto's runaway success is their absolutely to-die-for, slow-smoked barbecue from a one-of-a-kind, handmade grill. This is one menu that deserves to be sampled – try a little of everything, trust us! – but you really can't miss the chicken breast, jumbo shrimp, Portobello mushrooms, and baked potatoes. Bonus: Almost everything at El Lagarto is lactose and gluten-free. (Playa Samara, Phone: 2656-0750; Manuel Antonio, Phone: 2777-6932)
Ginger Restaurant, Hermosa Beach in Guanacaste: If you love tapas (or just love to graze), you can't miss Ginger. This small-but-sophisticated joint serves traditional tapas and their pan-Asian-inspired counterparts – snappy flavor combos guaranteed to send your palate into ecstatic overdrive. The menu offers great variety at awesome prices ($5-$13 per order), so you can sample everything your heart desires. Our favorites: the Portobello crostini, firecracker shrimp, and the signature Ginger rolls. (Playa Hermosa/Papagayo, Phone: 2672-0041)
Tin Jo, San Jose: This San José mainstay has remained on our list for years – and for good reason. Tin Jo's talented chef whips up dishes from across the Asian continent, and the menu offers Chinese, Thai, Vietnamese, Indian, and Japanese selections. Added to the great food is the impeccable ambiance – several small dining areas that adhere to a national theme, complete with elegant décor and soothing melodies. Service can be slow during busy times, but the food is worth the wait. (San José; Phone: 2221-7605)
Sofia, Monteverde: The only thing that can eclipse Sofia's surroundings – misty cloud forest populated with melodic birdsong – is its cuisine. The eclectic menu is a blend of international dishes fused with Costa Rican flavors – think grilled chicken in a guava reduction and fresh seafood chimichangas. The drinks are inventive and very tasty, as are the generous salads. Arrive early, so you can nab a table near the picture windows, which overlook the ethereal cloud forest and abundant gardens. (Monteverde, Phone: 2645-7017)
Graffiti, Jaco Beach: Tucked into the backside of a tiny, nondescript strip mall in downtown Jacó, Graffiti is as easily underestimated as its name implies. But don't make that mistake: this chic restaurant and wine bar is perhaps the beach town's greatest eaterie. The setting is decidedly casual and the food is excellent. We highly recommend any of the day's specials (they're artfully written on the chalkboard), which often revolve around the absolute freshest catches, right from the waters off Jacó. Be sure to sample the tuna tartare and the tropical sangria. (Jacó, Phone: 2643-1708)
Café Kalu, San Jose: Located 300m north of Parque Morazan on the corner of Calle 7. Restaurant and Caféoteca Kalu is a small café/restaurant that also houses a fine Costa Rican Art Gallery and is the ideal spot to escape the busy streets of San Jose even if only for a locally brewed coffee and cake. The dishes are simple and very tasty and many people turn up to enjoy the warm, cozy atmosphere. (San José; Phone: 2221-2081)
La Pecora Nera, Puerto Viejo: One of the Caribbean's most renowned restaurants, La Pecora Nera is worthy of the hype: Italian cuisine, thoughtfully prepared and lovingly displayed, takes you on a culinary journey through Italy. The small menu offers up delicious dishes, but we highly recommend handing the reins over to owner and chef Ilario Giannoni, who will recommend the day's specials and craft a memorable feast based on your preferences. (Puerto Viejo, Phone: 2750–0490)
Nectar, Nicoya Peninsula: The elegant Nectar is housed in Florblanca, one of the Nicoya Peninsula's top boutique hotels, and offers a diverse menu and elegant ambiance – and an oceanside locale, where you're almost close enough to bury your toes in the sand. The restaurant's motto – from hook to fork, from farm to table – tells of its commitment to fresh, local cuisine. The menu changes nightly and specials usually feature the catch-of-the-day, Costa Rican grass-fed beef, and other tempting dishes. (Santa Teresa, Phone: 2640-0232)
La Bodeguita del Medio, San Jose: Located 200m South of the BCR on Paseo Colon. This Cuban hot spot is the ideal place to hang out and enjoy great live music every night. Be sure to check out their weekly Latin dance classes! A local favorite is the popular Mango Mojitos mixed with the tasty Cuban ceviche. Pop along to see how they move over in Cuba! (San José; Phone: 2255-8383)
Sash, Rohrmoser: If you're in San José and craving a serving of authentic Lebanese delicacies, there's no better choice than Sash. This restaurant balances between casual and fine-dining locale, offering up a cozy ambiance and attentive service. We love everything we've ever tried, but can never get enough of the robust vegetarian special, which offers perfectly spiced baba ghanoush, hummus, falafel, and tabbouleh. (San José, Phone: 2232-1010)
Kapi Kapi, Manuel Antonio: For a romantic celebration or special occasion, Kapi Kapi pulls out all the stops. The menu is on the pricey side, but is still a bargain when compared to similar cuisine in major U.S. cities. The menu is a wonderful selection of Costa Rican, Asian and tropical fusion, and focuses on local ingredients, like raw sugar and fresh vanilla grown in the hills above Manuel Antonio. Everything is delicious so order whatever appeals, but do yourself a favor and save room for the hot chocolate soufflé. (Manuel Antonio, Phone: 2777-5049)
Traditional Costa Rican Food & Recipes
While Costa Rica isn't renowned for its cuisine, which lacks the distinctive flavor of Latin American staples like Mexican or Brazilian, Costa Rican food is a flavorful delight: savory but not spicy—except in the Caribbean, where habañero peppers add pep to favorite dishes. Like much of Latin America, Costa Rican food is characterized for its use of basic grains like rice, beans and corn, which are included in almost every meal. But whether you love spice or can't stand the heat, there's no question that Costa Rica's traditional fare is downright delicious.
Tropical fruits and vegetables decorate the plate at every meal. Seafood is fresh. Chicken is usually free-range, and beef is grass-fed. Family-run sodas, or diners, offer up heaping portions at unbelievable prices. Bar food offers up a Latin version of deep-fried comfort. And the nation's upscale restaurants offer Costa Rica's version of tropical fusion.
A Costa Rican vacation is incomplete without thoroughly sampling some of the nation's most customary dishes, so here's a quick rundown of Costa Rica's traditional foods. Which are you just salivating to try?
Casado: This dish, named for the "married men" it traditionally fed, is an inexpensive-but-filling staple both at home and in local restaurants. Choose your protein – beef, chicken, fish, pork, eggs and cheese are usually available – to combine with the days side dishes, which often include rice, beans, green or cabbage salad, picadillos and fried sweet plantains. Dishes remain predominantly similar all over the country, with small variations according to a local specialty.
Ceviche: This fresh fish dish (say that three times fast!) is most common in seaside towns, but you can find it throughout Costa Rica. Raw fish is marinated in sour lemon or lime juice to "cook" the meat, and served with a savory combination of onion, sweet pepper and cilantro.
Chicharrones: These fried pork cracklings are nothing like you'd find in a bag – or on a traditional Mexican plate. Thick, juicy hunks of pork rind are deep fried to produce this crispy – and ultra-meaty – bar standby.
Chifrijo: The Costa Rican version of seven-layer salad (or seriously supreme nachos), chifrijo is a splurge-worthy bar favorite that layers pork rinds, pico de gallo, and red beans over white rice, usually served with a slice of lime and serving of fried yucca.
Chorreadas: These hot, sweet corn cakes are baked on a griddle and topped with natilla, Costa Rica's version of sour cream.
Empanadas: Costa Rican empanadas are like deep-fried sandwiches, packing meaty fillers, like beef or chicken, into corn pastry before deep-frying it to golden, crispy goodness.
Fresh Fruit: Of Costa Rica's traditional foods, fruit is easily the cheapest and most exciting to sample. Head to any feria, or farmer's market, and you'll be wowed by the kaleidoscopic choices before you: familiar favorites, like mango, pineapple, papaya, and strawberries, are joined by soursop, water apples, passion fruit, dragon fruit, sour guava, and other tempting produce.
Gallo Pinto: A Costa Rican's greatest praise is simply, "You're more Costa Rican than gallo pinto." The unofficial national dish, savory gallo pinto—or just pinto—is a delicious blend of onions, sweet peppers, cilantro, black beans and rice, topped with salsa Lizano, a zesty sauce. And despite what you may expect, gallo pinto is served at breakfast—not lunch or dinner—with some combination of eggs, sausage, plantains, cheese and sour cream.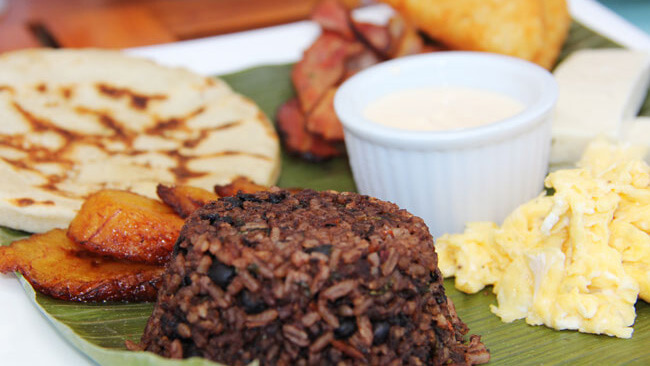 Gallos: Not to be confused with gallo pinto, gallos are a bit like Costa Rican tapas: take a dollop of picadillo (see below), add it to a corn tortilla, wrap and gobble down. Delicious and affordable, at $1-$2 each!
Granizado: Super sweet and absolutely delicious, granizados are like Costa Rican snowcones, only served in a plastic cup. Choose your favorite flavor: tutti frutti, root beer, or grape.
Naturales and Batidos: If you love fruit, you're going to love Costa Rica's fruit drinks! Available in every restaurant, naturales are generally mixed with water, and batidos with milk. Both are delicious.
Pan de Elote: Costa Rica's sweet corn bread, or pan de elote, is pure comfort – and very filling. Despite its name, you should know that this traditional favorite has neither the taste nor texture of the cornbread you're used to.
Patacones: Green (unripe) plantains are mashed and formed into pancakes, then deep-fried, to create this Caribbean appetizer. Patacones are usually served with beans or pico de gallo, but can become a complete meal when topped with shredded beef, beans, and cheese.
Picadillo: Picadillos are one of Costa Rica's signature dishes, having been developed throughout the years as a way of stretching out vegetables. These chopped, cooked vegetables usually serve as a side dish, although they can be wrapped into a tortilla to form a gallo, the Tico version of a taco.
Pipa: Coconut water isn't a fad in Costa Rica – it has always been a hit!. Pipas are green coconuts, usually chilled before having their tops sliced off and straws inserted for immediate enjoyment.
Rice and Beans: Don't mistake gallo pinto for rice and beans: though both are made with rice and beans, the latter is a Caribbean staple made with red beans, rice, coconut milk, and a generous touch of habañero pepper.
Rondón: This delicious stew is an absolute must-eat for any visitor to Costa Rica's Caribbean. Crafted from a mix of seafood, fish, and available produce, rondón is simmered in coconut milk and spices for 24+ hours before enjoyment.
Tamales: Like in the rest of Latin America, a Costa Rica Christmas wouldn't be the same without tamales! The Tico version is square and wrapped in banana or plantain leaves, with the cornmeal being filled pork, carrots, garbanzos, bell pepper, and other ingredients. Every family has its own special recipe.
Yuquitas: A tropical version of French fries, yuquitas are thick, fried slices of yucca.