Puerto Jimenez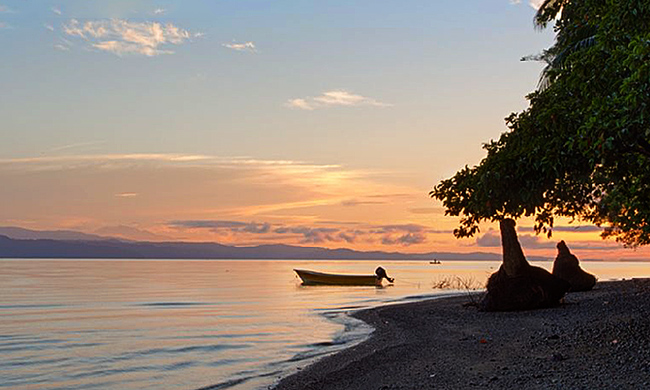 Puerto Jimenez at a Glance
Nearby Activities:
Luxury spas

Wildlife tours

Kayaking
Nearby Attractions:
Corcovado National Park

Osa Wildlife Sanctuary
Special Features:
Puerto Jimenez is the largest town on the Osa Peninsula and was popular among gold prospectors in the 1960s.
Fast Facts About Puerto Jimenez
Region: Osa Peninsula & The South Pacific
Closest Airports: Juan Santamaria International Airport, Puerto Jimenez Airstrip
Altitude: Sea level
Average Temperature: 81° F (27° C)
Although Puerto Jimenez is the largest town on the remote Osa Peninsula, the pace of life here is just as relaxed as anywhere else in this stunning region of Costa Rica.
The main beach of Puerto Jimenez is ideal for visitors hoping to indulge in some watersports, as the waters are particularly tranquil, making the town a perfect starting point for travelers embarking on scuba diving expeditions. The Golfo Dulce is also a magnet for sportfishermen; this large gulf is home to several species of fish—such as amberjack, African pompano, and the elusive roosterfish—that will push the skills of even the most experienced anglers to their limit.
Attractions & Places to See
The Osa Peninsula is renowned for its remarkable natural beauty, and Puerto Jimenez is the perfect destination for visitors hoping to explore this tropical paradise. The following attractions are easily accessible from the town:
● Playa Puntarenitas
● Corcovado National Park
● Cabo Matapalo
Activities & Things to Do
For visitors to Puerto Jimenez, the most difficult part of their trip will be deciding which activities to choose. Boasting a diverse landscape and situated within easy reach of some of the Osa Peninsula's most popular sights, Puerto Jimenez is the perfect destination for travelers hoping to explore the rugged natural beauty of southwestern Costa Rica. The following activities are available in the area:
● Crocodile night feeding tours
● Golfo Dulce powerboat excursions
● Mangrove kayaking
● Dolphin watching
● Inshore / offshore sportfishing
​● Golfo Dulce scuba diving
Wildlife & Nature
To see the exotic wildlife of the region up close, travelers should head to the Herrera Botanical Gardens, located just outside Puerto Jimenez, where they will see animals like spider and howler monkeys, as well as numerous species of orchid and other tropical vegetation.
Best Time to Visit
Due to the Osa Peninsula's humid tropical climate, visitors who want to enjoy everything Puerto Jimenez has to offer should visit between November and April during the high season, as many of the roads leading to the various attractions in the area can become impassable during the green season.
Where to Stay
Puerto Jimenez and the surrounding area are known for their eco-lodges—environmentally responsible accommodations that combine modern luxuries with an authentic tropical experience, often nestled amid verdant forests. Alternatively, many fine hotels and boarding houses can be found downtown for tourists who want to stay close to the action.
Restaurants and Nightlife
When it comes to dining, Puerto Jimenez serves up an authentic blend of Costa Rican cuisine infused with South American, Asian, and European influences. As a coastal town, seafood is a staple of many restaurants' menus, and whether you want a light bite or something more substantial, you're sure to find it in Puerto Jimenez.
For travelers who want to live it up Tico-style when the sun goes down, Puerto Jimenez is the perfect place to do so. Many of the town's bars and clubs are extremely friendly to tourists, but for a more local experience, enjoy a cold beer or cocktail at one of the smaller bars located a little further out from downtown.
---
Services & Infrastructure in Puerto Jimenez
Public transportation: Reasonably frequent bus service to and from Matapalo, infrequent buses from San Jose
Public amenities: Some public restrooms, changing stations near the beach
Shopping: Food stands, local arts and crafts, small markets
ATMs: Yes
Gas stations: Yes
WiFi or Internet cafés: Some WiFi coverage
Cell Phone Reception: Reliable
Restaurants: Excellent range of choices
Nearest medical facilities: Small clinic in Puerto Jimenez, boat connections to Golfito Hospital