Potrero Beach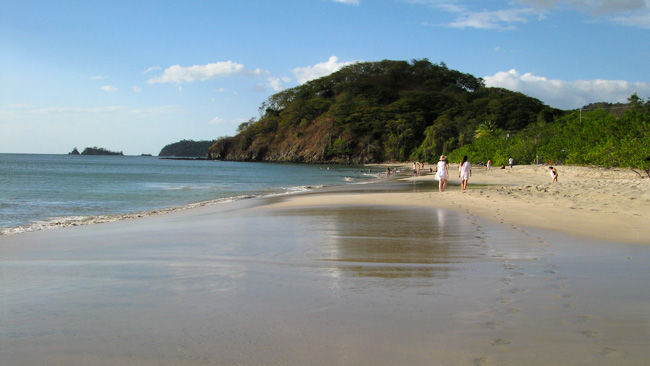 Potrero Beach at a Glance
Nearby Activities:
Deep Sea Fishing
Swimming
Scuba Diving
Surfing

Horseback Riding

Hiking

Zip Line Canopy Tour
Catalina Islands
Sailboat Sunset Tours
Las Baulas Marine National Park
Special Features:
This rural town embraces the old Costa Rican coast villages style and can be seen as a tranquil spot away from other touristy places.
Fast Facts About Potrero Beach
Also Known As: Playa Potrero, Potrero Beach
Closest Town: 15 miles north of Tamarindo
Closest Airports: Liberia International Airport (LIR) & Tamarindo Regional Airport
Average Temperature: 75°-96°F
Crowd Level: Tranquil
Potrero is a hidden jewel in the north-west of Guanacaste, named after the eponymous beach. This rural town embraces the old Costa Rican coast villages style and can be seen as a tranquil spot away from other touristy places.
The main feature of this town is its inherent and simple beauty. The road remains unpaved because the locals choose it to stay that way; on Sundays you can still see children playing soccer in 'la plaza' and the locals going to church. Hotels or massive developments didn't find their way to the coast line yet, and you can see people lying in a hammock on their own land, just few steps away from the sea– like it used to be in every Guanacaste coast village many years ago.
Although there are several small hotels and villas around with their own facilities, there is only few supermarkets and local restaurants to go to in town.  This is the place for people seeking quiet and relaxing time away from all the maddening rush of the city.
Nightlife goers can find a lot of  great bars and clubs in Playa Tamarindo on the south, and Playas del Coco on the north. Both are within hour or less drive away from Potrero.
Enjoy swimming, snorkeling or kayaking in three local beaches: Pietra, la Penca and Potrero, perfect for people seeking calm beach activities. Bring your own equipment, as you will not find equipment stores and renting services can be sporadic in the area.
Potrero can be reached both by public bus and by car. It's a 45 min drive from Liberia, Guanacaste's main hub, or  four to five hours drive from San José, but the trip is worthwhile. It can also be a nice place to start exploring the Papagayo Bay and traveling to other famous beaches like Playa Flamingo and Playa Conchal, or visiting Santa Rosa National Park and Palo Verde Natural Reserve that are close by.
---
Services & Infrastructure in Potrero Beach
Public transportation: Yes, there are round-trip buses from Liberia several times a day
Public amenities: No public restrooms
Shopping: Yes, there are several shops
ATMs: Yes
Gas stations: No
WiFi or Internet cafés: Yes, restaurants & bar offer WiFi service
Cell Phone Reception: Reliable
Restaurants: Several 'Tico' cuisine restaurants; those seeking a little more nightlife have Tamarindo and Playa Brasilito just a few minutes away.
Nearest medical facilities: The closest medical facility is Tamarindo.