Playa Tambor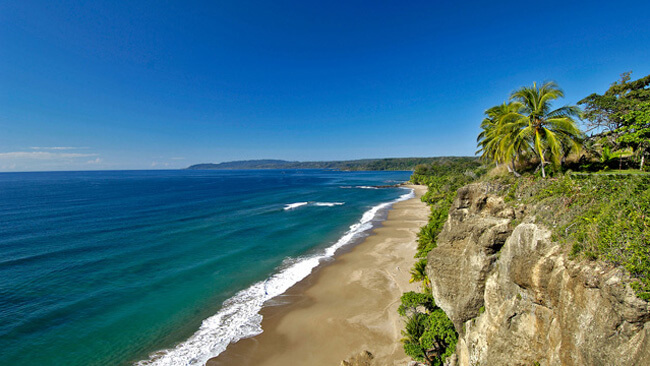 Playa Tambor at a Glance
Ideal for:
Couples 

Nature Lovers

Relaxation 
Nearby Activities:
Deep Sea Fishing
Swimming
Whale Watching
Scuba Diving
Surfing

Horseback Riding

Hiking
Nearby Attractions:
Cabo Blanco Absolute Reserve

Mal Pais / Santa Teresa Beach
Montezuma Beach
Montezuma Waterfalls
Fast Facts About Playa Tambor
Also Known As: Tambor Beach, Playa Tambor, Bahia Ballena
Closest Town: 11 miles west from Paquera (ferry connection)
Closest Airports: Liberia International Airport (LIR) & Tambor airstrip
Average Temperature: 75°-96°F
Crowd Level: Secluded
Playa Tambor is located in the Nicoya Peninsula, in the province of Puntarenas. It is set along the large and quiet Bahia Ballena, which means Whale Bay, by a lush green valley. The gentle giants used to gather in the warm waters of the bay during the dry season, sadly rising coastal activities has driven them away and they are seldom seen these days.Tambor was the location for the filming of Temptation Island 2 Fox TV hits, today it is growing as a popular tourist destination but it still has kept its slow and lazy atmosphere.
Tambor is the perfect place to be for a calm and peaceful vacation, for families or simply for those who seek tranquil and out of the way places. The waters of this beach are very calm and great for kids and it is ideal for diving, snorkeling and deep-sea fishing. Because of the proximity of volcanic activities, the sand of this beach is darkish grey in color. The low tide permits horseback riding, volleyball or soccer on the beach.
This region is known for its lush green forest; it is part of the Biological corridor of the Nicoya Peninsula, with the Curu Wildlife Reserve to the North; this reserve protects ecological habitats as well as a wide array of wildlife. See also the Cabo Blanco National Park by Montezuma, a wonder of wildlife and spectacular flora and excellent for bird watching. Across from the beach is the Isla Tortuga, a little white sand beach that provides a lovely day trips that can be booked in town.
The South end of Tambor consists of a little fishing village, full of anchored small boats; indeed, this is one of the safest places to anchor boats in Costa Rica.
Tambor offers a good choice of hotels of every size and style that includes the famous all included Barcelo Tambor Resort and Casino, and the Los Delfines Golf and Country Club, which has a 9-holes Golf Course on its premises. The ever so splendid Rio Panica is found more inland, with spectacular views over the river and the flamboyant landscape.
The actual little town of Tambor has changed little over the years, it has kept the sleepy laid-back atmosphere of a fishing village. Still it has everything one might need; souvenir shops, restaurants, bars, supermarkets, tours operators and car rental offices