Playa Flamingo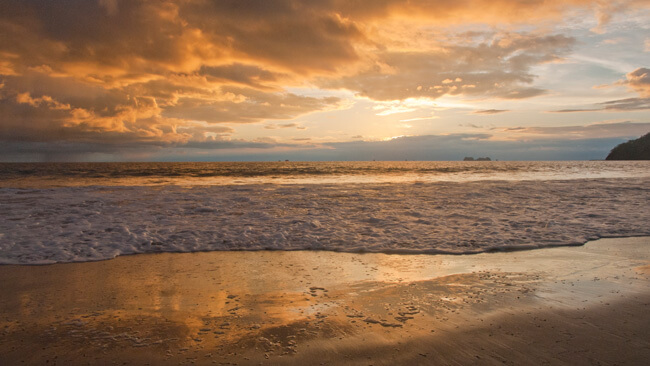 Playa Flamingo at a Glance
Ideal for: 
Couples 

Families

Nature Lovers

Relaxation 
Nearby Activities:
Deep Sea Fishing
Swimming
Scuba Diving
Surfing
Body Boarding
Snorkeling
Horseback Riding
Hiking
Zip Line Canopy Tour
Nearby Attractions:
Catalina Islands

Sailboat Sunset Tours

Las Baulas Marine National Park
Special Features:
Playa Flamingo is simply irresistibly beautiful with its brilliant white sand and turquoise water. Located in Guanacaste, on the Gold Coast of Costa Rica, it is also the only marina giving full service on the Central American Pacific Coast, between Acapulco and Panama.
Fast Facts About Playa Flamingo
Also Known As: Flamingo Beach, Playa Flamingo, Playa Blanca
Closest Town: 12 miles north of Tamarindo
Closest Airports: Liberia International Airport (LIR) & Tamarindo Regional Airport
Average Temperature: 75°-96°F
Crowd Level: Secluded
Flamingo Beach (Playa Flamingo) is located in the Northern Pacific province of Guanacaste. Flamingo is a long white and golden sand beach that provides nearly a mile long stretch of incredible beauty. The curved bay of Flamingo is scattered with small buttonwood trees, which provide some shade to beach goers. Due to the crescent shape, visitors can enjoy views of the adjoining coastlines and connecting beach areas. The ocean water, often turquoise in color and generally clear, has a soft break where one can enjoy a variety of activities including snorkeling, boogie boarding, paddleboarding, sea kayaking, sailing, and more. Sportfishing and scuba diving are also popular attractions for this beach area.
Although there aren't any services directly on the beach, there are a variety of properties located along the stretch of Flamingo, which do have restrooms and places to grab a meal. The town of Flamingo is also a short walk from the beach and provides for a variety of restaurants and some small shops. Vendors are available on the beach providing souvenirs, cold drinks and snacks.
The main hotel property located in Playa Flamingo is the Flamingo Beach Resort, a mid-sized beachfront property which offers bed and breakfast plans as well as an all inclusive stay.
Best Time to Visit
Depending on the activities, best times to visit Flamingo Beach are dry season, running from December to April, or October to February for Leatherback turtles' nesting season and year-round for excellent deep-sea sport fishing.
Birding & Wildlife Watching
Playa Flamingo is also in the proximity of some of Costa Rica's most sought after National Parks; The Marino Las Baulas National Park is one of the world's largest nesting and hatching sites for the endangered Leatherback turtles. With 450 hectares of coastline and mangrove swamp, it is home to an incredible variety of flora and fauna. See also the Santa Rosa National Park and Palo Verde Natural Reserve. From the marina, there are diving and sailing trips to the enchanting Isla de Plata. Flamingo is also close the famous 18 holes championship golf course that was designed by Robert Trent Junior. Those in love with adventure will love the Congo Trail, Costa Rica's best original zip line canopy tour.
Flamingo's white sand and gorgeous sea, surrounded by lush tropical vegetation and wild life is the perfect getaway for those seeking a holiday in style and luxury yet close to nature. Flamingo is a Blue Flag ecological beach, meaning it is environmentally sound, clean and great for swimming, and sunset cruise. While in Flamingo you will be likely to see howler monkeys, coatis, agoutis, iguanas, turtles, and a multitude of colorful tropical birds.
---
Services & Infrastructure in Playa Flamingo
Public transportation: Yes, there are roundtrip buses from Liberia several times a day
Public amenities: No public restrooms
Shopping: Yes, there are several shops and a small shopping mall
ATMs: Yes
Gas stations: No
WiFi or Internet cafés: Yes, restaurants & bar offer WiFi service
Cell Phone Reception: Reliable
Restaurants: Flamingo is all about pleasure and luxury with its beautiful villas and sumptuous resorts and while it has a restricted choice of bars and restaurants, those seeking a little more nightlife have Tamarindo and Playa Brasilito just a few minutes away.
Nearest medical facilities: The closest medical facility is Tamarindo.