Playa Avellanas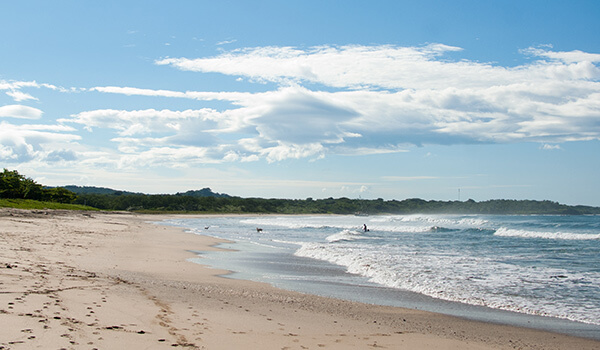 Playa Avellanas at a Glance
Ideal for:
Families

Couples

Adventure Seekers

Nature Lovers

Relaxation
Nearby Activities:
Wildlife Watching

Hiking

Scuba Diving & Snorkeling

Surfing Canopy Tours
Nearby Attractions:
Tamarindo Town

Playa Negra

Hacienda Pinilla Golf Course

Hacienda Pinilla Beach Club
Special Features:
For most visitors, the biggest attraction Playa Avellanas has to offer lies offshore. Avellanas boasts some of Costa Rica's best surf spots drawing surfers from all over the world.
Fast Facts About Playa Avellanas
Also Known As: Avellanas Beach or referred to by locals as "little Hawaii."
Closest Town: Tamarindo (1 mile [16 km] drive via Villa Real that will take you 25 minutes)
Closest Airports: LIR is 1 hour, 15 minutes away
Average Temperature: Round-year average maximum temperature in Guanacaste is 90° F and minimum temperature is 75° F. In general, the best time to visit Guanacaste is December through April, as it is Costa Rica's dry season.
Crowd Level: Secluded
Avellanas is a tropical paradise ideal for those who enjoy exploring roads less traveled. Amid rising development in Costa Rica, this is certainly an untouched oasis where you can truly experience the "Pura Vida" way of life!
Although roughly 25 minutes away from the tourist-mecca of Playa Tamarindo, this little surfing community remains pristine and "tranquilo". There is a handful of restaurants if you forget to pack a picnic, but the beach is unmarred by commercial business, and very little traffic will interrupt your serenity. The only sound breaking the silence is the crashing of world-class waves on golden sands…or the crazy roaring of the howler monkeys!
The biggest allure of this beach is the fantastic surfing it presents to many expert and pro surfers from all over the world. Known as 'little Hawaii' by the locals, the offshore swells here can reach as high as 18 feet, making Playa Avellana a dream destination for any surfer.
But no need to worry, if you are not an experienced surfer you can also enjoy the amazing nature, beautiful golden sand, and turquoise water that Avellanas offers. It is definitely the go-to place to relax, lie back under abundant palm trees lining the coast and providing a welcome shade on the beach, read a good book, and just be one with nature.
This two-mile (three-kilometer) stretch of beautiful golden sand is hard to compare to anything else. Some of the best night skies can be seen there, lying on the beach in the dark, getting lost in time, because of the lack of city lights and noise.
Last but not least, you have to visit Lola's Beach Bar. It offers good cocktails together with great beach chairs to relax in while viewing the stunning scenery and eating a slice of their delicious pizza. You may want to stay there forever! Lola's, by the way, got its name after Lola the pig; this huge former mascot of the bar actually swam in the ocean! She was a must-see character if you were visiting Avellanas, and quite famous in her own right.
Best Time to Visit
Surf conditions in Avellanas are perfect throughout the year with swells coming in both from the northern and southern hemisphere. Dry season is from December to April with blue skies and steady offshore winds.
Avellanas gets very busy with tourists and locals during Christmas and Easter Week, and we recommend visiting it when it is not high season to enjoy the privacy and peacefulness of this beach.
Birdwatching & Wildlife Viewing
Playa Avellanas is home to a wide variety of animals. There is a large troop of howler monkeys that lives in the mango trees, and it is not uncommon to see more than five iguanas a day! There are many beautiful birds and butterflies, plus vibrant purple-and-orange crabs that live in the mangroves beside the boardwalk. If you're in the right place at the right time, you may even be lucky enough to spot a dolphin playing in the waves or see the majestic form of a humpback whale.
From June to December, the beach becomes a nesting ground for sea turtles, and red-lighted Turtle Patrols are often organized. It's more than just an interesting stroll; Turtle Patrols often scare away predators that are after eggs – animal and human alike.
---
Services & Infrastructure in Playa Avellanas
Avellanas has no town attached and there are no shops around. It is just a scattering of small, laid-back hotels and cabinas where surfers hang out. For those who need more luxury, a large, all-inclusive resort is located further north, halfway between Playa Langosta and Avellanas.
Public transportation: Yes; the bus terminal DIRIA in Santa Cruz is next to Supercompro Supermarket, and the bus to Avellanas is called "Pinilla bus" by the locals.The ride from Santa Cruz to here is usually 1-1 1/2 hours, and costs around 800 colones. Taxis are prevalent.
Public amenities: No; the only bathrooms & showers are at local restaurant, available during its working hours.
Shopping: You will find several mini markets along the way to Avellanas, but there's not much. For more shopping you will need to go to the nearest town, Tamarindo.
ATMs: No
Gas stations: No, the nearest gas station is in Villa Real, approximately 25 min from Avellanas
WiFi or Internet cafés: Yes, Lola's offer WiFi internet connection
Cell Phone Reception: Reliable
Restaurants: Yes, beachfront casual dining restaurant and upscale beach bar nearby.
Nearest medical facilities: There are private and public medical clinics in Tamarindo and Villa Real (25 min from Avellanas), the nearest hospital is in Nicoya which is about 1½ hours away.