Gulf of Papagayo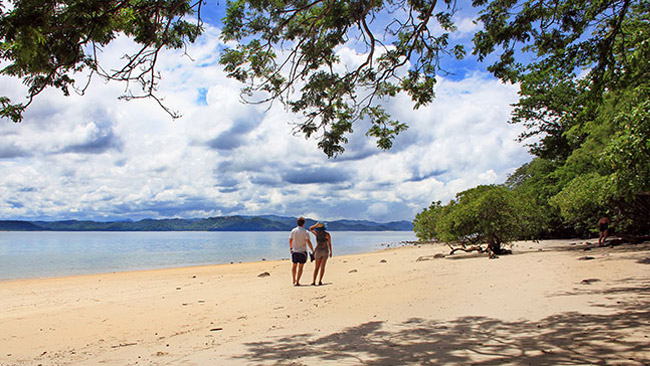 Gulf of Papagayo at a Glance
Ideal For:
Families 

Couples 

Nature Lovers

Relaxation

Luxury Retreats
Nearby Activities:
Bird & Wildlife Watching

Sailing

Ocean Kayaking
Banana Boating

Scuba Diving & Snorkeling

Hiking

Horseback Riding
Jet Skiing

Sportfishing

Surfing
Nearby Attractions:
Lomas de Barbudal Wildlife Refuge

Palo Verde National Park

Ponderosa Adventure Park
Special Features:
There's a lot to love about secluded Papagayo, but the region's brilliant sunsets are what will live on in your mind's eye. They're absolutely spectacular!
Fast Facts
Region: Guanacaste & The North Pacific
Landscape: Beach & Dry Forest
Closest Airports: Liberia (LIR)
Altitude: Sea Level
Average Temperature: 82-90º F (27.5-32º C)
From your oceanside Guanacaste hotel, the view stretches for miles in all directions. The Pacific glitters as far as the eye can see; the only changes to your view are swooping seabirds, a passing sailboat, and breaching humpback whales. Below, a long crescent of gold-flecked sands curve around the protected bay. Welcome to the spectacularly beautiful Gulf of Papagayo.
Papagayo is a beach town unlike any other; in fact, it's not a town at all! The area is named for the stunning gulf that borders the beach, but there is no official town. (For gridded streets, shops, and other services, head south to Hermosa and Coco beaches.) The result is "developed seclusion" – a Papagayo of many amenities, in a tranquil natural setting.
---
If travelling on a budget, and want to visit Papagayo, we recommend checking out our sister brand—CentralAmerica.com, offering 4-night all-inclusive stays in this area, with tours and a transport to the airport, all included. Available for immediate bookings!
---
It is this unique blend of tourism and nature that makes Papagayo such an excellent destination. The region's favored location, balanced between the pristine ocean and protected forests, lays out a daily buffet of options – your only task is to choose what and when! The ocean is perhaps the area's biggest draw, offering everything from rigorous sea kayaking to some of the region's best scuba diving. Papagayo is also a popular choice for honeymooners, thanks to its secluded setting and romantic activities, like couple's spas and evening sunset sails.
Papagayo Development and the Environment: If you've ever heard of the toll that Papagayo's fast development had on surrounding ecosystems, you may be wondering if that's still the case. In a word, no. Check out a brief history of Papagayo – and its good-news ending:
Construction around the Gulf of Papagayo first began in the mid-1970s, when many hoped it would become "the next Cancun." It soon became clear, however, that the region could not support the 20,000+ planned hotel rooms and their accompanying infrastructure. It took decades for the ecosystem to recover. In the late 1990s, another investor took an interest in Papagayo and again, development exploded. Hotels cut corners, and Papagayo's forests, ocean, and wildlife were again in danger. This time, the Costa Rican government responded swiftly and with definitive action: hotels were closed and repairs were mandated.
Today, Papagayo is an example of responsible development and sound ecological practices. Rest assured that your Papagayo accommodations and activities work to provide services and amenities that exist in harmony with nature.
Attractions & Places to See
Papagayo is all about the outdoors. Whether you're perched on the cliffs absorbing the view or wading into the warm Pacific, you'll have a front-row seat to incredible sunsets and cool sea breezes. Add to that 12 sandy beaches, national parks, and diverse wildlife refuges, and you have a recipe for a leisurely escape to nature and tranquility.
Some of Papagayo's top attractions are:
Pacific beaches, including Papagayo, Coco Beach (Playas del Coco), Playa Hermosa, and Playa Ocotal

Guanacaste National Park (1.5 hours)

Lomas de Barbudal Wildlife Refuge (1.5 hours)

Santa Rosa National Park (1.5 hours)

Palo Verde National Park (2 hours)

Ponderosa Adventure Park (1 hour)
Activities & Things to Do
Papagayo is a string of hotels and villas along a sandy, golden crescent and the Gulf of Papagayo. As such, Papagayo's activities center on the beach and ocean: swimming, sunbathing, boogie boarding, snorkeling, and beach-combing are perennial favorites. Organized activities, like canopy tours and guided hikes, are located within a 15-45 minute drive from Papagayo and usually include transportation.
Swimming

Snorkeling

ATV Tours

Sportfishing

Surfing

Banana Boats

Sea Kayaking

Canopy Tours

Golf

Hiking

Mountain Biking

Parasailing

Sailboat Tours
Day Trips
Day trips are very popular out of Papagayo, and send you as far afield as Nicaragua! Our top recommendations are:
Nicaragua: Colonial Granada, volcanoes, and shopping

Monteverde Cloud Forest

Barra Honda National Park (caving)
Wildlife & Nature
Papagayo is a place where nature is everywhere and the beautiful outdoors is always just a step away. Palm fronds and dense forest drape over Papagayo's fine sands – and those trees are filled with diverse wildlife. The most vociferous, by far, are the boisterous howler monkeys that fill the sound-waves with their territorial roars. Hermit crabs scuttle down the beach; butterflies flit through the air; iguanas and coatimundis scuttle through your hotel's gardens. The sunsets here are some of the best in the world.
Best Time to Visit
The dry season technically runs from November through May, but Papagayo is generally blessed with sunny days year-round; even in the rainy season, you can go days without a drop falling. That said, it does rain – and can pour for an entire afternoon. If you're interested in scuba diving and snorkeling, know that these rainier months (May-December) are the best times to visit.
Where to Stay
Papagayo is home to large resorts, all-inclusive hotels, and boutique villas. In general, it is considered an upscale destination and accommodations cater more to mid-range and boutique travelers. Budget accommodations are hard to find, although you can get great deals, especially on all-inclusive resorts, throughout the year.
Restaurants and Nightlife
Most Papagayo hotels, and especially the larger resorts, offer restaurant options. For other choices, head south to Hermosa or Coco Beach, where you'll find everything from beachfront restaurants to upscale dining in the mountains. Nightlife is restricted to your hotel's offerings – or what nature has to offer on a picturesque sunset cruises!
---
Sportfishing in the Gulf of Papagayo Area
Gulf of Papagayo on the very north of Guanacaste is more tranquil and less developed than Tamarindo. Small towns like Ocotal, Hermosa, and Coco haven't lost their small fishing town feel yet even as modern hotels, grocery stores, and condos sneak in. From here you can fish the Catalina Islands to the south or go north and fish along the gorgeous shorelines of the Santa Elena National Park. Some of the hot spots for in-shore fishing just minutes from the mooring are Punta Gorda, the underwater reef of Las Barras, and the several islands inside the golf where wahoo, huge roosterfish, and even sailfish are found. Should you decide to venture out of the gulf to chase yellow-fin tuna or marlin, you'll only be about 40 minutes away. Being one of the last stops before the Nicaraguan border, this is one of the best spots to catch a marlin on their yearly migration.
---
Services & Infrastructure
Papagayo is a study in opposites: while it is a popular tourism destination, it remains relatively secluded. There is no actual town of Papagayo, so most amenities are restricted to your hotel's offerings.
Public transportation: Yes, buses depart from San José to Playa Panama (5 minutes south) and Playas del Coco (15 minutes south)
Public amenities: No
Shopping: Restricted to hotel gift shops; for more options, head to Playas del Coco
ATMs: No, nearest are in Playas del Coco and Liberia
Gas stations: Yes, in Playas del Coco and Liberia
WiFi or Internet cafés: Restricted to your hotel's offerings
Cell Phone Reception: Some reception
Restaurants: Papagayo hotel restaurants, or restaurants in Playa Hermosa and Playas del Coco
Nearest medical facilities: There is a Red Cross in Playas del Coco, as well as three hospitals (two private) in Liberia