Town of Montezuma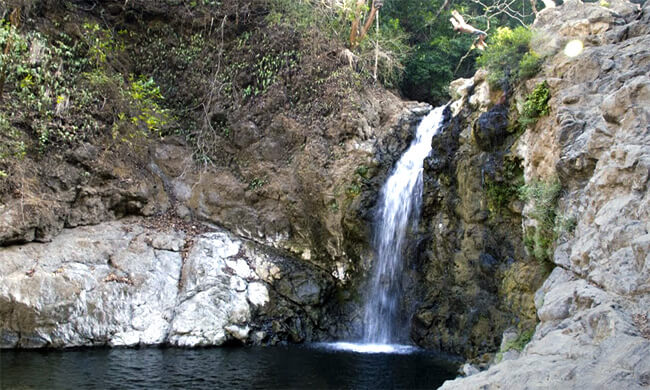 Town of Montezuma at a Glance
Ideal for:
Couples
Nature Lovers
Solo Travelers
Relaxation
Surfers
Nearby Activities:
Surfing

Deep Sea Fishing
Swimming
Whale Watching

Horseback Riding

Hiking
Nearby Attractions:
Cabo Blanco Absolute Reserve
Mal Pais / Santa Teresa Beach
Montezuma Beach
Montezuma Waterfalls
Special Features:
Waterfalls! There are dozens waterfalls in the Montezuma area. They come in all shapes and sizes and the biggest one is actually a cascade of three falls (60 ft) featuring great swimming pools, and all that just 20 min hike up the Montezuma River.
Fast Facts About Montezuma
Region: Nicoya Peninsula
Closest Airports: Liberia International Airport (3 hours) and Tambor airstrip (20 min)
Altitude: Sea level to 330 ft (100 m)
Average Temperature: 71 to 92°F
The southern Nicoya Peninsula possesses two jewels – the beaches of Mal Pais/Santa Teresa and the community of Montezuma. Both are reached the same way, ferry and car or by plane to Tambor, and both take up the tip of the peninsula, with Mal Pais on the west, facing the open Pacific, and Montezuma on the east, facing the Golf of Nicoya. Between the two lies the pristine Cabo Blanco Nature Reserve, Costa Rica's first national park.
The approach to Montezuma takes your breath away. As you come down the hill on the road from Cobano, just before the entrance to town, it suddenly drops away leaving you with a vast ocean view straight ahead and green jungle either side.
Once down the hill and in town, you'll find a tiny, hospitable cluster of boutique beachwear stores, restaurants, and a couple of hotels centered around a small T-junction. On either side are beaches – a smaller town beach just next to the Montezuma restaurant and cabinas to your right, and just down the road to your left a magnificent stretch of golden sand stretching miles up the coast to the waterfall and the Tango Mar Hotel.
Montezuma was "discovered" by travelers back in the 1960's and 70's and has been somewhat of a hippie center ever since. It has a well known healing arts and yoga community, and attracts artists from all over the world. Montezuma hosts an annual film festival each November. The general vibe of Montezuma is all about relaxation, yoga and wellness.
There are numerous waterfalls around town, including one in the jungle that can be jumped off, and another on Playa Grande that empties directly into the sea. Both are great options for a day trip, either on foot or by horseback.
Montezuma truly feels like paradise at the end of the world, and for a true getaway cannot be beaten as a destination!