Irazu Volcano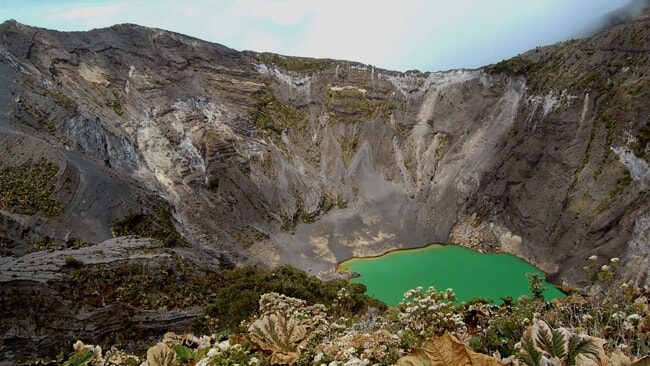 Irazu Volcano at a Glance
Ideal time to visit:
Dec to May are driest, crater can be visited year round
Nearby Activities:
Hiking can be done in the Prusia sector of the park area, birdwatching in forest areas.
Nearby Attractions:
Prusia Forest Reserve, sector of the Irazu National Park, Sanatorio Duran (haunted?) former hospital and prison.
Special Features:
On rare clear days you can see both the Pacific Ocean and Caribbean Sea! The views from the drive are top notch.
Fast Facts About Irazu Volcano
Region: San Jose & Central Valley
Closest Town: Cartago (45 min)
Volcano Altitude: 11260 Feet (3432 Meters) Above Sea Level
Closest Airports: San Jose (SJO)
Average Temperature: High 63º F/17º C, Low 37º F/3º C
The mighty Irazu volcano is a wonderful day trip from the San Jose area. At 11,260 ft (3,432 meters) the weather is quite a bit chillier than the valley below. The drive from the nearest city of Cartago is simply stunning, as each new turn reveals a better view of the valley or the surrounding farmland.
Irazu volcano is quiet today with its last eruption in 1994, though many locals recall the eruptions and extended ash showers of 1963-65. There have been 23 recorded eruptions since the first was recorded in 1723. Sitting on the eastern edge of the Central Valley, Irazu has an irregular cone shape and steep slopes. The eruptions have yielded very fertile soils and a large percentage of the country's produce is grown there. Though technically active the volcano is closely monitored by top volcanologists so the risk to visitors is minimal. The peak is often shrouded in clouds, and you can expect abrupt changes in clouds and weather during your visit.
The road ends right at the peak and it's take a short walk from the parking lot to the black sandy crater. The large flat crater looks a bit like an alien landscape but paved walkways allow you to get to the edge of Diego de la Haya crater. Traditionally this smaller deeper crater has been filled with bright blue-green water, though recent changes in weather and volcanic patterns mean this crater is virtually dry.
The chilly wind and altitude (even short walks can be tiring for the less fit amongst us) have most people looking to relax and warm up after a few minutes on the crater. Fortunately there is a small gift and coffee shop right on the edge of the main crater. Restrooms are also available, though the water from the taps is understandably frigid. Picnic tables dot the edge of the crater and coatis will be more than happy to help themselves to your leftovers, but please don't feed them.
Best Time to Visit
December through May, but can be visited year round.
Birding & Wildlife Watching
The crater area is pretty barren but coatis do hang around. The slopes on the western side (Prusia sector) have good birdwatching, including quetzales.
---
Amenities & Infrastructure Near Irazu Volcano
Restrooms at crater, coffee shop, gift shop
Public transportation: Yes, daily from San Jose and Cartago. Catch the bus at the National Theater (Teatro Nacional) at 8:00am or at 8:30am at the Tierra Blanca stop in Cartago. Bus leaves the volcano at 12:30pm. About $5 pp round trip + $10 park admission.
Public restrooms: Yes
Shopping: Gift shop
ATMs: No
Gas stations: No (nearest is in Potrero Cerrado 20 mins from crater)
Cell Phone Reception: Reliable Reception
Restaurants: No
Nearest medical facilities: Hospital in Cartago (1 hour)