The Arts – Culture in Costa Rica
Although it's tempting to spend your vacation lounging on the country's breathtaking beach or exploring the depths of the rainforests, be sure to make time for Costa Rica's many rich cultural offerings that should not be missed including art, music, museums, theater, and festivals.
Costa Rican Art
Costa Rica isn't particularly renowned for its art and has throughout history remained a viewer more than a creator. However as appreciators of the arts, the Costa Rican government organizations usually put great care into the preservation of historical monuments and the creation of museums and galleries. Recent years have seen the creation of more festivals and artistic initiatives including the International Arts Festival which takes place every two years.
Among the most famous Costa Rican artists are: Teodorico Quiros, who brought a modern sensibility to traditional landscape paintings during the 1920s; Roberto Brenes Mesen, who became famous for his poems and essays during the 1930s; José Joaquín Gutierrez who captured the "Tico" idiosyncrasies in his popular "Cocorí" books; Isidro Con Wong, who introduced magic realism to painting in the country; and sculptors like Ibo Bonilla.
Music
Costa Rican music is as varied as the cultural influences from which it sprang. Music in the Caribbean tends to include more African beats and show reggae influences. Afro-Caribbean music like calypso, reggae and rumba are popular in coastal regions. Another important element of Costa Rican music is the marimba, which might as well be the most popular instrument in Central American folk music.
The province of Guanacaste is known for being one of the regions most interested in preserving Costa Rican traditional music. From dances to ceremonies that date to pre-Columbian times, Guanacaste cities are always likely to offer a traditional spectacle. Especially around national holidays like the Annexation of Guanacaste in July schoolkids and professional dancers put on shows that include traditional dances like the Punto Guanacasteco, Tambito and the Caballito Nicoyano.
During the late 80s, Costa Rican bands began to try out different genres like rock and electronic music. Even though few Costa Rican acts have achieved international fame, the country now offers venues and scenes for all kinds of music lovers. Ska and reggae are very popular among young bands, as well as pop and rock. Some of the most popular bands in the country essentially mix traditional folk music with jazz and rock.
Museums
The museums of Costa Rica offer a variety of permanent and featured exhibitions that will impress all kinds of public. Costa Rica has a rich culture that blends the customs of the nation's indigenous tribes with the strong European influences first established by the Spanish colonists who landed here in the 16th century. The best places to explore country's fascinating cultural heritage is at one of the many Costa Rican museums located in San Jose.
Museo Nacional de Costa Rica / Costa Rica National Museum
Arguably the most beloved museum in the country, San Jose's Museo Nacional de Costa Rica is housed in the city's Bellavista Fortress, a site of great cultural significance to the Costa Rican people. A former military barracks, the Museo Nacional de Costa Rica still bears the scars of the Civil War of 1948, as bullet holes are still visible in much of the structure's walls.
Inside, visitors can discover a world of cultural exploration. The museum features numerous displays chronicling the history of the country and its rich pre-Columbian history. Some of the artifacts on display are thousands of years old, making the Museo Nacional de Costa Rica an ideal destination for inquiring minds who want to learn more about Costa Rica's colorful past.
Museo de Oro Precolombino / Precolumbian Gold Museum
​Before Costa Rica was colonized by the Spanish, the land was home to several indigenous tribes, some of which still make their home here. This popular museum is the perfect opportunity for visitors to see how the craft of metallurgy evolved over time, as well as see authentic gold pieces discovered in various archeological digs across the country. Some of these relics date back to around 500 AD, and illustrate how currency became increasingly important to the development of Costa Rica's pre-Columbian cultures.
Museo de Jade Costa Rica / Jade Museum
Although more commonly associated with the ancient cultures of the Far East, jade was mined and refined into precious artifacts by many of Costa Rica's pre-Columbian tribes. At the Museo de Jade Costa Rica—housed in Central America's tallest building, the National Insurance Building in San Jose—this fascinating museum has an extensive collection of jade relics dating from 500 BCE to 800 AD.
Many of these artifacts are incredibly intricate, a testament to the skill and craftsmanship of the artisans who spent their lives mastering the art of carving this hard stone, and provide guests with a unique glimpse into how this precious stone was seen as a status symbol in many of Costa Rica's tribal and pre-Columbian societies.
Museo de Arte Costarricense / Costa Rican Art Museum
​Costa Rica has a rich tradition in the fine arts, and the best place to discover this enduring legacy is at the Museo de Arte Costarricense. This popular museum boasts a permanent collection of more than 3,200 pieces from Costa Rican artists spanning almost two centuries. One of the most intriguing displays here is the outdoor sculpture garden, where visitors can see works by renowned Costa Rican artists like Jorge Jiménez Deredia, Edgar and Francisco Zuñiga, José Sancho and Max Jiménez.
In addition to its extensive permanent collection, the Museo de Arte Costarricense also has a wide range of temporary collections on display, many of which offer guests the unique opportunity to see how artistic trends first pioneered in Europe have been interpreted by Costa Rican artists over the years, providing a rare glimpse into Costa Rica's rich cultural heritage.
MCAD / Museum of Contemporary Art and Design
This museum is a complex located in the ancient building of the National Liquors Factory and built in the 19th century with colonial architecture inspiration. It offers several galleries and its permanent collection gathers different styles of Central American contemporary art including paintings, etchings, drawings, sculptures, photographs and more.
Theaters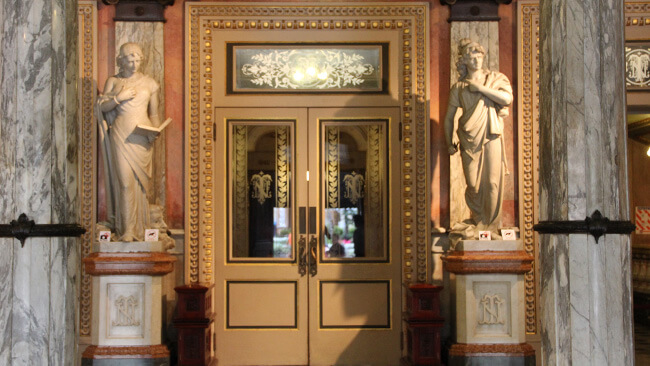 Ticos love the theater so much that Costa Rica boasts more theaters per capita than any other country in the world, some of which even offer performances in English. As many of Costa Rica's theaters are quite small, they often sell out, so booking in advance is a good idea. For current listings of upcoming performances, check a local newspaper like the Tico Times or contact these theaters directly:
Little Theater Group
(tel: 8858-1446, http://www.littletheatregroup.org)
Having been in existence since the 1950s, Costa Rica's Little Theater Group is the oldest continuously running English-language theater in Central and South America. The group performs in the San Jose Valley and beyond, and has previously put on productions like "Tuesdays with Morrie," "I Love You, You're Perfect, Now Change" and "Calendar Girls."
Auditorio Nacional
(tel: 2256-5876)
Located inside the Museo de los Ninos, the Auditorio Nacional is the country's most modern performing arts center. With its superior seating and sound system, this venue hosts some of the largest events in Costa Rica, including concerts, dance performances, plays and the Miss Costa Rica pageant.
Teatro Fanal
(tel: 2257-5524)
Once the fermentation area for the Fabrica Nacional de Licores (or the National Liquor Factory), the Teatro Fanal now hosts a variety of theatrical and musical performances, including children's theater. However, keep in mind that as with many other Costa Rican venues, all the performances here are in Spanish.
Teatro Melico Salazar
(tel: 2233-5424, https://teatromelico.go.cr/)
Owned by the Costa Rican Ministry of Culture, this 1920s theater is built in true baroque style and is much larger than the Teatro Nacional. As the host of the National Theater Company and the National Dance Company, the Teatro Melico Salazar offers regular fine arts performances, including concerts, plays, ballet and other forms of dance.
Teatro Nacional
(tel: 2221-5341, https://www.teatronacional.go.cr/)
Regarded as one of the most sophisticated and important theaters in Costa Rica, the Teatro Nacional features marble floors, columns and a painted fresco, creating a design modeled after the iconic Paris Opera House. Here, visitors will find dance, opera, plays and symphony performances, as this is the base for the National Symphony Orchestra.
Festivals
Each year, a handful of festivals are organized to promote art in all of its forms, from theater to literature and film, showcasing both national and international artists. Although a lot of these performances are in Spanish, plenty of it is enjoyable by speakers of any language. Two of the largest festivals are the Arts Festival and the Light Festival.
Festival de las Artes—Arts Festival
The main art event in Costa Rica is the FIA+FNA, which stands for the joint event of the International Arts Festival and the National Arts Festival, a two-week celebration, filled with art shows, dance & acting performances, and massive concerts. It's a great opportunity to see creations by people from all kinds of backgrounds, and since it alternates annually between the international and national edition, there's plenty to discover each year.
The festival was hosted in San Jose since it was founded, but recently the Ministry of Culture decided it was time to take it to another level, so now they tour different locations around the country. This festival usually takes place at the end of the dry season, in late March or April.
Festival de la Luz—Light Festival
The first 'Festival de la Luz' was held in 1996 when the municipality of San Jose organized the first parade of theme-decorated floats and the best bands in the country. This parade navigates downtown San Jose on the major avenue in early December, and a lot of people consider it the official beginning of the Christmas spirit.
The steady rise in the quality of the national Light Festival has made this parade an essential celebration of the holiday season. It takes place only for one night, and it's considered a family event, where the young and young at heart can enjoy school bands playing Christmas carols and the lit up floats, adorned with intricate lights and patterns. The parade ends with spectacular fireworks.