Coffee Farm Visit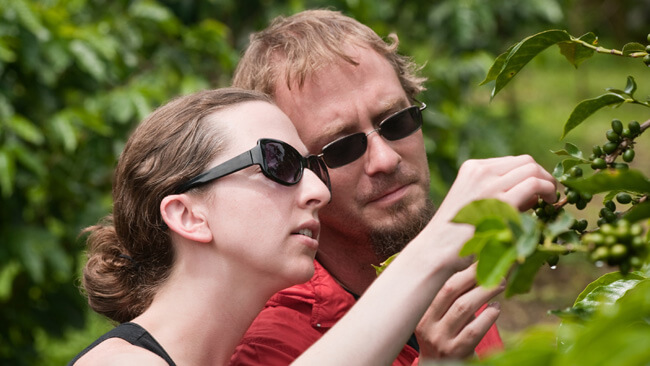 Keyword: Leisure, Health, Culture
Ideal for: Families, Couples, Nature Lovers, Relaxation, Retreats
Best Time of Year: Year-round
Most Popular Destinations: Central Valley, Monteverde & Southern Zone Highlands
Related Activities: If you love coffee tours, you may also enjoy chocolate tours.
Inhale, exhale. Inhale, exhale. Try not to pass out from the exquisite aromas roasting, grinding and brewing all around you. (Swooning is permitted.) Welcome to a Costa Rican coffee tour, where swirling scents and café culture are enough to send any java lover into a tizzy. A caffeine-fueled, oh-so-delicious tizzy.
Coffee has a long history in Costa Rica. Its story reaches back to colonial times, when coffee surged past tobacco and cacao (chocolate) to become the nation's #1 export. The "golden bean" (grano de oro) was incredibly important to the local economy, and the coffee industry help fund modernization and cultural establishments, including the spectacular National Theater in San Jose. Today, coffee remains one of Costa Rica's top exports – and retains a firm foothold in local culture. Cafés decorate the capital and popular towns around the country, and most Costa Ricans enjoy an afternoon cafecito – a cup of local coffee accompanied by fresh-baked pastries.
Cafés are your standing invitation to dip your toes into Costa Rica's coffee culture, but if you'd prefer to jump in, head-first, a coffee farm visit is the way to go. Tours are available anywhere in the country's coffee-growing region, which is focused in the Central Valley, Monteverde, and the cool mountains south of San José (San Gerardo de Dota, Tarrazu, etc.)
All coffee tours offer their own appeal, but most introduce you to the bean's journey from field to cup. Check out tiny coffee plants, pick a few coffee cherries (in season), and then follow the golden bean on its transformation through drying, peeling, and roasting. Of course, they've saved the best for last: finish your tour with a coffee tasting! You'll have a chance to sample all the brews, like French roast and espresso, so you can choose your favorites to take home.
Visit Coffee Farm in…
San Jose & the Central Valley
Costa Rica's most famous coffee tours are located in the Central Valley, including Heredia's Café Britt and Alajuela's Doka Estate. Café Britt dishes up a theatrical (and humorous) approach to the coffee tour, so your guides wear traditional coffee dress and make jokes along the way. Keep in mind that the Britt coffee tour is not held on a working coffee farm, so head elsewhere if you're in search of an authentic experience. Doka Estate, located on the slopes of Poás Volcano, is an excellent choice – a century-old working farm and traditional water mill that are classified as a national historical and architectural heritage site. Espiritu Santo in Naranjo is a little farther off the beaten path, but this coffee town is known for some of the smoothest and most robust coffee in the nation.
Best Time to Visit: The coffee harvest runs November-March in the Central Valley, giving you the chance to sample fresh beans and try your hand at picking. But picking is only one part of the tour – you'll love a coffee farm visit no matter the season.
Monteverde
Monteverde's rich soils and cool temperatures create ideal conditions for coffee farming. There are a few tours in the region, and the best offer front-row seats to working coffee cooperatives. You'll not only follow the coffee's journey from seed to cup, but will also gain insight into the inner workings of small, farmer-run cooperatives. Cooperatives are incredibly important to the local economy, pooling resources and knowledge – not to mention encouraging recycling and environmental initiatives – to help micro farmers find success on the international coffee market. The tour's visit to a working coffee mill is another highlight to this foodie adventure.
Best Time to Visit: December-February marks the Monteverde coffee harvest, so this is a great time to visit if you want to help pluck red, ripe coffee cherries from the bush. However, coffee tours are excellent year-round, regardless of the season.
Southern Zone Highlands
The Southern Zone Highlands is a region famed for its coffee production. Many coffee connoisseurs have heard of Tarrazu coffee and the exotic gesha varietal (you know – that coffee that sells for $70-$150 per pound?!) – and this is your chance to try them firsthand. Coopedota, located in Santa María de Dota, offers the quintessential experience, with a tour to a coffee plantation, the wet mill, roasting plant, and other points of interest. Other, smaller coffee tours are sprinkled throughout the region.
Best Time to Visit: November through March are the prime months for coffee harvesting, but coffee tours through rural Dota are enjoyable every month of the year.