Cartago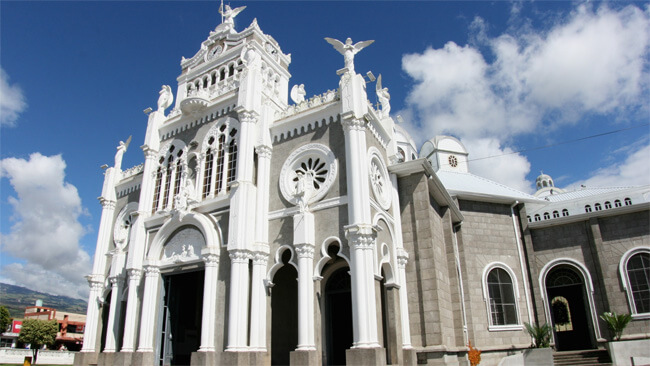 Cartago at a Glance
Nearby Activities:
White Water Rafting

Hiking
Nearby Attractions:
Irazu Volcano

Lankester Botanical Gardens

Our Lady of the Angels Basilica

Savegre Reserve
Special Features:
Cartago was the first capital of Costa Rica until 1823, and was also one of the earliest settlements established by the Spanish in the 16th century.
Fast Facts About Cartago
Region: Central Valley & Highlands
Closest Airports: Juan Santamaria International, Tobias Bolanos International airports
Altitude: 4,707 feet (1,435 meters) above sea level
Average Temperature: 77 degrees Fahrenheit (25 degrees Celsius)
Cartago is one of the largest and oldest cities in Costa Rica. Although the original Spanish settlement grew quickly during the 16th and 17th centuries, many of the city's buildings were destroyed by the frequent eruptions of Irazu Volcano. However, despite these setbacks, Cartago expanded to become one of the country's most richly cultural and historic cities.
Cartago is perhaps best known as the site of the Basilica de Nuestra Señora de los Ángeles, or Our Lady of the Angels Basilica. It is here that visitors will find the sculpture of La Negrita, the Black Madonna. This church is not only among the best examples of classical architecture in Costa Rica, but also a major site of spiritual significance. Every year, thousands of pilgrims make their way to the basilica in August for a special mass and various celebrations of the Madonna's first appearance at the church in 1635.
The city is nestled on the banks of the Reventazón River, making Cartago an excellent starting point for travelers hoping to enjoy some outdoor adventures after touring the historic sites of the city.
Attractions & Places to See
As a landlocked city, Cartago lacks the beaches that Costa Rica is known for. However, there are many other places of interest in and around Cartago, so whether visitors want to immerse themselves in the rich history of Costa Rica or venture into the stunning tropical surroundings of the Central Valley, Cartago is a great place to start.
● Reventazón River
● Chirripo National Park
Activities & Things to Do
Cartago and the surrounding area have plenty to offer, whether visitors are seeking a tropical adventure or relaxing family outing.
● White water rafting along the Reventazón River
● Leisurely tours of Lankester Botanical Gardens
● Hiking in Chirripo National Park
Wildlife & Nature
For wildlife and nature enthusiasts, Lankester Botanical Gardens is a must-see attraction. Organized into distinct areas, each of which represent different plants from around Costa Rica and Central America, this fascinating facility is home to an extensive collection of rare orchids and other exotic plant life, making it the perfect destination for travelers hoping to enjoy the spectacular blooms of color for which Costa Rican flowers are famed.
Best Time to Visit
Due to its high elevation, Cartago is significantly milder than some low-lying cities. For this reason, visitors spending time in Cartago during the high season between November and April may find that the arid temperatures of central Costa Rica are a little more tolerable.
Where to Stay
Cartago is home to a diverse range of accommodations. From luxury spas and resorts to smaller, intimate bed-and-breakfasts, Cartago has places to stay for every taste. Some of the most popular accommodations are located just outside of the city amid the rolling hills of the surrounding countryside, so visitors hoping to get away from it all without straying too far from the city will find plenty of places to lay their head.
Restaurants and Nightlife
What Cartago lacks in haute cuisine it more than makes up for with delicious home-cooked Costa Rican meals. Many restaurants and eateries can be found throughout the city, serving a variety of Tico favorites. There are several family-owned bakeries located in Cartago, each of which specializes in Central American pastries and desserts, including dulce de leche, a particularly enticing creamy dish made from caramelized condensed milk. It is also well-known for its ice cream shops, which sell paletas, or ice cream on a stick.
---
Amenities & Infrastructure in Cartago
Public transportation: Regular buses from San Jose, limited shuttle service to nearby attractions
Public amenities: Some public restrooms
Shopping: Small markets, street vendors, tourist souvenirs
Gas stations: Yes
WiFi or Internet cafés: Yes
Cell Phone Reception: Reliable
Restaurants: Yes, wide range of choices
Nearest medical facilities: Max Peralta Jimenez Hospital, Cartago