Caño Negro Wildlife Refuge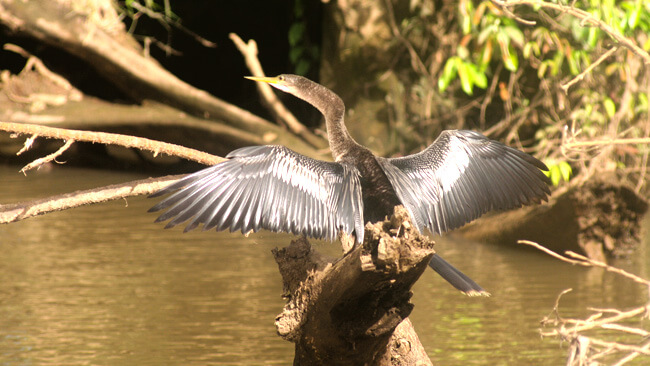 Caño Negro Wildlife Refuge at a Glance
Fast Facts About Caño Negro
Region: Arenal & Nothern Lowlands
Closest Town: Los Chiles (1 hour boat drive)
Altitude: 100-300 ft (30-100m)
Closest Airports: Liberia International Airport (LIR), La Fortuna airstrip
Average Temperature: 70º-90º F(21º- 32º C)
Caño Negro Wildlife Refuge is located in the northern part of Costa Rica, only about two hours away from La Fortuna, which makes it a popular destination for nature lovers and travelers. For its biodiversity and large marshes, the 25,000-acre refuge is considered one of the most important wetlands in the world.
Caño Negro is a lake, accessible only by boat and most visits start from the La Fortuna hotels. Reach small town of Los Chiles, after a 2 hour car/van ride, and board a boat.  Rio Frio winds slowly through canyons on it's way to Lago Caño Negro (Lake 'Black Tube').
Wildlife & Nature
The refuge is known by birdwatchers and biologists for being home to over 300 bird species, some of which are in danger of extinction, including the Jabiru – the largest bird in the country – which nests only in large trees that have disappeared due to deforestation. Besides birds like the Pink Spoonbill, the northern shoveler and the white Ibis, Caño Negro Wildlife Refuge is also home to the prehistoric Gaspar fish and over 78 mammal species, including the rare white-tailed deer.
Conservationists have realized that the combination of root erosion due to overflowing rivers, the passing of motorboats and the expansion of livestock has put this refuge under constant peril.
Best Time to Visit
Experts recommend to visit the refuge during the green season (May-November) when the rainfall injects new life into the surroundings. The green season also marks the time when millions of migratory birds arrive to shelter themselves from the harsh winters up north.
---
Services & Infrastructure in Caño Negro
Public transportation: Yes, there is a bus from San José to Los Chiles
Public restrooms: No
Shopping: Few basic grocery shops in Los Chiles
ATMs: Yes, there is a Banco Nacional in the town of Los Chiles
Gas stations: Yes, there is one gas station in Los Chiles
Cell Phone Reception: Poor
Restaurants: No, very few options in Los Chiles
Nearest medical facilities: There is Red Cross in La Fortuna (24/7); public clinic as well as several private clinics and at least three drugstores located at La Fortuna downtown, open until 8 p.m.