Best Beaches of Costa Rica
Ah, the eternal question… What are the absolute best beaches of Costa Rica? The must-experiences you are not to miss? The hidden gems and well-known landmarks that define this country as one of the most prestigious on the world travel map? Well… as they say, to each his (or her) own–the best answer to that question depends on… YOU. What kind of traveler are you? What are you looking for? Classic family vacation, adrenaline-filled adventures, sand, sun and relaxation, off-the-beaten-track experience, romantic spots… Tell us who you are and we'll tell you where to go!
No worries, our eclectic list has something for everyone!
Swimming Beaches
Playa Hermosa, Guanacaste
Manuel Antonio, Central Pacific
Flamingo, Guanacaste
Northern Guanacaste's Playa Hermosa—which can be translated to 'Beautiful Beach'—stands by its name. A few miles of white sand shore curve around the calm waters of Culebra bay. This somewhat secluded spot is perfect for swimming and other water related activities: nearby diving spots, snorkeling, stand-up paddleboarding… as the waters are calm year-round.
Manuel Antonio is perhaps the most popular beach area in Costa Rica, and for good reason. Playa Escondido, in the national park and the easily accessible public beach, Playa Espadilla, are ideal for swimming. Playa Escondido is small but it's calm waters are inviting while Playa Espadilla is a long stretch of sand perfect for a variety of watersports and playing in the waves.
Flamingo beach is another gem of Costa Rica's golden coast—north Guanacaste. It's white sand and gorgeous sea with generally clear waters has a soft break where beachgoers can enjoy swimming, boogie boarding, stand-up paddleboarding, and simply sunbathing. Sunsets are truly remarkable; make sure you're on the beach at 5 pm to enjoy the spectacle!

---
Surfing & Backpacker Beaches
Santa Teresa, Nicoya Peninsula
Puerto Viejo, South Caribbean
Dominical, Central Pacific
Jaco & Playa Hermosa, Central Pacific
Getting to Santa Teresa, on the Nicoya Peninsula, is an adventure in itself. The long trip and dusty roads may deter luxury travelers but it has become a mecca for backpackers and surfers looking to travel off the beaten path. The consistent break is a big draw for those looking for a day of action amongst the waves.
Puerto Viejo, on the southern Caribbean coast, is a big backpacker destination. It's within boating distance to the infamous Salsa Brava surf break, the best on the Caribbean coast and the only one in Costa Rica that could be compared to the conditions of Hawaii. The vibe here is Rasta with reggae music, bright colors, pristine beaches and limited development.
Less than an hour south of Manuel Antonio is the small surf town of Dominical. Follow the one main road past the row of small shops and eateries and you'll find the beach. The break is not for the faint hearted and when there are storms off the coast you can feel the vibrations of the waves pounding in your chest as you watch from the beach. The area features popular surf competitions several times throughout the year that are fun to watch, even if you don't venture into the water.
Jaco is the go-to surf destination for locals and travelers alike due to its easy access from San Jose. From surf lessons for beginners to competitions for those that already know what they're doing, Jaco and Playa Hermosa, just to the south, are great places to hop on a board.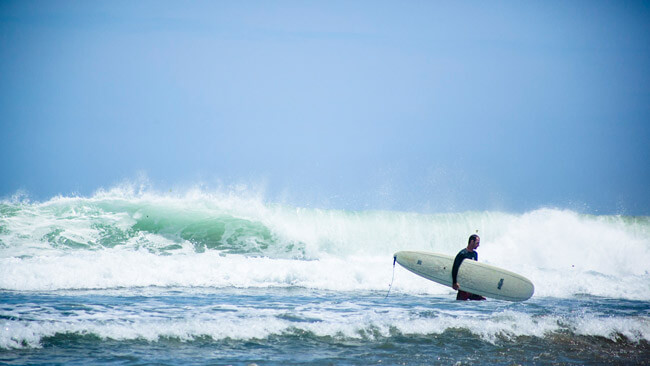 ---
Best Snorkeling Spots
Snorkeling in Costa Rica? To be perfectly clear, there are plenty of beaches that offer this tour, but you shouldn't expect the same experience as in you would get in let's say… Belize. With that said, there are couple of spots that are great for snorkeling and if that's something as must-do on your itinerary, we recommend visiting:
Cahuita National Park, South Caribbean
Caño Island Biological Reserve, South Pacific
Cahuita Beach boasts a long stretch of coral reef, and although it was damaged during an earthquake in 1991, Cahuita is still one of the biggest attractions of the country with at least 35 species of coral and 500 species of fish. Here you can spot blue parrot fish, green turtles, angel queen fish, manta rays and more!
Caño Island is a remote biological reserve, set 20 miles off the coast south Pacific coast and part of the famous Corcovado National Park, the most biodiverse spot in Costa Rica. Caño island features five platforms of coral reefs where you can spot schools of jacks, parrotfish, damsels, eels, lobsters, sea urchins, manta rays, sea turtles and even white-tipped reef sharks.

---
Family-friendly Beaches
Before you go into panic mode when you don't see the beach you're interested in on our list, we'd like to say that there are many more family-friendly beaches in Costa Rica than the ones listed below. These are the top three in our opinion and we were guided by their accessibility, number of family-friendly activities that are available and safety of both the ocean and its surroundings. Wherever you decide to go, we suggest your checklist should include the same.
Conchal, Guanacaste
Panama, Guanacaste
Manuel Antonio, Central Pacific
For a unique beach your family will love, Playa Conchal is a must! The beach is made up of tiny shells that will keep kids and adults entertained as they search for perfect little treasures. The crystal clear water is inviting for a swim; kayaking and other water activities are available, too. Accommodation options are the Reserva Conchal, offering world class oceanfront golf and luxury rental villas, as well as The Westin Playa Conchal, one of the most luxurious all-inclusive resorts in the country. The beach is public, but frequented mostly by hotel and villa guests. Service and lodging here is 5-star and indulgent.
Playa Panama seems to be fronting a lake rather than the ocean, making it perfect for families. Located in the Papagayo Gulf it's protected from the waves so smaller children can play along the water's edge or swim without fear. This is also a great beach for activities like stand-up paddleboarding, kayaking, and riding a banana boat!
Manuel Antonio is not considered the best beach of Costa Rica for no reason. We feature it on this page in several sections as it offers a perfect blend of almost everything one can look for. Its backdrop is bursting with wildlife, it's perfect for swimming and other water sport activities, and it's very accessible. One thing it's not—is secluded. Other than that, any family will enjoy this picture-perfect slice of paradise.

---
Remote Beaches of Costa Rica
Cabo Matapalo, South Pacific
Guiones /Samara/Nosara, Nicoya Peninsula
Punta Uva, South Caribbean
Cabo Matapalo is one of the last beaches you'll encounter on your way from Puerto Jimenez to the south entrance of Corcovado National Park. This is a quiet, rocky beach with stunning sunsets and abundance of undisturbed wildlife moving through the lush jungle behind it.
Nosara Beach, and its neighbors, Samara and Guiones are all set in the remote Nicoya Peninsula. The laid-back vibe of these small communities further attract the shoestring travelers that seem to have the same passions and interests: yoga, surfing, healthy living. If this is your type of crowd, the remote beaches of Nicoya are the perfect place to be.
Punta Uva is located on the less popular Caribbean coast, right before the road ends, not far from the border with Panama. It may take a bit more effort to get here but if you're looking for a laid back vibe, it's worth it. Days are spent here biking down the beach, relaxing in a hammock, chatting with other travelers and locals and lounging on the beach.

---
Best Beaches of Costa Rica for Wildlife Spotting
Playa Ballena (Uvita), Central Pacific
Tortuguero, North Caribbean
Manuel Antonio National Park, Central Pacific
Uvita is famous for the unique coastal feature of the Whale's Tail and coincidentally (or not) it's a great place for whale watching. This area is home to the longest humpback whale watching season in the world giving you plenty of opportunities for sightings from August to October and December to April. Other species like pseudo-orcas, pilot whales and a variety of species of dolphins are generally present year round. Organized tours give the best chance for sightings but during peak season you can sometimes see whales from the beach.
Tortuguero is a natural paradise set amid canals, rivers and the Caribbean sea. The town itself is on a thin peninsula between the ocean and a canal and can be traversed in under 10 minutes on foot from the canal to coast. The main industries here are fishing and tourism and tours to the national park will have you spotting a variety of monkeys, poisonous snakes, insects and more. The park is home to several species of large cat though, like in any other region, these are difficult to spot. Also a great destination for birdwatchers.
Manuel Antonio has long been known as the most popular national park in Costa Rica. While tourism has taken over the region, the abundance of wildlife has not diminished. While the local town has its charm, visiting the park is a must as you will uncover trails to amazing views, tiny swimming coves with white sand beaches, and the only tame monkeys in Costa Rica who are known for stealing picnickers' food.

---
Luxury Lodging
The Papagayo Bay is home several luxury resorts including the famous Four Seasons resort and the all-inclusive Grand Papagayo. The entire peninsula is exclusive and non-hotel guests are only allowed access by hotel shuttles that go to three designated public beaches. The views are majestic as the peninsula curls around offering views of the Guanacaste shore and nearby islands.
Punta Islita, a remote little beach town on the Nicoya Peninsula, revolves around the daily working of the Hotel Punta Islita, a world-renowned boutique resort. The hotel is not only luxurious, it is also sustainable environmentally and socially speaking. The hotel offers the majority of employment to the local population and offers empowerment programs. Perfect destination for a romantic getaway.
Beaches with Eco-friendly Accommodations
The southern Pacific part of the country is especially conscious and protective of the pristine coasts and abundance of wildlife you find there. Most area hotels participate in eco-friendly practices and are happy to share how they stay sustainable and with a low impact on the environment. Accommodations can be described as eco-luxury meaning WiFi and TV are probably not offered but they have an elegant design befitting the area and you won't lack for service. Beaches here are harder to access meaning you'll usually want to say for a few days to really be able to explore and enjoy them.

---
Swim
Surf
Touristy
Wildlife
Fishing
Remote
Central & South Pacific Coast
Playa Hermosa
✓✓
✓
Manuel Antonio
✓
✓
✓
✓✓
✓
✓
Dominical
✓
✓
✓
✓
✓
✓
✓
Drake Bay
✓
✓
✓
✓
✓
Puerto Jimenez
✓
✓
✓
✓
Jaco
✓
✓
✓✓
✓
North Pacific Coast
Papagayo
✓
✓
✓
✓
✓
Playa del Coco
✓
✓
✓
✓
Ocotal
✓
✓
✓
✓✓
Tamarindo
✓
✓✓
✓
✓✓
✓
✓
Playa Conchal
✓
✓
✓
✓
✓
✓
Playa Samara
✓
✓
✓
✓
✓
✓
Punta Islita
✓✓
✓
✓✓
Santa Teresa/ Mal Pais
✓
✓
✓✓
✓
✓✓
✓✓
Montezuma
✓
✓
✓
✓
✓
✓✓
Tambor
✓
✓✓
✓
✓
Caribbean Coast
Tortuguero
✓
✓✓
✓
✓
Cahuita
✓
✓
✓
✓
✓✓
✓
Puerto Viejo
✓
✓
✓
✓
✓