ATV Tours in Costa Rica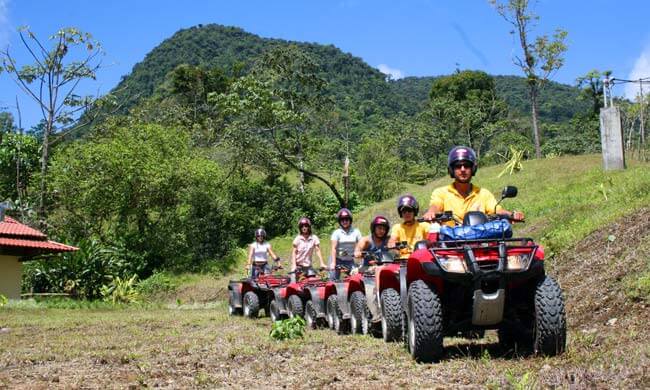 Is ATVing the Perfect Adventure for You?
Check these facts and discover if they sound like something you'd love to do. If you want more information or have any questions, contact us and we'll gladly help.
Ideal for: 

Families | Couples | Thrill Seekers

Best Time of Year: ATV tours in Costa Rica can be taken a

ll year round – but prepare to get dirty! If mud is your dirt of choice then the wet season (May-Nov) is your best bet. From the dry season (Dec-April) expect dust, and lots of it.

Most Popular Destinations:

 

Tamarindo

,

Manuel Antonio

, and

Arenal

.

Related Activities: 

Mountain Biking and Horseback Riding.
---
Speed & Fun: Seeing Costa Rica in an ATV Tour
Eyes wide, ears ringing, wind in your hair – buckle up, it's going to be a whirlwind ride! Imagine speeding over different terrains, senses invigorated, adrenaline pumping through your veins. Consider being your own boss, controlling your own pace and your own vehicle. All this, and more, can be yours on an action-packed All Terrain Vehicle tour.
Make the most of Costa Rica's diverse landscapes, from beaches, to mountains, to tropical rainforest, ticking them off at high-speed. Go off-the-beaten track, getting a prime view of animals, flora, and fauna, covering more ground with your 4×4 drive.
Many tours include the opportunity to do short hikes, take dips in swimming holes, or speed off on rocky dirt tracks as fast as you can. Photo opportunities await at every corner, so you can capture your very best, mud drenched, self. Smile!
However, before you ride off into the sunset, be sure to best prepare yourself for your ATV adventure. Wet wipes, plenty of water and a driver's licence are essentials that you do not want to miss. Tours also begin with a test drive on a secluded road, so you can get a feel for the wheel before you head out on your exciting escapade.
Bottom line: See more while having the time of your life, by taking an ATV for a spin.
Go ATVing in…
Tamarindo, in the province of Guanacaste, is renowned for its tropical dry forest and strong surf. ATV tours go out of their way to encompass the very best of these elements. If you take the mountain route you'll speed through trails that herald local delights, so that you can get an authentic feel for the region's impressive wilderness. Count the Guanacaste and Pochote trees as you pass, and don't forget to stop off and savor the breathtaking views of the Pacific Ocean.
Alternatively, the beach route brings you just minutes away from Tamarindo Beach. Trail the coastline and kick up the sand, feeling as free as the waves as you go. Then, after exploring some of the less travelled beaches in Costa Rica, cool down with a swim in the refreshing Pacific Ocean.

Best Time to Visit: Year round. Though in the dry season it can get exceptionally dusty.
Manuel Antonio is where ocean and rainforest collide, and is an area of Costa Rica that truly has it all. ATV tours give you a chance to discover these hidden treasures, taking back-roads to African Palm plantations, cattle farms, local towns, and waterfalls.
Dedicated adventurers and nature lovers will not be disappointed by the area's rugged mountains and lush rainforests. Park your ATV and take a short hike, stopping to swim in several natural pools along the way. There are also opportunities to stop in local farm house and enjoy a typical Tico lunch. Perfect fuel for the rest of your journey.
Best Time to Visit:  ATV tours run all year. Accelerate the fun by going in the wet season for extra messy entertainment.
Arenal is famous for its majestic volcano that presides over the area, so what better way to get panoramic views than by taking an ATV tour? Look up if you dare! Experienced guides will help you navigate the mountain terrain so you can take Arenal by storm. But be warned – It's a bumpy ride!
In between riding like the wind, there will be plenty of lookout sites where you can pause for a bit and take pictures. When your momentum finally wanes, stop off at Arenal River, where you can take a dip and recuperate for a while in the cool water. You deserve it.
Best Time to Visit:  Year round for a heart-pounding ATV experience, though volcano views are weather dependent.