Arenal and La Fortuna Travel Guide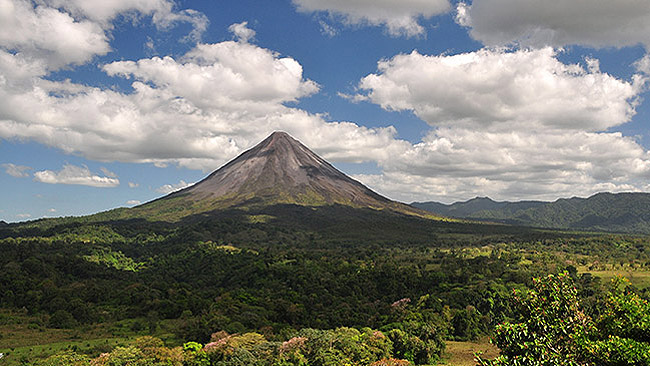 When is the best time to visit Arenal? Where should I eat? What are the best places to stay and the best things to do while visiting Arenal Volcano?
Jessica Luecke, travel consultant, answers your burning questions on everything Arenal.
Why Visit Arenal and La Fortuna?
The town La Fortuna is home to the famous Arenal Volcano, but that's not all you can find there. It's known as the adventure capital of Costa Rica. It also offers a beautiful rainforest, impressive waterfalls, an abundance of wildlife, and the typical Costa Rican "campesino (farmer)" culture.
From exceptional, not-to-be missed properties to bucket-list experiences, here are our favorite reasons to explore La Fortuna:
The Arenal Volcano became famous because it consistently spewed lava, gas, and ash until it went into a resting phase, in 2010. Although you can no longer see lava, the perfectly symmetrical volcano it is still impressive.
Arenal offers nearly every adventure activity you can think of. Although you can do many of the activities at other destinations in the country, they are best in Arenal. The tour companies there are incredible, with amazing guides and scenery straight out of "Jurassic Park," minus the dinosaurs.
Arenal has some of the nicest hotels in all of Costa Rica! Nayara Springs, Nayara Gardens, Nayara Tented Camp, The Springs, Amor Arenal, and Tabacon are all 5-star luxury hotels. Most have on-site hot springs, too!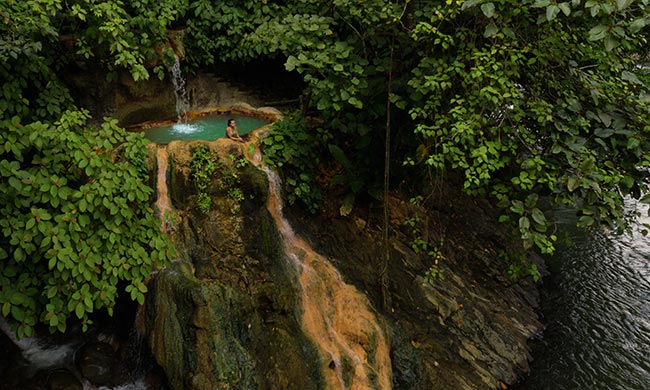 Click on the links below to scroll to your topics of interest:
---
The Best Time to Visit Arenal Volcano Area
La Fortuna has nearly the same temperature all year round. Temperatures can vary a little day to day, but there are no real seasons, in regards to the temperature. There is, however, a big difference in weather throughout the year when it comes to rainfall. The driest time of the year in La Fortuna is January to April, but it can still rain a little. During the rainy season, from May to December, the majority of days, you will have sunny mornings with warm afternoon rain showers.
Tours around Arenal Volcano run rain or shine, due to the unpredictable weather, but the rain can even add to the adventure! It is the rainforest, after all. I recommend planning your tours for the morning, for the best weather and greatest chance to spot wildlife when it's most active. Hot springs are another big "to do" around Arenal and they are a great way to fill a rainy afternoon because the cool rain makes them even more enjoyable.
Pricing is less expensive during the rainy season, from May through mid-December. If you're looking for the best bang for your buck, and are flexible with dates, it is the season to come.
---
La Fortuna and Arenal Volcano Weather
The average temperature in La Fortuna, year-round, is about 73 degrees.
May and November are the best value months to travel. January through April have the least rain and tend to be a little bit hotter than other times of the year.
September and October are the most rainy time of the year, but you usually still have clear mornings and these are the least crowded times of the year.
---
Safety: Is La Fortuna Safe?
La Fortuna was a tiny town, mostly made up of farmers, until the volcano became a popular tourist stop. The town now shows off the agriculture, and small town culture that it was created upon. You can walk down the streets and find proud chocolate and coffee vendors. Many times, these local vendors come from a long line of coffee producers, or cocoa harvesters, and they love to tell visitors their family stories.
La Fortuna is very safe, but I still recommend taking the same precautionary measures that you would take anywhere else in the world. Read more on safety in Costa Rica here.
---
Top Restaurants Near the Arenal Volcano
Fine Dining
Don Rufino, Latin, Central American, Seafood
Don Rufino is one of the best restaurants near Arenal and the only fine dining option in town. It is pretty meat and seafood heavy, but has some other great options as well. I always order the Kabocha Squash Risotto, which has both chicken and shrimp. Click here to view Don Rufino.
Local Flavors: Neighborhood Bars and Restaurants
Soda La Parada, Costa Rican Traditional
Soda La Parada—A "soda" is a small local restaurant in Costa Rica, more or less the equivalent of a diner in the US. You will find a variety of local food at a good price. The most typical meal is a "casado," which is considered the perfect marriage of food; rice, beans, a type of meat/fish (or egg or cheese, for vegetarians), 1-2 types of salads or vegetables, and plantains.
Happy Hour
The Lava Lounge Bar & Grill, Latin American
The Lava Lounge has a fun atmosphere with good (and crazy) cocktails and drinks. It also serves food and is known to be consistent in its offerings as well as in its quality of food and service. I recommend trying a "guaro sour," which is made with a local liquor called Cacique. Fun fact: Cacique is owned by the Costa Rican Government. Click here to view Lava Lounge.
You could also enjoy happy hour at the hot springs, with an evening pass.
Vegan, Vegetarian & Plant-based
The Life House Organic Restaurant, Vegetarian & Vegan
The Life House Organic Restaurant offers "farm to fork" plant based food. It offers vegetarian casados, vegetarian burgers, pasta, as well as more creative vegetarian options, like curried broccoli and squash noodle soup. Click here to view Life House
Tabbule, Lebanese & Mediterranean
Tabbule is a Lebanese restaurant with good vegetarian options. La Fortuna is a meat heavy destination so there are not tons of vegan or vegetarian options, but restaurants are good at accommodating plant-based diets. Click here to view Tabbule.
Hidden Gems
Bongos, Mexican, Fast Food
Bongos is a newer restaurant in La Fortuna with great food. It has local food that is a step above the typical casado. The fajitas are some of the best I've ever had. The owner also takes the time to make your experience personal.
SpecTACOular, Taco Bar
SpecTACOular is a great value with tasty food. It frequently has live music on the weekends too! If you're looking for a place in town, within walking distance of many shops, this is the place to go.
Dinner with a view
Heliconias Restaurant, International, South American
Heliconia Restaurant, ­which is located in Hotel Arenal Kioro, has an incredible view of the volcano. The cuisine is good but a bit pricey. The view is definitely worth it though! Heliconia is about 15 minutes away from town so it does require a taxi ride. Click here to view Heliconias.
---
Things to Do Around the Arenal Volcano
Revel in Rappelling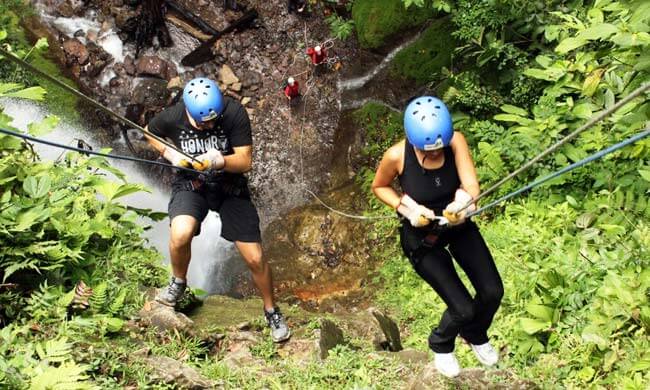 Waterfall Rappelling: there are a few canyons around Arenal which are, arguably, some of the best in the country. Repelling is a "must do" tour in La Fortuna for those that are not afraid of heights or water. The tour companies that offer rappelling do a top-notch job of making you feel secure while having a blast!
Walk to the Waterfall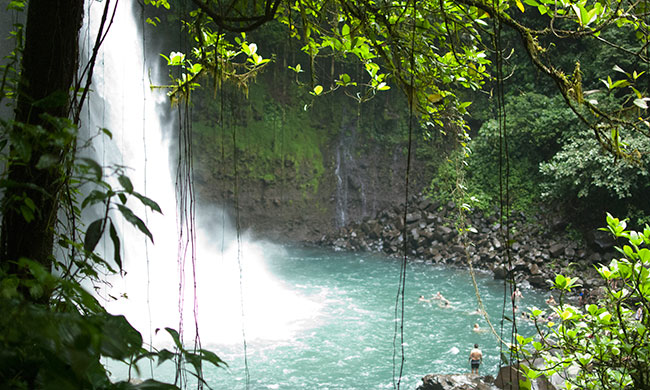 The La Fortuna Waterfall is just 10 minutes from town and is truly impressive! There's a hike to get there. It's short but steep, the equivalent of 40 flights of stairs! You can swim around the waterfall and in the neighboring river, but it is not possible to swim under the waterfall because of the amount of pressure.
Go into Town
Go into La Fortuna. Many hotels are located 5 to 20 minutes outside of La Fortuna, a very classic, picturesque town. There's a park at the center of town, a church at the top of the park, and shops and restaurants surrounding them. To top it off, the volcano is the backdrop behind the church!
---
Places to Stay Close to the Arenal Volcano
Tabacon Resort and Spa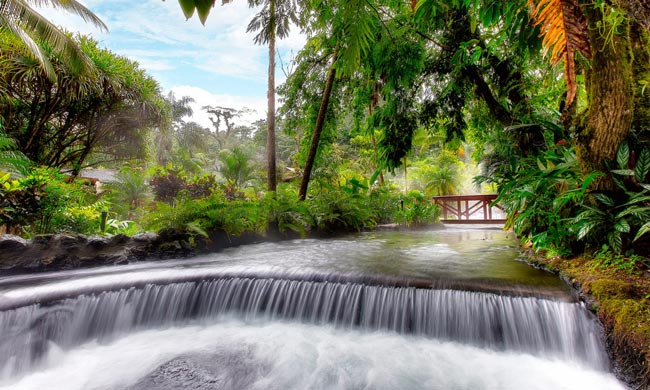 When it comes to quality, value, and friendliness toward couples and families alike, Tabacon is my top recommendation. Tabacon also has the best hot springs near Arenal and you have unlimited access with your stay. Because they are the best, they are also the most popular, so during peak travel weeks it gets crowded. When traveling over Christmas or Easter week it could be best to avoid Tabacon, depending upon your crowd tolerance.
Nayara Resort


There are three Nayara properties and they are all incredible. Nayara Gardens is the original, with very beautiful, high-end rooms. Nayara Tented Camp, the newest addition, features a luxurious safari tent with all the regular hotel amenities including a large thermal water plunge pool. Finally, Nayara Springs, the adults only section of the property, has impressively spacious rooms complete with private thermal water plunge pools.
Arenal Springs


Arenal Springs is arguably one of the top 4-star hotels around Arenal. For the size and the hotel rates, Arenal Springs has great on-site hot springs with lots of dining options. The rooms are simple, but they include everything that you need. Arenal Springs is a great family-friendly hotel.
---
Day Trips
With so much to do in the Arenal area, it might be a challenge to find time to do everything but there are some day-trips worth considering:
Wildlife & Nature
Animals inhabiting the area include monkeys, sloths, deer, tapir, jaguars, coatis and snakes.Birders will be thrilled to find that nearly all of the 850 bird species identified in Costa Rica can be found in the area. Plant life is abundant and orchids, heliconias, ferns, laurel, palms, bromeliads and strangler figs can be seen while hiking. The rugged terrain, rivers, and lake provide the stage for countless activities.
Arenal Volcano History
The volcano is thought to have been dormant until 1968 when it surprised its nearby inhabitants with blasts that reached up to 12 km and killed over 80 people. Following the eruption, farmers were disappointed when some of the watering holes that their cattle frequented became too hot to drink from. The geothermal activity did end up being beneficial to the area by attracting hot springs enthusiasts.
---
Fast Facts
Region: Arenal & The Northern Lowlands
Closest Airports: San Jose (SJO) & La Fortuna (FON) regional airport
Altitude: 2400 Feet (1800 Meters) Above Sea Level
Average Temperature: 70º-86º F (21º-30º C)
Landscape: Volcano & Rainforest
---
The Arenal Volcano is an approximately a 2.5-hour drive from the San Jose airport and 3 hours from the Liberia airport. It is also accessible from within Costa Rica by a commuter plane. The town of La Fortuna is on the eastern side of the volcano and the hotels dot the landscape surrounding volcano's base from the north. This is the largest town in the volcano area and it maintains a quaint, authentic feel. This is a good place buy souvenirs, stock up on sunscreen, bug spray, snacks, etc. There is even a clinic if needed.
---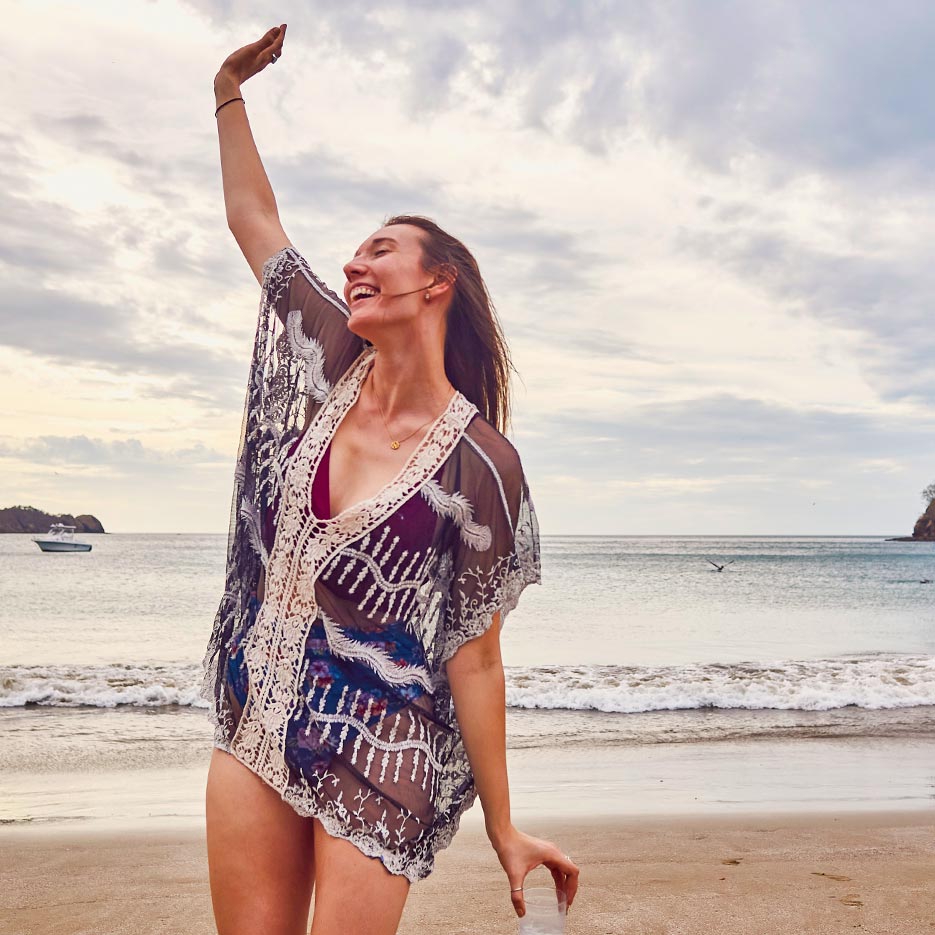 Jessica Luecke is our San Jose-based Travel Consultant.