Overview
Since our founding, Costa Rican Vacations has been involved in promoting tourism and sustainable tourism within Costa Rica.
The Costa Rican Vacations scholarship program recognizes and rewards innovation and ideas within the areas of tourism studies and sustainable tourism. Every year Costa Rican Vacations awards two scholarships of $1,000 each to students who are interested in pursuing their studies and their career in tourism, hospitality, or sustainable development. Scholarships are not renewable; however, a recipient may re-apply.
This scholarship is part of our social responsibility program; we do NOT charge an application fee.  
---
Details
Scholarship Amount: $1,000
Deadline: Submissions must by received by February 15th of each year
Scholarship Award Date: April 15th
Number of Scholarships Available: 2
Minimum GPA: 2.8
Eligible Fields of Study: Tourism, Hospitality, or Sustainable Development (or related)
---
Application Instructions
Students wishing to apply must submit a 600-700 word essay detailing the reasons they chose their specific field of study and what their career goals are in relation to this field. Our judging panel will select the winner they feel demonstrates the greatest desire and innovation. Submit your essay with a title page including the following information:
Full Name
School
Student ID Number
Field of Study
Year of School
GPA
Phone Number
Email Address
Save your essay file in PDF format and name it as follows:
lastname-firstname-costa-rican-vacations-essay.pdf
Applicants must submit their essay and proof of enrollment to
[email protected]
.
For any additional questions, email
[email protected]
 or call Costa Rican Vacations at 1-800-606-1860, extension 1304.
---
Eligibility
The scholarship is open to students that are enrolled in an undergraduate degree at a US-based university, connected to the fields of tourism, hospitality, or sustainable development. Applicants must submit proof from their college/university that confirms their eligibility.
---
Rules & Guidelines
All essays must be the applicant's own work and not plagiarism in any way
Applicants must be able to prove they are enrolled in a degree related to tourism, sustainable development, or sustainable tourism at a US-based university
Study abroad is acceptable, but applicants must be enrolled in a US-based university
Applicants must provide their student identification number and the name and address of the institute where they are registered
---
2019 Recipients
With great passion and commitment to excellence, this year's winners are two resourceful students dedicated to the betterment of the world. Congratulations Brittany and Emma!
Brittany Flaherty, San Diego State University
A Hospitality and Tourism major, she is enthusiastic about organizing events and promoting healthier lifestyles for guests. She has worked in catering, restaurants, and hotels as part of her training. With excellent administrative skills and a holistic understanding of both the hospitality and entertainment industries, she plans on creating a space where her clients can experience the perfect combination of wellness, exercise, and relaxation.
Emma Wilkinson, Flagler College
She has always loved the sea, and she intends to take care of it so future generations can do so as well. As a student of Coastal Environmental Science, she wants to consolidate her efforts into creating better relationships between human activity and the ocean. As a spokesperson of the need to address environmental issues, she is a great advocate of the sciences improving and preserving the wonders of the sea.
---
2018 Recipients
This year, two passionate students were selected by our committee. Their dedication and brilliance will surely take them where they want to go. Congratulations Matilda and Valentina!
Matilda Donovan, University of Mary in North Dakota
This enthusiastic student and entrepreneur knows that education is key to preservation. Although she is currently studying B
usiness Administration 
in the U.S.A, Matilda knows Costa Rica well: she works and lives with her family in the Caribbean coast, where she has detailed plans to put all her knowledge and experience to good use. In the true spirit of a team leader, she believes that the best way to make local businesses more sustainable is to include them in the process of steering culture towards conservation.
Valentina Gamero, University of Central Florida
With the encouragement of her family, Valentina decided early on that she wanted to help the planet and the people in it. Foresight and determination led her into the new field of Environmental Engineering, which, like her, designs friendlier relationships between human activities and the environment. She has volunteered for several non-profit organizations, communities, and schools, where she has contributed to the education and development of sustainable ideas. She wants to pass on to others her passion for preservation and a cleaner, friendlier world.
---
Meet Our Past Scholarship Recipients!
2017 Recipients
For 2017, our scholarship selection committee selected two students with unique experiences with sustainability and environmental protection. Congratulations to Jennet and Carmel!
Jennet Nedirmammedova, University of Wyoming
Originally from Turkmenistan, Jennet is a junior in Environmental System Science and is the treasurer of the Sustainability Club.
"The environment became my passion when I started rock climbing in 2011 with American English in Ashgabat, a metropolitan city where we tend not to think much about preserving the environment. When I arrived in the United States, I was amazed how many places were still untouched and how people care about the environment. Seeing communities strive at protecting the natural world motivated me more in my area of study, Environmental System Science and Sustainability."
Carmel Bendit-Shtull, Cornell University
A sophomore in Hotel Administration, Carmel spent a gap year interning in Costa Rica at two sustainable hotels.
"My goal is to help expand the economies, benefit the local people, and preserve the environments of Latin American countries by combining the passion I developed for sustainable tourism in Costa Rica with the business skills I am learning at Cornell. After I graduate, I plan to return to Latin America to work in sustainable tourism and develop industry infrastructure that focuses on the triple bottom line."
2016 Recipients
Both winners demonstrated knowledge and passion in their fields, and we are confident that they will reach their goals and have a positive impact on their communities. Congratulations, Daniel and Nick!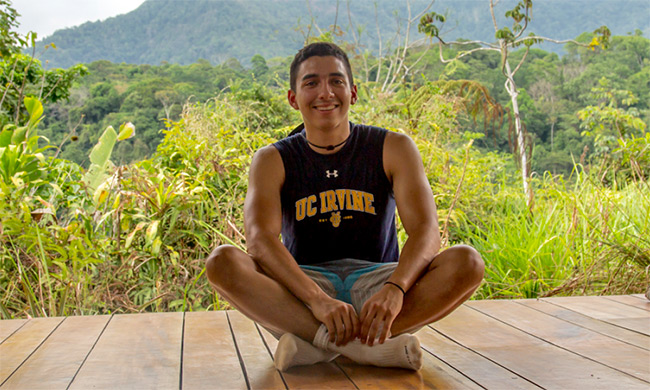 Daniel Macias
, University of California, Irvine
Daniel Macias found his passion while studying abroad right here in Costa Rica, his grandfather's patria, while researching sustainable building methods. Now, through studying Earth System Science and Global Sustainability and participation in various extra-curricular activities, he hopes to apply his knowledge in the ecotourism industry.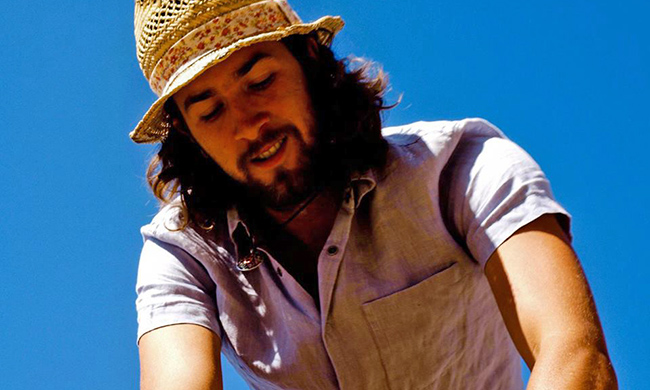 Nick Moya, Lane Community College
Nick Moya discovered the answer to his lifelong question of how to live in harmony with nature while traveling the world. His studies in the field of horticulture will assist him in developing a non-profit organization with the mission of rehabilitating abused plots of land in impoverished city neighborhoods while educating and building a sense of community.
2015 Recipient
Ronald Bellanton, Arizona State University
Ronald is studying for his Master's in Technology and Development and is working towards a future in the field of sustainable development. Inspired by experiences in his youth, he has worked, volunteered, and informed himself on the economic, social, and environmental issues that affect our world. Ronald is passionate about educating others and doing his part to make the world a better place. His understanding of the challenges in sustainable development is admirable, and his enthusiasm for tackling these issues is contagious. We have no doubt he will go far and do great things. Congratulations, Ronald!
---
"Our company is comprised of a diverse, international team who endeavor to promote, improve, and encourage tourism and sustainable travel."

Casey Halloran
CEO, Namu Travel Group