Monteverde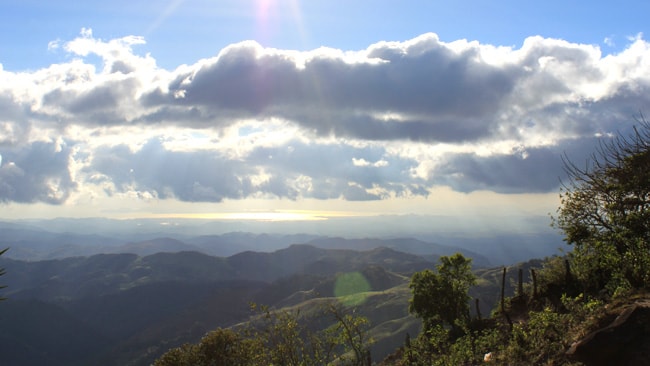 Monteverde at a Glance
Nearby Activities:
Visit to Cheese Factory

Horseback Riding

Canopy tours & Suspension Bridges

Twilight Walk 
Nearby Attractions:
Monteverde Cloud Forest Reserve

San Luis Waterfall

Santa Elena Cloud Forest Reserve

Children's Eternal Rainforest

Lake Arenal
Special Features:
A long winding dirt road off of the Pan American Highway leads to the lush mountaintop paradise of Monteverde, which is nestled between two primary cloud forest reserves. The town was founded in the 1950's by a few Quaker families that were looking to leave the U.S. and its war behind. The absence of a military made Costa Rica the perfect fit. They settled in the area now called Monteverde and established dairy farms which would eventually supply the Monteverde Cheese Factory.. It was recently voted one of the "7 Wonders of Costa Rica" by the Costa Rican newspaper La Nación..
Fast Facts
Region: Monteverde
Closest Airports: Both international airports (Liberia and San José) are about 4 hours drive to Monteverde.
Altitude: 5,900 feet (1,800 m), although the highest hiking trails are at an elevation of 4,100 feet (1,250 m)
Average Temperature: Monteverde is misty, humid, and windy, with a mean annual temperature of 61-64° F (16-18° C)
Monteverde is a small town in Puntarenas, Costa Rica, located in the Cordillera de Tilarán. Roughly a four hour drive from the Central Valley, Monteverde is considered a major ecotourism destination in Costa Rica. The area is host to the Monteverde Cloud Forest Reserve and numerous other reserves, which draw considerable numbers of tourists and naturalists.
What is now considered Monteverde was founded by Quakers from the United States whose pacifist values led them to defy the American draft during the Korean War. The majority of the group hailed from Fairhope, Alabama, and it included people who were not Quakers but pacifists and conscientious objectors. The spokesman of the group was Hubert Mendenhall, a dairyman who had visited Costa Rica in 1949 after joining a farmer's tour. These Quakers and pacifists chose Monteverde for its cool climate, which would facilitate dairy farming, and due to Costa Rica's non-violent, army-free constitution.
Monteverde is known as the site with the largest number of orchids in the world, with 34 of its 500 species newly discovered. Over 60 species of amphibians, including the extinct Monteverde-endemic golden toad, have been found here. This area is also a stop for 91 species of migratory birds. The famed quetzal resides here seasonally. The mammals of Monteverde include representatives from both North and South America as endemic species. The mammalian fauna of the region includes six species of marsupials, at least 58 bats, three primates, one species of spiny mouse, at least 15 species of long-tailed rats and mice (family Muridae); one species of agouti, six species of felines, two species of wild pigs, and one tapir.
When you visit Monteverde, you'll probably stay in the bustling town of Santa Elena.
There are many services you can find in Santa Elena: banks, supermarkets, public buses, restaurants, Internet, drugstores, and many more. In just a perimeter of 10km around downtown Santa Elena there are a wide range of hotels, and attractions that will make your visit comfortable and enjoyable.
Attractions & Places to See
The Monteverde Cloud Forest Biological Reserve is one of the most developed and well-maintained natural attractions in Costa Rica. The trails are clearly marked, regularly traveled, and generally gentle in terms of ascents and descents.
Butterflies are abundant here, and The Butterfly Garden located near the Pensión Monteverde displays many of Costa Rica's most beautiful species. Besides the hundreds of preserved and mounted butterflies, there is a garden and a greenhouse where you can watch live butterflies.
If your taste runs toward the slithery, you can check out the informative displays at the Monteverde Serpentarium.
The Frog Pond of Monteverde a couple of hundred meters north of the Monteverde Lodge, is probably a better bet. A variety of amphibians populates a series of glass terrariums.
If you've had your fill of birds, snakes, bugs, butterflies, and bats, you might want to stop at the Orchid Garden. This botanical garden boasts more than 450 species of orchids. The tour is fascinating, especially the fact that you need (and are given) a magnifying glass to see some of the flowers in bloom.
Activities & Things to Do
Birdwatching
Horseback riding
Coffee Tour
Sky Tram & Sky Trek
Hiking the Biological Reserve
Canopy Tours
Day Trips
Because it is a secluded area, there are no convenient day trips available from Monteverde.
Wildlife & Nature
Monteverde is one of the best places to see the resplendent quetzal, as it migrates to the lower portions of the park during mating season. The endangered three-wattled bellbird is another member of the 400 species of birds found here, including close to 30 species of hummingbirds. More than 100 species of mammals including howler and capuchin monkeys, all five species of cats, deer, tapir and sloth's. A total of 1,200 species of amphibians and reptiles live in this part of Costa Rica too, including venomous and non-venomous snakes, frogs and toads.
Best Time to Visit
Just like the rest of Costa Rica, Monteverde has a dry season (December to May, when prices tend to be higher and crowds bigger) and a wet season (May to December). Here, though, the terms are relative. Because the park is in a cloud forest, the mountaintop reserves and the twin towns below them are often enveloped in a hybrid of wind, rain, and fog, which forms when warm air blows in from the ocean and rises up to the summits of the Tilaráns. As for the wet season? It's sodden enough to make many of the hiking trails—not to mention the steep, winding access up from the Pan-American Highway—close to impassable. The months between August and November are particularly rainy, though you won't have to wait in line for zip lines (or much else).
Where to Stay
The Monteverde area offers an eclectic mix of accommodation, from hostels, B&B's and wooden cabins to Costa Rica eco resorts. During Christmas and Easter many hotels are booked up weeks in advance. January to April and also in July, reservations are a good idea, though you can almost always find somewhere to stay. Note that Monteverde can get quite cool at night, so don't be surprised if your room doesn't have a fan, but squawk if it doesn't have a warm blanket.
Services & Infrastructure
Public transportation: Yes, there are buses from San Jose, Puntarenas and Liberia coming in and out of Monteverde daily.
Shopping: There are gorceery stores, gift & souvenir shops
ATMs: y/n
Gas stations: Yes
WiFi or Internet cafés: Yes, WiFi is available in most of the lodgings in Monteverde
Cell Phone Reception: Reliable
Restaurants: Yes, there is a great number of restaurants in Monteverde and Santa Elena, offering a fine variety of international and local cuisine.
Nearest medical facilities: There is a public health clinic in Santa Elena.
How To Get There
Fly: N/A
Bus:
From San José: Buses to Monteverde leave San José at 6:30 AM and 2:30 PM. The stop – which is known locally as the old Puntarenas bus stop – is located at Calle 14 and Avenida 11 and 9. The morning bus passes by Sardinal around 9:00 AM and arrives in Monteverde at 11:00 AM. The afternoon bus passes by Sardinal at 4:45 PM and arrives in Monteverde at 7:00 PM. Travel time is approximately 4.5 hours (although it will take somewhat longer during the wet season) and cost is $5.
From Puntarenas: There are two buses to Monteverde. A 1:00 PM bus (via Las Juntas) passes by La Irma at 2:30 PM and arrives in Monteverde at 5:00 PM. A 2:00 PM direct bus passes by Sardinal at 3:00 PM and arrives in Monteverde at 5:00 PM.
From Guanacaste, Liberia, northern Costa Rica: There are buses from Nicoya, Santa Cruz, Tamarindo, Flamingo, Playa del Coco, Montezuma, Samara, Hermosa, the Nicaraguan border, and Liberia. Taking one of these buses, you can go to Lagartos or La Irma and then hop a bus to Monteverde.
From Southern Pacific beaches: If traveling from the Ballena National park, Uvita, Dominical, Matapalo, Quepos, Manuel Antonio, Jacó or Herradura, take a bus to Puntarenas and then catch another bus to Monteverde.
From La Fortuna (Arenal Volcano): A bus leaves at 8:00 AM for Tilarán. This ride takes 3 hours. From Tilarán, the bus to Monteverde leaves at 1:00 PM and arrives in Monteverde at 3:30 PM (although it takes longer during the wet season). In total, the bus ride from La Fortuna to Monteverde takes 8 hours (during the dry season; longer in the wet season). There are, however, alternative ways to get between these destinations.
Drive 
From San Jose: Get onto the Pan-American Highway going north. This will take you through Alajuela towards the town of San Ramon. Continue north through Miramar and keep an eye out for a restaurant called the "Caballo Blanco." This restaurant has a large white horse on its sign and is along the right side of the road. Here, there will be signs on the right for Monteverde, Sky Trek and Selvatura. Follow these signs towards a turnoff along the right side that is just beyond a gas station. The road is paved for a few kilometers and then turns into a dirt road. From here on out, the road is bumpy and windy and continues to go up. Stay along this road and follow the signs to Monteverde (including signs to Sky Trek and Selvatura). Eventually, you will pass a cemetery. 30 minutes past this cemetery, the road will be paved and lead you into Santa Elena.
This trip will take around 3.5 hours.
From Arenal: Get onto the road that leads away from La Fortuna and towards the Arenal Volcano. Driving around the north side of the volcano, you will pass several hotels. Continuing on this road, you will cross the ICE Dam. Stay along this same road for another hour and a half. As you make your way around Lake Arenal towards Tilarán, the road is windy. Once you get through Tilarán, follow the signs towards Santa Elena and Monteverde. You wind your way up the mountain along a bumpy dirt road. You will pass many signs for hotels and canopy tours; keep going until you come to a large plaza with a soccer field on the right side. Continue straight, and when the road splits, take a right to head into downtown Santa Elena.
This trip will take around 4 hours.
From Liberia: From Liberia, take the Pan-American Highway south towards San José. Along the way, you will pass through Bagaces and then Cañas. Continue on for approximately 25 minutes until you see the entrance to "Las Juntas." Turn left here and proceed for an hour and a half until you get Monteverde. Alternatively, instead of taking the Las Juntas turnoff, you can continue further south to the entrance of Sardinal and then turn left. This route takes slightly longer, but the road conditions are much better.
comments powered by

Disqus