Jaco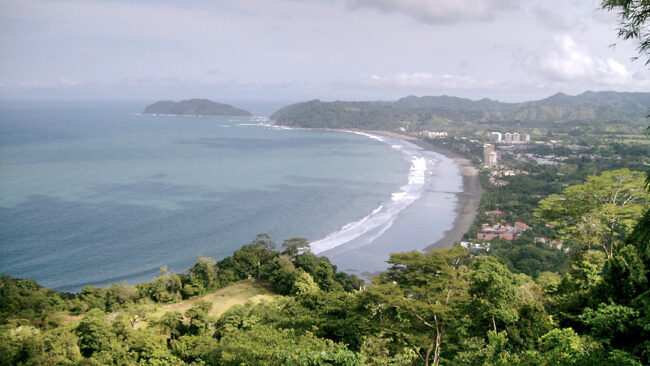 Jaco at a Glance
Ideal for:
Couples
Sportfishing Getaways
Solo Travelers
Surfers
Budget Travelers
Canopy Tours
Surfing
Stand-up Paddle Surfing (SUP)
Dolphin & Whale Watching
Horseback Riding
Nearby Attractions:
Carara National Park

Tarcoles River

Punta Leona Refuge
Fast Facts
Region: The Central Pacific
Landscape: Beach, Transitional Tropical Rain Forest
Closest Airports: San Jose (SJO) and Quepos (regional)
Altitude: Sea Level
Average Temperature: 71-90° F (22-32º C)
Because of its location, a mere two hours away from San José, Jacó might be the most popular beach in Costa Rica, with both locals and tourists finding it to be the perfect weekend getaway. Part of the Puntarenas province, Jacó is known for its reputation as the Costa Rican party town by excellence. However the city can also accommodate people in search of a more relaxed time by offering warm beaches and isolated areas ideal for fishing and kayaking.
The beach extends for over two miles and is mostly blessed with warm temperatures. Jacó can get quite humid depending on the time of the year, but the ocean water always remains refreshing, which also makes it an affable spot for surfing. Jacó neighbors the bay of Herradura as well as the popular Playa Hermosa. Nearby attractions also include the Carara National Park, whose most famous inhabitants, the Scarlet Macaws, welcome you flying as you drive down the road.
Highlights
Playa Hermosa is home to a widely known surfing contest that takes place each year and attracts contestants from all over the world.
Jacó is notorious for its sportfishing, given that its seas are home to various fish species.
Jacó offers all kinds of accommodations but is known for its luxurious private condos and villas.
How To Get There
By Air: Jaco does not have a regional airport. The closest terminal serviced by local carriers, Sansa and Nature Air, is located 50 minutes away, in Quepos.
By Bus: From San Jose buses leave the Coca Cola Station 5 times a day. The ride lasts 2 – 2,5 hours as the bus takes local roads. Any bus heading south of Jaco, like those to Quepos or Manuel Antonio, will take the highway and you'll be in Jaco 30 min to 1 hour faster.
By car: Driving time from San Jose to Jaco is just over an hour, depending on traffic and road conditions. The fastest route is via the Caldera highway (Route 27), which travels from the western edge of San Jose to the central Pacific coast. After passing signs for Orotina, exit right on Route 34, following signs to Jaco.
comments powered by

Disqus