About Us
We want to be your amigos in Costa Rica!
Isn't it fun to visit old friends in new and exciting places? You know, the buddy who knows the "insider secrets" and exactly what sort of things you like to do? When we set out to build the best travel agency in Costa Rica, our aim was simple: to treat each guest like old friends.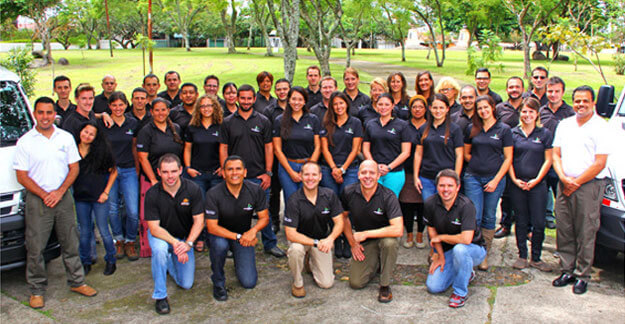 We believe that everyone has their own "travel personality", so one-size-fits-all packages are something we simply DO NOT offer. Instead, we get to know our customers, then match them up with the destinations, hotels and activities that we think fit their tastes. It is this eye for detail and prideful craftsmanship that makes our vacations unforgettable.
Our staff is a fun team of foreign expats and local Costa Ricans who live full-time in Costa Rica. We love our work and have the pleasure of regularly visiting all of the hotels we recommend. We take great pride in our clients' stories, that continually highlight our dedication in creating the best possible vacation experiences.
Our History
Our Costa Rica travel agency was started by chance when two recent college grads met in Costa Rica via a fateful "roommate wanted" ad way back in 1998.
As roommates, they found they shared a passion for travel (and cheap beer). In 1999, this led them to launch the company that would eventually become Costa Rican Vacations. With a pitiful amount of start-up cash, an unreliable dial-up Internet connection, and a large supply of Rammen Noodles, they put together an email newsletter offering Costa Rica travel tips. Soon thereafter, they began making reservations on behalf of their readers. Seeing an opportunity, they launched a boutique agency offering customized vacations to Costa Rica.
From such humble beginnings, today we have a staff of over 80 full-time professionals in three countries. The team is a truly multicultural family, with over 20 nationalities represented. Our loyal following regularly asks us for travel recommendations outside of Costa Rica, so we now offer tailor-made experiences to neighboring Panama and Nicaragua as well as offering one of the finest services for Costa Rica fishing vacations.
Through our divisions we are proud members of the Billfish Organization and the Panama and Costa Rica travel institutions.  Are you looking for a Costa Rica job?  See what positions we have available.