Zarcero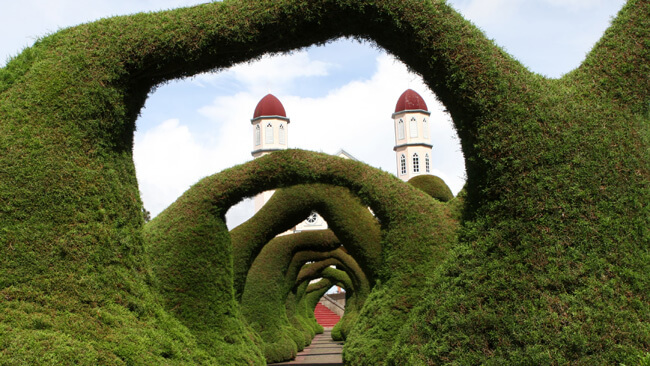 Zarcero at a Glance
Nearby Activities:
Sightseeing

Horseback Riding
Nearby Attractions:
Francisco Alvorado Park

Coopebrisas Cheese Factory

Bosque Nuboso Los Ángeles Reserve

Juan Castro Blanco National Park
Special Features:
Visit this picturesque little town on your way to Arenal Volcano area.
One of the ways to get from San Jose to the famous Arenal Volcano is by taking a scenic road that rushes north from Central Valley, across the shoulders of another active giant—Poas volcano, to meet the northern lowlands. Winding down these picturesque hills, covered with coffee farms and lush sprouts of tropical forests in between them, you'll find a postcard perfect town of Zarcero, with it's spring-like air and fresh mountain temperatures .
Zarcero's beauty is related to its particular microclimate, and therefore the different vegetation of the area. The town is known between locals as a cool place, often covered in mist, but also as wonderful spot to purchase different types of home-made savory cheese (locally known as 'palmito'), dairy products and the traditional sweets, 'cajetas'.
Popular resting spot among travelers passing through this area is the town's trademark—topiary garden in front of the towns church. Wavy arches carved from conifer cypress make quite an impression, as it is such an unexpected site in Costa Rica countryside. Since 1964 the 16 arched-shaped garden became part of the church identity and the local government kept them in this way ever since.
Topiary gardens are is also an interesting place to visit. There are nearly 120 three-sculptures with figures such as an octopus, an elephant, a giraffe, chickens, a dinosaur, human figures, vehicles and even the national coat of arms; all created by the local artist Evangelista Blanco.
Beautiful hills, coffee farms—some welcoming visits, and sugar cane plantations are part of the stunning views of Zarcero. Due to its temperatures and landscape conditions, farms and dairies represent one of the most important economic activities in the zone.