Turrialba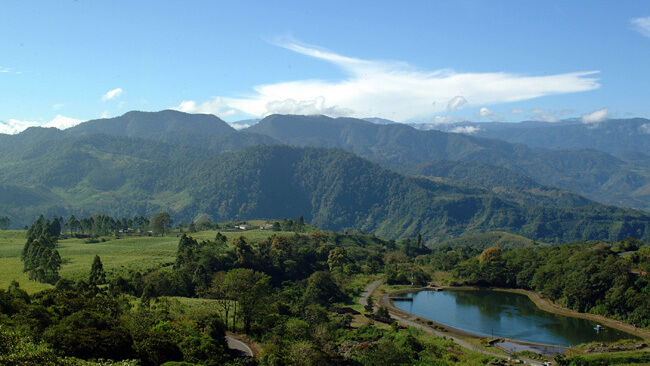 Turrialba at a Glance
Nearby Activities:
White Water Rafting

Kayaking

Horseback Riding

Hiking
Nearby Attractions:
Paquare River

Guayabo National Park

Reventazon River
Fast Facts About Turrialba
Region: The Central Valley & Highlands
Closest Airports: Juan Santamaria International Airport (SJO)
Average Temperature: 65°to 85° F (18° to 30° C)
Turrialba is an attractive little town, 53 kilometers east of San Jose in the province of Cartago, with stunning views of Costa Rica's rural countryside and lush Central Valley. Turrialba mostly lives of agriculture and is home to gorgeous coffee and macadamia plantations, and sugar cane fields.
This picturesque little town of charming streets and beautiful sceneries has direct access to the Turrialba Volcano National Park that is home to the active Turrialba Volcano. Turrialba is also famous for being one of Costa Rica's hot spot and base camp for white water rafting.
---
Excitement in the Mountains
Those who seek thrilling and exciting vacations will not be disappointing; the Rios Pacuare and Reventazon are close to town and guarantee a good rush of adrenaline! These rivers have a worldwide reputation and they are even used for training by top kayakers and white water rafters.
Guayabo National Monument: Pre-Colonial History
Many people go to Turrialba to visit the Guayabo National Monument. This is a very special site to explore, not only because of the ruins but also because it is a place of great natural beauty.
It is Costa Rica's one and only pre-Colombian site that has been excavated and that is opened to the public. While it is not comparable to other Central and South American ruins, it still provides a good insight of what life was like there from 1000 BC to 1400 AD. The ruins mostly consist of paved roads, stone bridges, houses and temple foundations and aqueducts, some petroglyphs and gravesites.
Pastures, Culture, and Local Economy
When in the area, see also the Center for Agronomy Research and Development, a world of wonder for naturalists with its 2000 acres of the world's most advance tropical agriculture research.
Turrialba will offer you with the true essence of Costa Rica. The vibrant green pastures and magnificent scenery will transport you to a world of simple beauty and serenity. It is the only place of the country where a cheese bearing its name, the Turrialba cheese, is produced thus huge cattle ranches surround it.
Turrialba also holds an extra surprise for its visitors; it manufactures the Rawlings baseballs used in the Major League games.
---
Turrialba Volcano National Park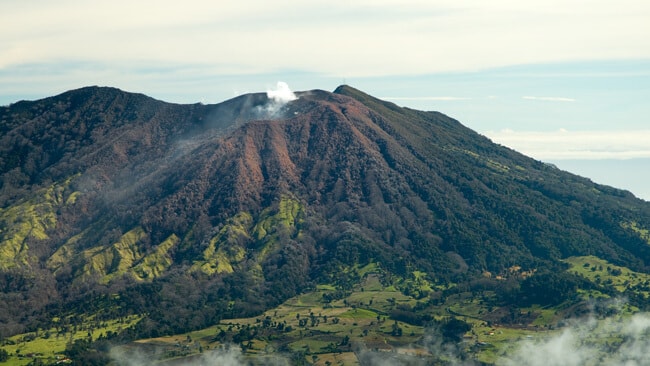 When to visit Turrialba Volcano National Park:
Mid-November to mid-April
What to do:
Hiking
Nature & wildlife watching
Where to go:
Irazu Volcano National Park
Located in the Cordillera Central mountain range, Turrialba is one of Costa Rica's most impressive volcanoes. Turrialba boasts not one, but three craters, and in the past, visitors could take their time and wander around the summit at their leisure. However, Turrialba is also one of the country's most active volcanoes, and the noxious gases produced by the craters can be dangerous, so tourists are not allowed.
The increased activity has culminated in 2016, when it erupted several times in the span of one week, actively closing the international airport in San Jose for a day. The evacuation zone surrounding the volcano has expanded to 3 miles from the top and is currently being monitored by the authorities. You can follow news in English about Turrialba volcano eruptions here.
Before that, Turrialba Volcano's last big eruption occurred in 1866, and it is now quite safe to climb with the help of the park's facilities. Once on the summit, you are rewarded by breathtaking and spectacular views over the valley and the Irazu, Barva and Poas volcanoes, and you may just be able to catch a glimpse of the two oceans if you are lucky.
The summit of Turrialba Volcano sits at an elevation of more than 10,919 feet, making the trek to the top a challenge for even the most experienced hiker. However, if you're up for a truly unforgettable hiking experience, the winding trails and rugged terrain of Turrialba will more than fit the bill.
Before you can embark on your adventure, you'll need to get there first – and this is tricky without an experienced guide. The surrounding countryside is particularly dense, so you'll need to either rent a 4×4 vehicle or go on a guided excursion.
Some tourists believe Costa Rica is hot and humid all the time. While this is true in some areas, this is not the case at Turrialba. For most of the year, the volcano is shrouded in cloud, and temperatures can be quite chilly at the summit (an average of 70 degrees Fahrenheit).
Birding & Wildlife Watching
Turrialba Volcano is surrounded by primary and secondary forest, meaning there are plenty of opportunities to see wildlife while visiting the volcano nearby area. However, until the volcano remains active you should plan to visit some of the other volcanoes that have similar bird viewing opportunities.