Top Ten Honeymoon Spas in Costa Rica
Honeymoons are the perfect chance to take some time out, relax, and enjoy a spa treatment. And not just any old massage! These days, spas offer a myriad of specialty and luxury options for both couples and time on your own.
Costa Rica, famed for green living and the environment, is no exception. In fact, the country offers some truly unique spa options for honeymooners. Here are our favorites:
The Spa at Tabacon
Hotel: Tabacon Grand Spa Thermal Resort, Arenal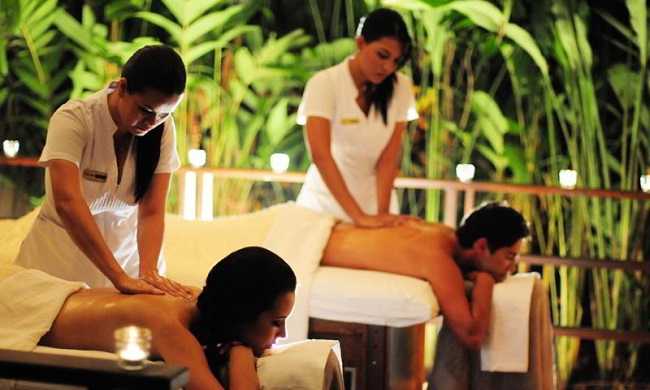 Treatments at Tabacon take full advantage of the natural hot springs, featuring hot spring-fed hot tubs as pre-treatments, open-air rainforest settings, and individual bungalows with river-fed thermomineral water.
---
Neidin Spa
Hotel: Arenal Kioro, Arenal

Get a couples massage with forest sounds in the distance while your whole body experiences the relaxing treatments at this full-service spa.
---
Pacifica Spa
Hotel: El Parador, Manuel Antonio

Enjoy a wide range of individual treatments, or opt for a half-day package such as the Signature, which includes herbal steam room, Mediterranean detox marine polish, seaweed & hydro massage, facial, and full-body massage.
---
Las Brisas
Hotel: Arenas del Mar, Manuel Antonio

The Honeymoon Bliss package will help you get even closer to your new spouse, with a couples yoga class, evening romantic "blissage," and a romantic dinner on the beach. Add a complimentary guided meditation or mindful breathing session, and your marriage will be off to a peaceful start.  
---
Orquidea Spa
Hotel: Los Altos Resort & Spa, Manuel Antonio

Feeling tropical? Try a chocolate mint body scrub, wrap, facial, and banana hair wrap, in an open-air setting with an ocean view.
---
Esencia Spa
Hotel: El Silencio Lodge & Spa, Bajos del Toro

The unique conical room at this sustainable lodge channels the life energy of the forest, ensuring a couples massage unlike any you have ever experienced.
---
Secreto Spa
Hotel: Villa Buena Onda, Playas del Coco

Tucked away for maximum privacy, this one-room spa offers a truly intimate space for couples massage, followed by a soak in the private forest-rimmed Jacuzzi.
---
In-House Spa Treatment
Rental Property: Las Catalinas, Guanacaste

Perhaps the only thing more luxurious than a honeymoon in your own oceanfront condo is getting an in-house spa treatment in that condo!
---
The Spa at Playa Cativo
Hotel: Playa Cativo Lodge, Golfo Dulce

A stay at Playa Cativo Lodge provides an all-encompassing wellness experience, featuring organic meals, open-air massage, nature meditation, and beachfront yoga.
---
El Targuá Spa
Hotel: Finca Rosa Blanca, Central Valley

This organic coffee plantation and inn offers exotic treatments such as coffee detox, chocolate bliss, and hot stone aromatherapy massage.