Tarpon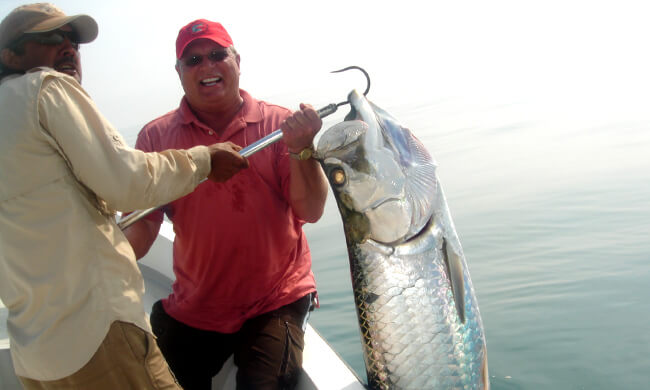 Tarpon are found in shallow, warm tropical waters in the Atlantic ocean from the Caribbean to the coast of Africa. This prehistoric fish dates back to the time of dinosaurs, and in our opinion are one of the most unique and exciting game fish in the world. The reason they are targeted is simple – they are a challenge to land and a joy to watch in action. Once hooked, tarpon are known to leap up to ten feet out of the water and will do long hard runs until they exhaust themselves.
DESCRIPTION: Properly nicknamed "the silver king" the tarpon is easily recognizable by its size, pronounced lower jaw, and of course it's bright silver coloring. Tarpon are lined with large, shiny silver scales that are the size of silver dollars. Their jaws are almost entirely made of bone and their gill plates are razor sharp, hence the challenge of both hooking and landing them.
FEEDING HABITS: Tarpon naturally feed on a variety of species including crabs, shrimp, mullet fish, smaller reef fish, and even baby turtles. They don't necessarily bite their prey, but instead swallow it whole in a giant sucking motion. They can be caught with trolling with live bait, casting with spoons and plugs, jigging, and even fly fishing.
SIZE: Tarpon in Costa Rica are large compared to other parts of the world, here they typically average in the 80-100 lb range. Every year anglers land tarpon over 200 lbs here, and the world record at 286 lbs was caught just over the border.
WHERE FOUND IN COSTA RICA: Tarpon are found up and down the Caribbean Coast of Costa Rica as well as inland in the fresh water rivers and lagoons. Tarpon can "gulp" air from the surface of the water, which allows them to swim into brackish and fresh water where they are believed to breed & spawn without threat from predators. The best spots for tarpon are the northeast Caribbean Coast and the Cano Negro Reserve in north central Costa Rica.
BEST MONTHS: Tarpon are here all year round in Costa Rica, they don't migrate in and out. The fishing seasons depend more on the weather and seas conditions than the fish themselves. The best months are late January to early June and then again in the Caribbean's dry season from September to early November. Other months like July, August, December, and January are traditionally too rainy or too stormy for quality fishing conditions.