Playa Puerto Viejo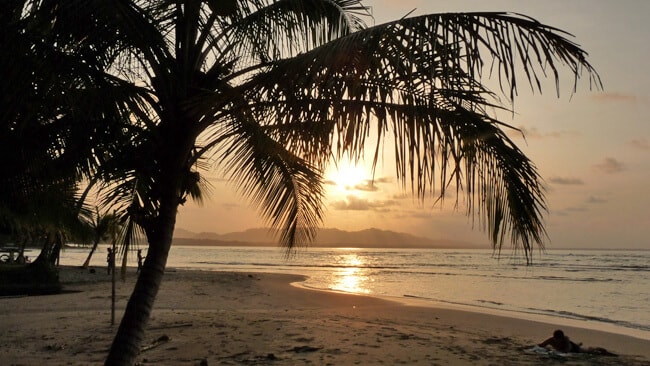 Playa Puerto Viejo at a Glance
Ideal for:
Couples
Adventure Seekers
Solo Travelers
Groups
Nature Lovers
Budget Travelers

 
Nearby Activities:
Surfing
White Water Rafting
Wildlife Watching
Scuba Diving & Snorkeling
Canopy Tours
ATV Tours
Nearby Attractions:
Cahuita National Park
Aviarios Sloth Sanctuary
Gandoca – Manzanillo Wildlife Refuge
BriBri Indigenous Reserve
Fast Facts About Puerto Viejo
Also Known As: Puerto Viejo Beach Playa Puerto Viejo, Puerto Viejo de Taalamanca
Region: South Caribbean
Landscape: Beach
Closest Airports: San Jose (SJO)
Altitude: Sea Level
Average Temperature: 74º-84º F(24º-29º C)
The Caribbean Coast of Costa Rica is a different country. You know you're in the Caribbean when the salsa/meringue stops and the reggae starts. When people greet you with a "wh'appin" (what's happening?), instead of a more traditional Spanish greeting. Rice'n'beans, last names like Campbell and Smith, curried goat and chicken. Yep, this is the Caribbean!
Puerto Viejo beach is a town of around 2,000 inhabitants on the southern Caribbean Coast of Costa Rica. Originally called Old Port by the Jamaicans who settled this area in the 19th century to work in the banana plantations or as fishermen, the name changed to its direct Spanish translation of Puerto Viejo as part of a Costa Rican government program. Today, Puerto Viejo is the largest town on the southern Caribbean coast and is the main tourist center of the region.
One thing that stands out in Puerto Viejo is the diversity of its people. Although the population is small, one study found that more than 40 different nationalities amongst those living there, from indigenous Bribri Native Americans to the local Afro-Caribbean community and a growing population of Latinos from other parts of Costa Rica and Central America. An eclectic selection of Europeans, North and South Americans have also arrived to claim their little piece of paradise, and German, French and Portuguese are about as common as English, Bribri and Spanish.
The beaches in this area are pristine, with steaming green jungles meeting white sand and coral reef-fringed waters. From Cahuita National Park north of town, through to Playa Cocles (the winner of Costa Rica's "Blue Flag" program for clean beaches) and Manzanillo in the south, these beaches are the "Costa Rica" (Rich Coast) that Colombus saw and named a country after.
The surf is colossal. Salsa Brava, the reef break right in town is world famous and is absolutely Costa Rica's biggest, best and most powerful wave. Salsa Brava means "angry sauce" and this wave is not for the lighthearted… and definitely not for the beginner. This is a wave that surfing legends are born in. For those not willing to brave the Salsa Brava, Playa Cocles has a decent beach break, and is a short walk outside of town. This beach is also great for relaxing and hanging out on, and has some of Puerto Viejo's best hotels on it or nearby.
Puerto Viejo has a wide variety of accommodations from budget hostels catering for the student/traveler/party scene to higher end boutique lodges for those wanting a unique place to disappear into. The eclectic population has directly led to one of the best restaurant and bar scenes in Costa Rica, and Puerto Viejo is a place where the party animal will never get bored! Those looking for a more "tranquilo" (relaxed) time will certainly have no problem chilling out, Caribbean-style just out of town on Cocles and towards Manzanillo.
Puerto Viejo and the southern Caribbean Coast definitely offers the visitor a mixture of adventure, excitement and relaxation!
---
Services & Infrastructure in Puerto Viejo
Puerto Viejo has most services you would expect from a popular tourist town:
Public transportation: Yes. Frequent buses run San José-Puerto Viejo, and also to and from Limon and Sixaola, small town just off the border with Panama. Puerto Viejo is small town and you can walk everywhere, but very popular option is to rent a bike as there are many rentals that offer them on daily bases throughout town. Taxis are prevalent, but majority of the taxis in Puerto Viejo are not metered so you should agree on a fare with the driver before getting in.
Public amenities: No
Shopping: There are few bigger markets where you can do all your basic grocery shopping and also smaller pulperias (convenient stores), usually equipped with drinks & fruit stands. Main beach is lined with tourist stands that sell affordable souvenirs and art crafts, often made at the same spot.
ATMs: Yes, BCR and Banco Nacional have their ATMs in Puerto Viejo.
Gas stations: No. Closest gas station is in Hone Creek, 3 miles (5 km) before Puerto Viejo.
WiFi or Internet cafés: Yes, internet cafes are scattered around town and provide reliable high speed internet connection.
Cell Phone Reception: Some Reception
Restaurants: Yes. There are menu dining options in Puerto Viejo, suiting everyone's budget.
Nearest medical facilities: Red Cross (Cruz Roja) provides emergency service. A small public hospital in Hone Creek (3 miles away) provides basic medical services. There is one private clinic with adjoined pharmacy and one dental clinic in Puerto Viejo.