Herradura Beach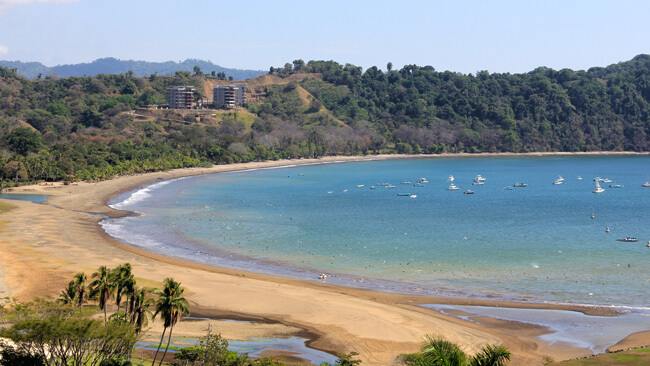 Herradura Beach at a Glance
Nearby Activities:
Swimming
Sports Fishing
Surfing
Bird Watching
Canopy Tours
Horseback Riding
Nearby Attractions:
Tarcoles River
Punta Leona Refuge
Fast Facts About Herradura Beach
Region: The Central Pacific
Also Known as: Herradura Beach or Playa Herradura
Landscape: Beach, Transitional Tropical Rain Forest
Closest Airports: San Jose (SJO) and Quepos (regional)
Altitude: Sea Level
Average Temperature: 71-90° F (22-32º C)
Herradura is a quiet little beach town 1.5 miles (4 kilometers) north of Jaco in the province of Puntarenas. Until recently it was totally unknown and only frequented by the locals, but the appearance of Los Suenos Marriot Ocean and Golf Resort as well as the proximity of Jaco accelerated its growth and it has become a bit of a tourist hotspot. It is excellent for a quick escape due to its proximity to San Jose, only just over an hour away. The name Herradura means horseshoe and it is easy to see why it was given such a name; the perfectly shaped grey sanded bay is lined by coconut trees and an variety of sea food restaurants. It is the perfect place for a romantic dinner under a starry night sky.
Herradura Beach has a good choice of hotels, villas and condominiums, a great variety of shops, a small mall including an Auto Mercado supermarket, pharmacies, a bakery, and all the necessary facilities.
While it has certainly seen many changes over these last few years, Herradura is a welcome change for those who want to spend the day on a quiet and remote beach.
On the road to Herradura, you will come across many points of interests; the Carara National Park is known for its crocodiles in the Tarcoles river, and its myriads of birds. See its amazing mangroves set in one of the last the transitional forests left in Central America. Next is the Punta Leona Refuge that is also part of the transitional forest; a transitional forest is found between the dry forests of the Northwest and the rainforests of the Southwest. Further down the road you will see Villas Caletas, a hotel and restaurant with a look and views to die for; inspired by French Colonial architecture and Victorian style, this is old world architecture its best, set in extraordinary natural settings.
Thanks to its calm waters, Herradura Beach is the best swimming beach of this region and is also a well-known spot for Sportfishing.