Recipes & Food of Costa Rica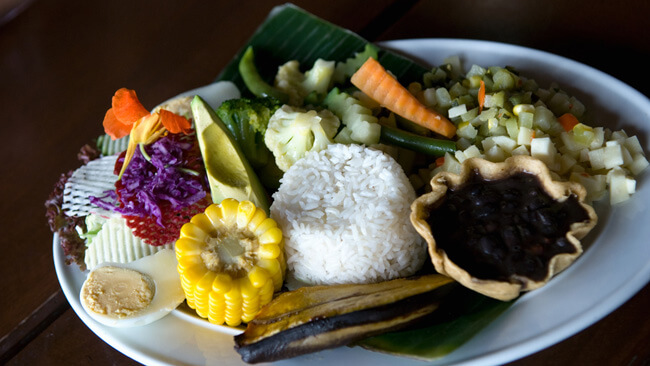 Drawing largely from Caribbean and Central American culture, Costa Rican food is characterized for its use of basic grains like rice, beans and corn, which are included in almost every meal. Breakfasts consist of a rice and beans dish called "gallo pinto" or just "pinto" which is usually served with sour cream, eggs, plantains and cheese. "Pinto" can also be found in other meals throughout the day and is served almost everywhere in the country.
A traditional lunch is called a "casado", because it was what was served to married men by their wives. Casados usually include rice, beans, meat, plantains, some sort of stewed vegetable (like potatoes, chayotes or yucca) and salad. Dishes remain predominantly similar all over the country, with small variations according to a local specialty. Casados near the beach are more likely to include fish for example.
While Costa Rica isn't renowned for its cuisine, which lacks the distinctive flavor of Latin American staples like Mexican or Brazilian, it more than makes up for the lack of autochthon dishes by providing foodies with an endless variety of fruits and vegetables which they can adapt and use in their own dishes.