Carara National Park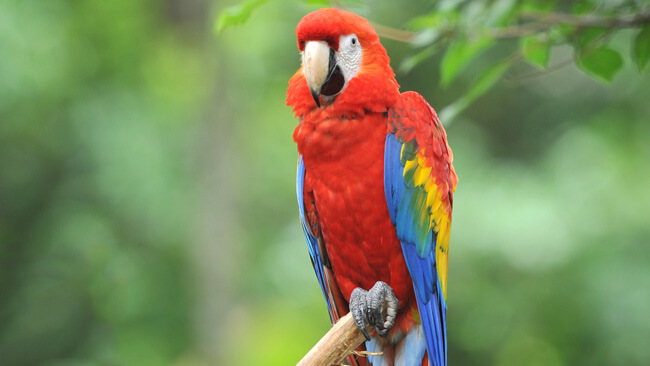 Carara National Park at a Glance
Landscape:
Transitional Tropical Dry and Rain Forest
Nearby Activities:
Wildlife watching

Rainforest hikes

Crocodile Tours
Fast Facts About Carara
Region: Central Pacific
Closest Town: 15 miles to Jacó
Altitude: 30 to 500 ft (10 – 180mts)
Closest Airports: San José (SJO)
Average Temperature: 75° – 87°F (23° – 30°C)
Carara National Park sits near the Costa Rican Pacific coast, in the Central Pacific Conservation Area. Carara lies just about 30 miles (about an hour) west of San José and is home to one of the largest populations of wild Scarlet Macaws in the country. You'll often get a sighting as you drive on the nearby highway. The park is predominantly formed by primary rainforest, which makes it ideal for birds who nest in the dense trees.
Wildlife & Nature
Some of the most appealing bird species in Carara are woodpeckers, hummingbirds, antbirds and manakins. Other notable animals include crocodiles (which can be seen up close on guided boat tours), agouti, kinkajous and the rare white-tailed deer. Carara National Park offers much more natural diversity than the slightly more famous Manuel Antonio National Park. The park was founded in 1978 and has remained one of the most popular spots in the country for more than three decades.
Best Time to Visit
Dry season, running from December to April. Arrive early in the morning, as birds are most active around sunrise and sundown.
---
Services & Infrastructure in Carara
Public transportation: Yes, regular bus from San José to Jacó will drop you off here.
Public restrooms: There are restrooms and picnic tables available at Quebrada Bonita Visitor's Center
Shopping: There are arts & craft stores and stands with a great choice of souvenirs just next to Tarcoles bridge.
Gas stations: The nearest gas station is in playa Herradura, 10 miles towards the coast
Cell Phone Reception: Reliable
Restaurants: Excellent range of choices further down the road in Jacó
Nearest medical facilities: Jacó has quite a few private clinics & pharamacies, as well as a public hospital.