Cahuita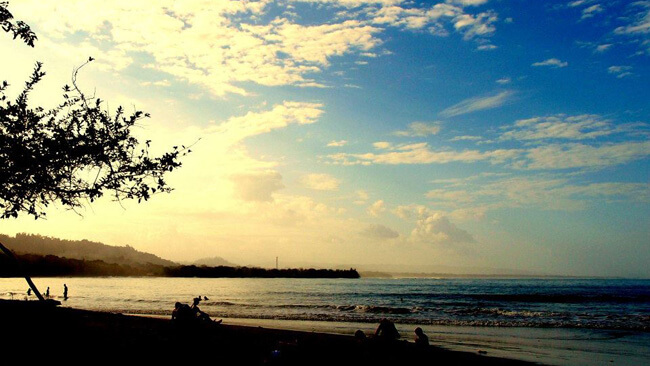 Cahuita at a Glance
Ideal for:
Budget Travelers

Nature Lovers

Relaxation

Couples
Solo Travelers
Nearby Activities:
Scuba Diving & Snorkeling

Swimming

Fishing

Boat Trips

Mountain Biking

Hiking

Horseback Riding
Nearby Attractions:
Cahuita National Park
Aviarios Sloth Sanctuary
Gandoca – Manzanillo Wildlife Refuge
BriBri Indigenous Reserve
Fast Facts About Cahuita
Region: The South Caribbean
Also known as: Cahuita Beach, Playa Cahuita
Closest Airports: San Jose (SJO)
Altitude: Sea Level
Average Temperature: 74º-84º F(24º-29º C)
Cahuita beach is a relaxing little Caribbean paradise located south of the city of Limón. Its roots can be traced back to Afro-Caribbean fishermen and workers who were brought there from Jamaica to build the railway in the middle of the 1800s. While Spanish is also spoken fluently you will find that in this area most people also speak very good English.
In more ways than one, this entire region is really set apart from the rest of Costa Rica for it has maintained its strong Caribbean culture; reggae music, coconut rice and beans, a laid back atmosphere and slow pace, white sand beaches and infinite friendliness are all reminiscent of a Caribbean island.
Today Cahuita is home to about 4000 residents of which many come from Europe and the US. The little town has a lively and young atmosphere, a place where people like to have a good time and relax while enjoying the natural gifts of Nature. It has an amazing choice of very good restaurants offering Afro-Caribbean specialties such as exotic jerked chicken and curried goat. You will also find a variety of French and Italian cuisine and a good selection of lively bars.
Birding & Wildlife Watching
People may be drawn to Cahuita for its creole culture and for its gorgeous flora and fauna but its main attraction is the Cahuita National Park. To the west you will find the black beach of Cahuita while on the east begin a series of magnificent white sand beaches and tropical wild forests that are part of the Park.
While its main entrance is in Puerto Vargas, it can also be entered through the little town. Created in 1970 to protect the biggest coral reef of Costa Rica, it is holds 22.400 hectares of ocean and marine life and a land area of just 1,067 hectares that includes rainforest, littoral woodland and flora and swamp forest.
While walking through the little trails along the littoral you will come across howler monkeys, white-faced capuchins, iguanas, basilisks, sloths, agoutis and more, and several species of birds including herons, ibises, kingfishers and gulls.
The coral reef, that was damaged during an earthquake in 1991, is still one of the biggest attraction of the country with at least thirty five species of coral and 500 species of fish, and people come from all over the world to go snorkeling or scuba diving in its divine water to see blue parrot fish, green turtles, angel queen fish, lobsters, manta rays, three species of sharks and more.
The magnificent white sand beaches are wonderful for relaxing and swimming and while it provides camping facilities Cahuita has plenty of resorts, lodges and hotels to choose from. The waters of the park hold one more secret; two sunken ships! While the chances of finding a treasure are slim, they are still fun to see with their exposed cannon reminiscent of some ancient battles.
---
Services & Infrastructure in Cahuita
Public transportation: Yes. Frequent buses that run to and from Limon and Sixaola (small town just off the border with Panama) are always stopping in Cahuita. Cahuita is small town and you can walk everywhere, but very popular option is to rent a bike as there are many rentals that offer them on daily bases in the town. Taxi is another option, but majority of the taxis in Puerto Viejo are not metered so you should agree on a fare with the driver before getting in.
Public amenities: No
Shopping: There are few bigger markets where you can do all your basic grocery shopping and also smaller pulperias (convenient stores), usually equipped with drinks & fruit stands.
ATMs: Yes, there is one bank (BCR) near the town entrance.
Gas stations: No. Closest gas station is in Hone Creek, 7 miles (11 km) to south.
WiFi or Internet cafés: Yes, internet cafes are scattered around town and provide reliable high speed internet connection.
Cell Phone Reception: Mainly reliable; can be affected by weather conditions.
Restaurants: Yes. There are menu dining options in Cahuita, suiting everyone's budget.
Nearest medical facilities: A small public hospital in Hone Creek (7 miles away) provides basic medical services. Cahuita has several pharmacies itself with in-house pharmacist authorized to treat minor medical problems and the nearest major hospital is located in Limon.