Barbilla National Park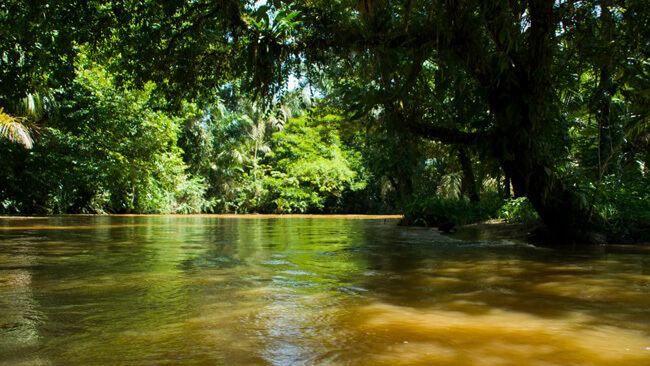 Barbilla National Park at a Glance
Ideal time to visit:
November – April (high season)

temperate year-round
Nearby Activities:
Hiking. Many of the trails in the park are extremely rugged, so visitors may want to hire an experienced guide before setting off.
Nearby Attractions:
Talamanca Mountains

Rio Dantas
Special Features:
Barbilla National Park is home to one of the highest points in the region, Cerro Tigre. This imposing mountain is perfect for avid hikers looking for their next challenge.
Fast Facts About Barbilla National Park
Cerro Tigre | Cordillera de Talamanca | Barbilla Biological Station
Region: San Jose & Central Valley
Closest Town: Siquirres, approximately 2 miles from park entrance
Altitude: 5,305 feet (1,617 meters) above sea level
Closest Airports: Limon International Airport, Guapiles Airport
Average Temperature: 82° Fahrenheit / 27° Celsius
As you wander through the tropical jungles of Barbilla, it's easy to forget you're still in Costa Rica. The unspoiled atmosphere of this national park can make you feel as though you're exploring a long-forgotten landscape untouched by man, and this is further reinforced by the fact that Barbilla is home to the Cabecar tribe, Costa Rica's largest indigenous group. The Cabecar are a people who have lived here for many generations and survive by hunting, fishing and living off the land. As a result, Barbilla is an area of tremendous cultural significance, and has been protected by UNESCO since 1982.
Barbilla National Park sits in both the Cartago and Limon provinces, and occupies an area of almost 30,000 acres.
Activities & Things to Do
Numerous trails and hiking paths wind through the verdant overgrowth of Barbilla National Park, so avid hikers will find plenty to see and do here. However, many of the paths are unmarked and the terrain can be quite arduous, so before setting off on your hiking adventure, be sure to notify a park ranger. Unless you're an experienced hiker, you'll probably want to hire a private guide to help you navigate through the dense jungles, as doing so alone can be a little risky. Embarking on a rugged hike with a guide can be a great way to get the most out of your trip to Barbilla and learn more about the indigenous flora and fauna that can be found everywhere in this lush national park.
Birding & Wildlife Watching
Barbilla National Park is home to several rare and endangered species, including pumas and ocelots, as well as reclusive mammals like the tayra.
This nature reserve is also the perfect destination for birdwatchers, as the magnificent sun heron can often be seen amid the park's tropical overgrowth.
Best Time to Visit
Barbilla National Park has high rainfall year-round, so visitors may want to visit during the high season between November and April.
---
Services & Infrastructure in Barbilla National Park
As one of Costa Rica's less developed parks, tourist amenities are limited. The Barbilla Biological Station is located within the park, and an administration building can be found in Brisas de Pacuarito.
Public restrooms: Yes, at the Barbilla Biological Station
Shopping: No
ATMs: No
Gas stations: No – nearest gas station is in Siquirres, approximately 2 miles from the park entrance
Cell Phone Reception: Poor reception
Restaurants: No
Nearest medical facilities: Siquirres