Refer a Friend & Reward Programs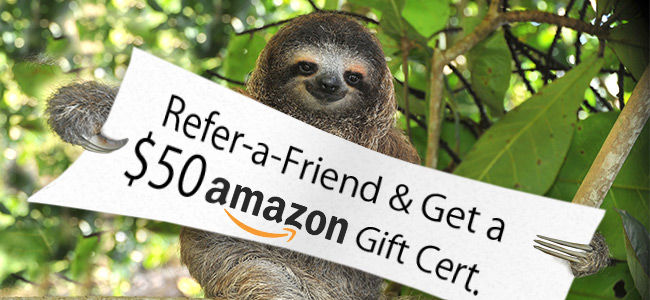 Costa Rican Vacations has grown with the support of our many happy customers. We want to return the favor to those who help us out.
We will reward you with a $50 Gift Certificate on Amazon.com for every client you send our way that books a vacation. Once they book their trip to Costa Rica, Panama or Nicaragua, within 30 days we will email you your Amazon.com gift voucher. Then all that's left to do is start shopping.
*Restrictions:
New client must create their own itinerary with their own payment option (meaning it is not linked to other existing itineraries)
The booking value must be $1,000.00 or higher per itinerary
Be able to establish how & by whom they were referred (i.e. by a friend that booked with us)
Clients cannot refer themselves
Anyone can refer as many clients as they like as long as each new itinerary is separate.
Referrers' e-mail must be provided at the time of booking and is the responsibility of the guest booking. We're not responsible for inaccurate e-mails.
Referrers' e-mail should be valid for at least 30 days once referred client has booked.
Traveled client cannot claim that they were referred after they have traveled.
Clarification of referral is to be confirmed at the time of booking to be valid.
If you have any questions or comments about our referral program, don't hesitate to contact us at sales@namutravel.com
---

Instagram Awards
Earn a $50 Gift Certificate for Amazon.com for the most exciting photo posted on Instagram with the hashtag #CRVrocks. You can enter as many pictures of your vacation as you like, just make sure to tag the picture with our hashtag: #CRVrocks. Each month we will check out the best photos and choose a winner. To participate in our photo contest please be aware of the following guidelines:
We encourage you to post exciting, fun photos from your Costa Rican Vacation.
Be selective! Choosing your best pics means a better chance of winning.
Post as many pictures as you like, there is no limit. Just make sure they are diverse.
​Do not post offensive imagery. This will not be tolerated & will be disqualified.
Please have consent if posting images of other people in your traveling party.
Enjoy your vacation, get snapping and we look forward to seeing your best pics of Costa Rica!
By entering our photo contest with the #CRVrocks hastag you agree to have your picture published across our social networks and websites if we so choose to use your photo for marketing purposes.
Enjoy your vacation, get snapping and we look forward to seeing your best pics of Costa Rica!