Turrialba Volcano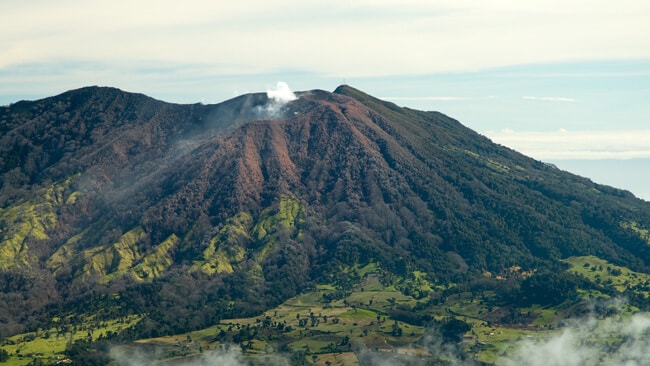 Turrialba Volcano at a Glance
Ideal time to visit:
Mid-November to mid-April
Nearby Attractions:
Irazu Volcano National Park
Special Features:
The summit of Turrialba Volcano sits at an elevation of more than 10,000 feet, making the trek to the top a challenge for even the most experienced hiker.
Fast Facts
Region: San Jose & Central Valley
Closest Town: Turrialba, approximately six miles away
Volcano Altitude: 10,919 feet (3,328 meters)
Closest Airports: Juan Santamaria International Airport, Guapiles Airport
Average Temperature: 70 degrees Fahrenheit (21 degrees Celsius)
Located in the Cordillera Central mountain range, Turrialba is one of Costa Rica's most impressive volcanoes. Turrialba boasts not one, but three craters, and in the past, visitors could take their time and wander around the summit at their leisure. However, Turrialba is also one of the country's most active volcanoes, and the noxious gases produced by the craters can be dangerous, so tourists are limited to 15 minutes at the peak. The hike to the top is an adventure in itself, and not only offers you the chance to get up-close and personal with an ancient volcano, but spectacular views of the surrounding countryside, too.
The summit of Turrialba Volcano sits at an elevation of more than 10,000 feet, making the trek to the top a challenge for even the most experienced hiker. However, if you're up for a truly unforgettable hiking experience, the winding trails and rugged terrain of Turrialba will more than fit the bill. Before you can embark on your adventure, you'll need to get there first – and this is tricky without an experienced guide. The surrounding countryside is particularly dense, so you'll need to either rent a 4×4 vehicle or go on a guided excursion.
Some tourists believe Costa Rica is hot and humid all the time. While this is true in some areas, this is not the case at Turrialba. For most of the year, the volcano is shrouded in cloud, and as you climb toward the summit, temperatures can be quite chilly, so make sure you bring a waterproof jacket and suitable clothing.
Similarly, although it is possible to see both the Caribbean Sea and Pacific Ocean from the scenic viewpoint at the peak, conditions are rarely clear enough for this to be possible, so if you want to enjoy this spectacular view, you're best off tackling Turrialba during the high season between mid-November to mid-April. However, even this will not guarantee clear conditions at the peak, so be prepared.
Best Time to Visit
The best time to visit Turrialba Volcano is during the dry season between mid-November and mid-April, due to the warmer temperatures.
Birding & Wildlife Watching
Turrialba Volcano is surrounded by primary and secondary forest, meaning there are plenty of opportunities to see wildlife while visiting the volcano, and several species of bird inhabit the area.
Facilities & Infrastructure
Public transportation: Infrequent shuttles from San Jose
Public restrooms: Yes, at the Volcan Turrialba Lodge
Shopping: No
ATMs: No
Gas stations: No. The nearest gas station is in Turrialba, approximately six miles away
Cell Phone Reception: Poor
Restaurants: No
Nearest medical facilities: The nearest medical facility is in Turrialba, approximately six miles away
How To Get There
From Turrialba, travel northeast along Route 230 toward Santa Cruz and Santa Rosa. After passing through Santa Cruz, head north along the dirt trail until you reach Turrialba Volcano National Park.
comments powered by

Disqus